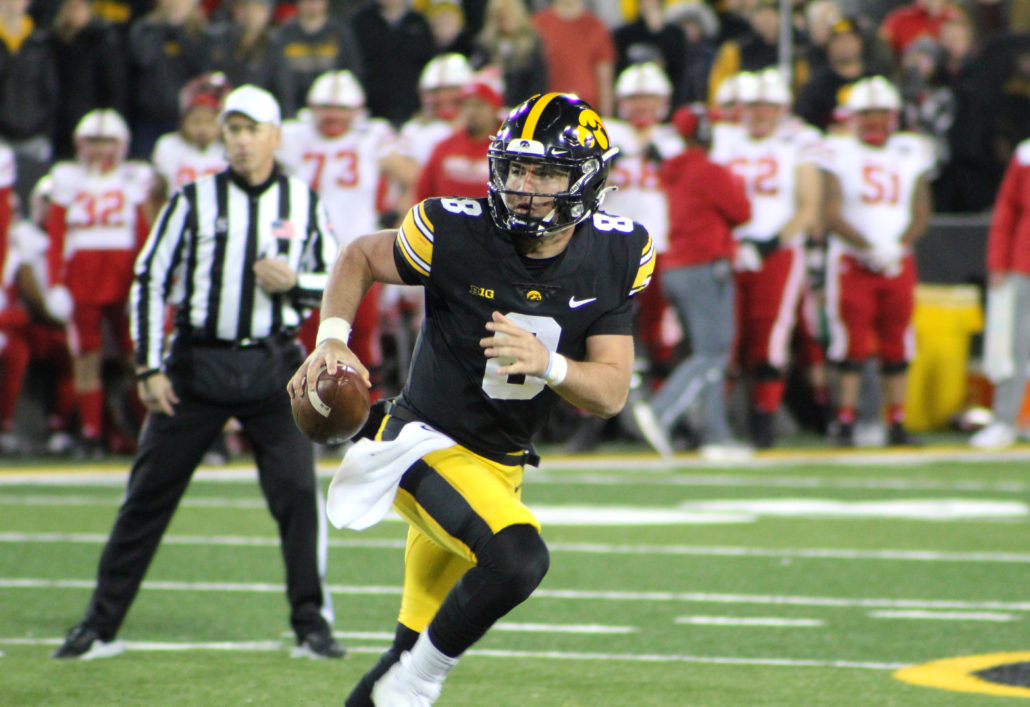 IOWA CITY, Ia. — Iowa's junior quarterback received the most action he had all season in the 24-17 loss to Nebraska.
There's no denying Alex Padilla put together a solid performance. After all, he came off the bench for the injured Spencer Petras, and led the Hawkeyes to three scoring drives in the second half. Although he's proud of his gutsy outing, Padilla is disappointed that he couldn't deliver for his teammates on Senior Day.
Iowa's offense had a chance in the clutch though. It's unfortunate for Padilla there was a controversial call by the officials on an Arland Bruce catch that was ruled incomplete. Regardless, he feels the offense left some plays out on the field, and understands turnovers are too costly.
"We gave ourselves a chance at the end, just didn't execute well enough," Padilla said. "I thought our guys fought really hard, I thought all of us played our hearts out, but just came up short."
Iowa (7-5) suffered its' first loss in the Heroes Game since 2014. And a sold out crowd at Kinnick Stadium watched as the Hawkeyes took that walk of shame back to the locker room. Still, Padilla is trying to learn from his mistakes and wants to help the offense continue to grow.
The Colorado native doesn't have a problem getting thrown to the wolves at any given moment either. As a matter of fact Padilla has become a natural at it.
"Not a whole lot of thinking goes into it, I just try to go in and do my job as best as I can," he said. "Put my helmet on, get in there as one of eleven members, not too different from what I've done before."
Padilla completed 16 of his 33 passes for 141 yards, a touchdown and an interception. Coach Kirk Ferentz was encouraged by Padilla in the pocket. He had to his throws on the run due to poor protection from the big boys up front. Padilla connected with tight end Luke Lachey for a 14-yard touchdown though.
Not to mention the Hawkeyes' 17 second half points were the most they scored all season. It was obvious to Ferentz that Padilla had full command of the offense. Ferentz was frustrated with the replay review on Padilla's pass, which would've shifted the momentum to Iowa's side.
"We didn't get that replay to go our way when we flushed out," Ferentz said. "It was a great effort by Alex to keep the ball, looked like it was inbounds, and Arland made a great grab on it," Ferentz said."
No one knows how long Petras is going to be sidelined with an upper body injury. Or if Petra will be available for the bowl game. In the meantime Padilla plans on building on what he accomplished against Nebraska. The former three-star prospect just wishes the offense could've executed better. And if the unit would've took care of business, the Hawkeyes would be playing in the Big Ten Championship Game.
"It's pretty disappointing, you can't do that against teams in the Big Ten or else you are not going to win the game."