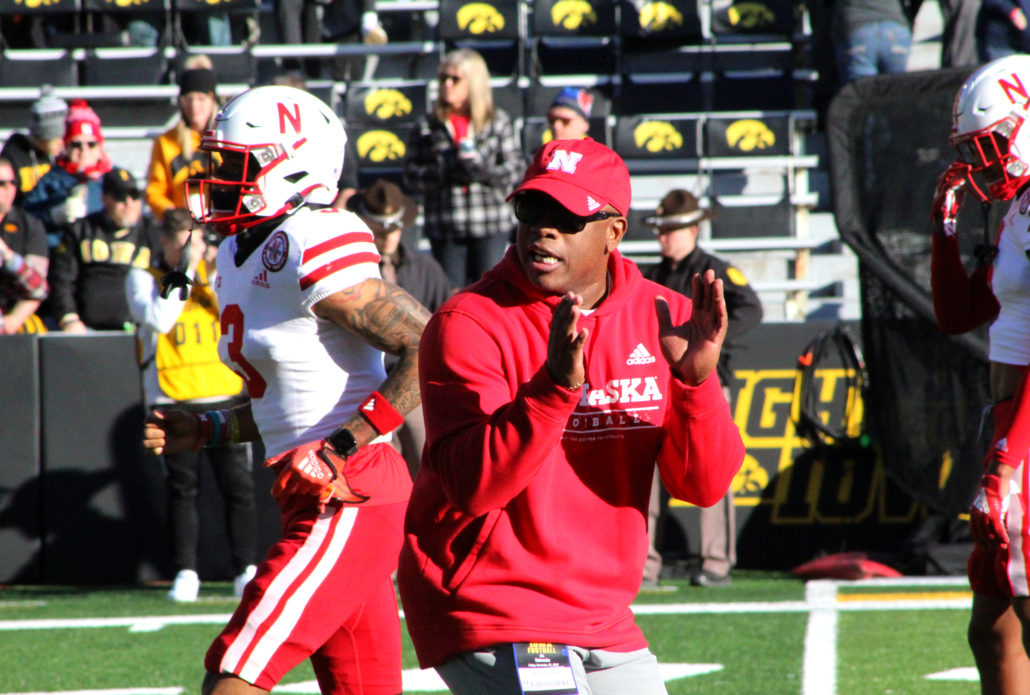 IOWA CITY, Ia. — There's no denying it's never easy cleaning up another man's mess.
Assistant coaches who get placed under the interim tag usually have an expiration date that comes at the end of the season. Mickey Joseph found himself in that same situation Friday night. Although Nebraska defeated Iowa 24-17, it was bittersweet for Big Red Nation.
After all, news had surfaced that Matt Rule was going to be the head coach prior to kickoff. Several Husker fans wanted Joseph to get the job. Athletic Director Trev Alberts mentioned back in September that Joseph would be an option in his coaching search after he fired Scott Frost.
However, the Huskers finished 3-6 down the stretch under Joseph's watch. So Big Red Nation knew the inevitable was coming. The former Nebraska quarterback didn't seem fazed by the outside noise during his post game press conference either. Instead Joseph handled himself with class and thanked the program for giving him an opportunity.
After all, he made history being the first African American coach in any sport at his alma mater. Joseph also believes his journey is about more than x's and o's. And being back at Nebraska opened his eyes to what it takes to be a head coach at a traditional blue blood program.
Joseph had to operate with a staff Frost assembled and players he recruited. He learned on the job and didn't take any of it for granted.
"I think what I learned on this job is that I had to be a good person in front of being a good coach," Joseph said. "That was the only way these kids and these coaches were going to believe in me if I was a good person, and I think that happened."
The players were happy to get one last victory for Joseph because they felt he deserved it. It's no mystery Joseph understands the culture and passion of the fans. He's also a great recruiter who the players respect. Joseph really tried to right the ship to Nebraska's season. And that's why Husker fans are wondering what his next move is going to be.
Whether Joseph is going to remain with the program on Rhule's staff or pursue other opportunities is still up in the air. Regardless of the matter, Joseph believes he has proved himself to be a qualified Power Five head coach.
"I'm good because I understand the next guy that comes in he deserves to pick his staff," he said. "I've been in this thing for 25-plus years, I got a pretty good resume, so somebody is going to hire me."
It's unfortunate that Joseph didn't get a chance to hire his own staff and recruit his own players. Joseph was on the job for nine games and made it his own. So he's not concerned about what kind of legacy he's leaving behind or how he'll be remembered.
At the end of the day Joseph is proud of the resilience in his players and the fact that the Huskers snapped a seven-game losing streak to the Hawkeyes. And that's a feat his predecessors Mike Riley and Frost couldn't accomplish. The 54-year old feels he has options, but whatever he decides, Joseph will forever be a Husker.
"I love Nebraska, I love the state, I love the people and I love everything Nebraska stands about."