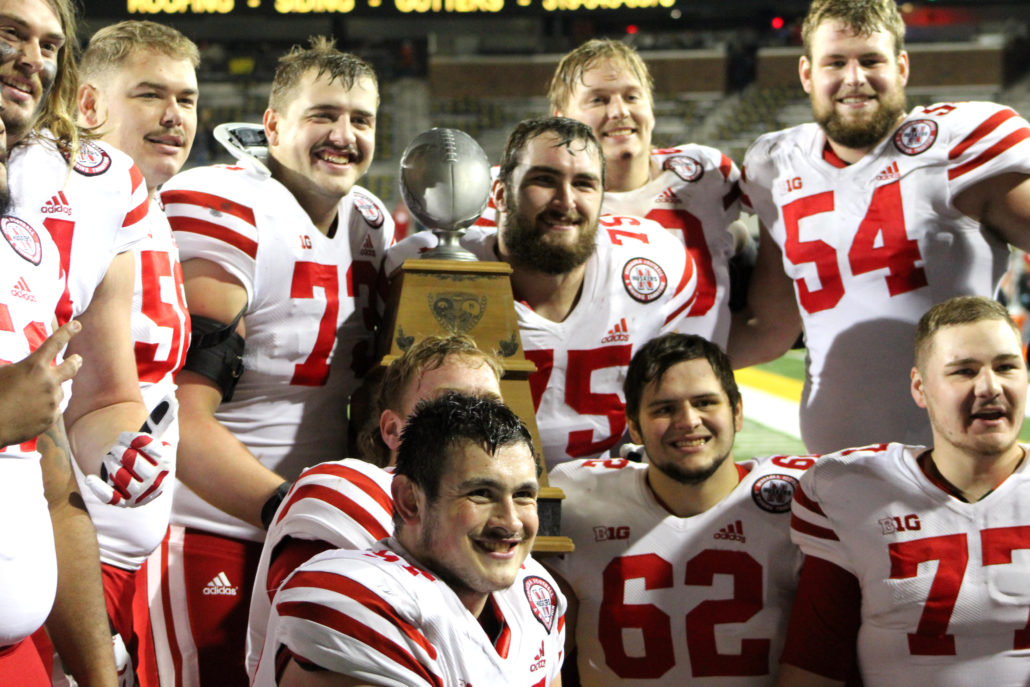 IOWA CITY, Ia. — The Huskers came to Kinnick Stadium with nothing to lose, and played one of their best games of the season Friday afternoon.
Although there were distractions surrounding who was going to be the new coach, Nebraska turned off the outside noise, focused on the game and delivered a 24-17 victory over Iowa.
Not only was it the Huskers' first win over the Hawkeyes since 2014, but they also snapped a five-game losing streak and left a lasting impression for Interim Coach Mickey Joseph. The players finally felt what it's like to hoist the Heroes Trophy, and left the sold out crowd silent as they celebrated with the hardware.
With no bowl game for a sixth-straight season, the Huskers prepared for the rivalry like it was the Super Bowl, and performed like their hair was on fire.
After all, Nebraska (4-8) dominated on offense and defense early on, and kept Iowa scoreless in the first half. It was the second time this season that the Hawkeyes were shutout during the first two quarters. Quarterback Casey Thompson used the Hawkeye defenders for target practice during that span, with 196 yards through the air and two touchdown tosses.
Not to mention the Blackshirts forced two turnovers and four punts on the Hawkeyes first six possessions. And within a blink of an eye Nebraska led 17-0 early in the second quarter. Iowa fans couldn't believe their eyes, but Nebraska's hot start didn't surprise Joseph.
"We said we have to play 60 minutes of really good football, and we have to play from the beginning to the end," Joseph said. "It was something we asked of them, and something we expected out of them."
Wide receiver Trey Palmer looked like a man among boys. With the way he stretched the field on the Hawkeyes' secondary, they had to know where he was located on every play.
It didn't matter though. Palmer displayed next level skills with an 87-yard touchdown catch in the first quarter. He followed it up with another receiving score in the red zone during the second quarter.
The wideout finished with a game-high, 12 catches for 165 yards. Palmer credited his film study on Iowa's defensive backs throughout the week for his success.
"They can't guard me, that's all I seen and they can't run with me, and that's what I did," Palmer said.
Iowa really had no answers for Thompson's chemistry with Palmer. It didn't even matter that the Huskers only finished with 51 yards on the ground, because Thompson lit up the Hawkeyes' defense like a Christmas tree with an explosive aerial attack.
The gunslinger completed 20 of his 30 passes and threw his third touchdown pass of the day to Marcus Washington. Nebraska won the battle in time of possession, despite running seven fewer plays than Iowa. Joseph's squad averaged 5.1 yards per play, while Kirk Ferentz's boys averaged 3.8. Which is why Thompson felt the Huskers finally played up to their potential, and was proud of the execution of the offense.
"I knew they had a good front seven, the linebackers are good and their defensive line was real active, but I didn't feel like they could guard any of our receivers," Thompson said. "I definitely didn't think they could run with Trey, and obviously that showed."
On defense the Blackshirts held the Hawkeyes to 274 yards total of total offense. It was the fewest yards Nebraska's defense has allowed all season. Eteva Mauga-Clements, Caleb Tannor and Quinton Newsome each put the quarterback to the turf. Mauga-Clements tied for a team-high, six solo tackles with Ernest Hausmann. Isaac Gifford led the Huskers with eight total stops.
It was a great team effort in Joseph's eyes and he couldn't think of a better way to end the season for his players.
"It's big, they are going out a winner, they won their last game," he said. "They finished something they started, and that's what we asked them to do."
Now the Huskers get to hang onto the Heroes Trophy for the next 365 days and have bragging rights. Big Red Nation hasn't had much to celebrate over the past few years, but Joseph hopes they'll cherish this victory.
"These fans are unbelievable, they came out tonight in numbers and they were screaming and yelling, we have the best fans in America, and I think everybody knows that."