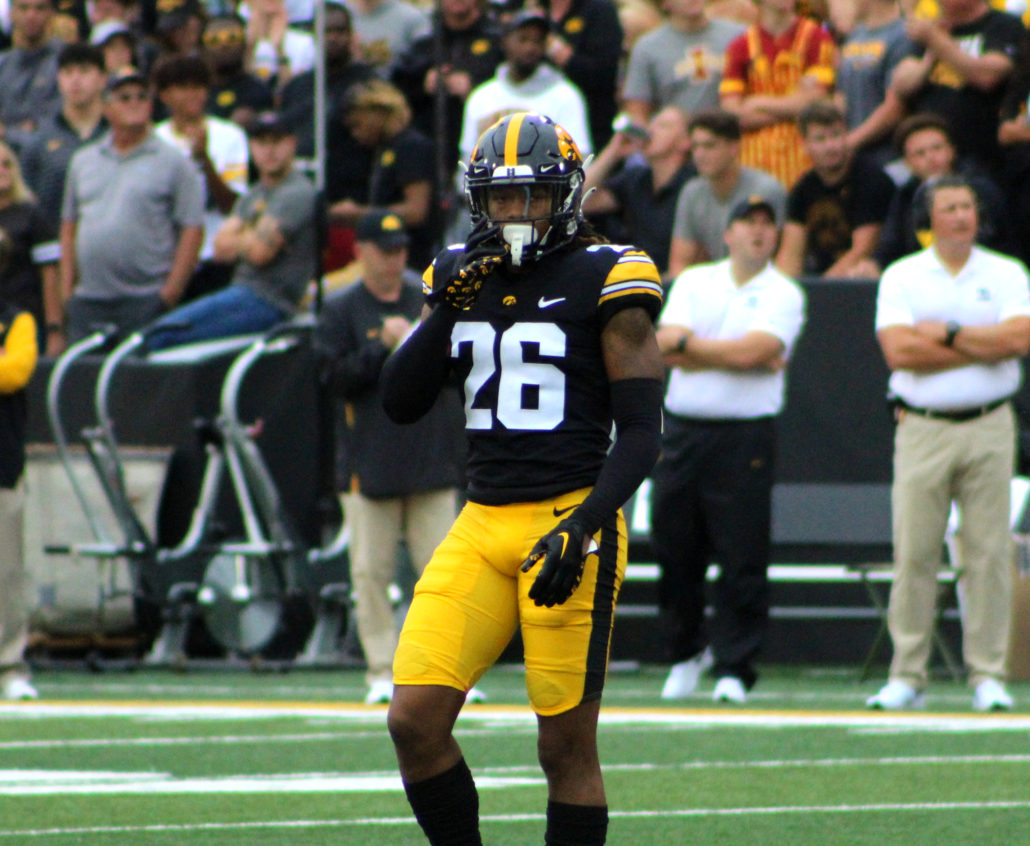 IOWA CITY, Ia. — There's one individual on the Hawkeyes' defense who's charismatic, a natural born leader, tough as nails and has the biggest smile on the team.
Iowa Coach Kirk Ferentz knew something was different about Kaevon Merriweather from the moment he recruited the former three-star prospect. Ferentz quickly noticed the bond Merriweather had with his mother LaTanya, and how they both were on the same page.
What stood out to Ferentz was the fact that Merriweather was a two-sport athlete, that also excelled at basketball. And with that type of versatility, having a low center of gravity, a nice vertical and locking down an individual one-one-one, made Merriweather a perfect fit at safety for Iowa's defense.
The Michigan native's leadership attributes is what really impressed Ferentz though. After all, Merriweather has a certain aura about him that's contagious on his teammates.
When he walks into the locker room and talks, everybody listens. When the defense needs a boost of motivation to make a big play, Merriweather is at the center of the huddle being a vocal leader. He always sets the tone in the secondary, and Iowa's defense feeds off his energy, which impresses Ferentz.
"The credit goes to him (Meriwether), just like all the other guys we're talking about," Ferentz said. "It goes back to doing that work, he has done that, he has also embraced being a leader, and I always appreciate that."
Merriweather is having his best season as a Hawkeye in 2022, and he's putting together an All-Big Ten caliber campaign. His 45 tackles, three interceptions and a defensive touchdown this fall are all career-highs.
The six-foot, 212-pounder tallied six tackles, including five solo against Michigan, which were both season-highs. Merriweather picked off a pass in back-to-back victories over Northwestern and Purdue. Not to mention he hauled in an interception and returned a fumble for a score in the road win at Rutgers.
There's no denying Merriweather has great instincts because he always seem to be in the right place at the right time. In Ferentz' eyes, he does everything a coach expects out of a safety. He's physical, fast, has great cover skills and is always around the ball when the pigskin is in the air.
The Hawkeyes have a stud at every level of their defense in edge rusher John Waggoner, linebacker Jack Campbell and cornerback Riley Moss. However, Merriweather is basically the cornerstone of the unit's intensity, and that's what separates him from the rest to Ferentz. The dude is a natural in pass coverage and at stopping the run.
"You talk about Jack Campbell, Kaevon, I think that's one of the reasons we've been good at defense," the 67-year old coach said. "We have guys at every position, not that they're all the same, Kaevon is definitely a veteran, him and Riley are the two veterans in that group."
Ferentz is recognizing everyone is playing with confidence and the numbers back it up. Iowa is currently third in the Big Ten and sixth in the FBS in total defense. Over the Hawkeyes' four-game winning streak, their defense dominated and only allowed nine points per game. And that doesn't surprise Ferentz because there are leaders on that side of the ball like Merriweather.
"You have that type of leadership in every group, they impact that room individually, but they impact that room when they're all together, the whole team," he said.
Ferentz is proud of Merriweather's amazing journey as a Hawkeye and he expects him to ball out for his last game in Kinnick Stadium Friday afternoon against Nebraska. Senior Day is going to be an emotional one for several defenders giving their final farewell, but it's also going to be the most pivotal game of the season.
If the Hawkeyes beat the Huskers they'll clinch a berth in the Big Ten Championship Game for a second-straight season. It helps that Iowa (7-4) hasn't lost to Nebraska (3-8) since 2014. And that's mind-boggling for Ferentz's team to be in this position approaching week 13, especially after they started 1-3 in Big Ten play.
The Hawkeyes responded to adversity when their backs were against the wall and came out swinging. Ferentz believes it's because of veteran leaders like Merriweather, who never let his teammates give up on the season and kept everyone dialed in on the task at hand.
That's why Ferentz believes it all solidifies the value Merriweather brings to the defense, and peels off another layer to his solid legacy as a Hawkeye.
"That's how you build a winning team, and you have to have the right guys, though."