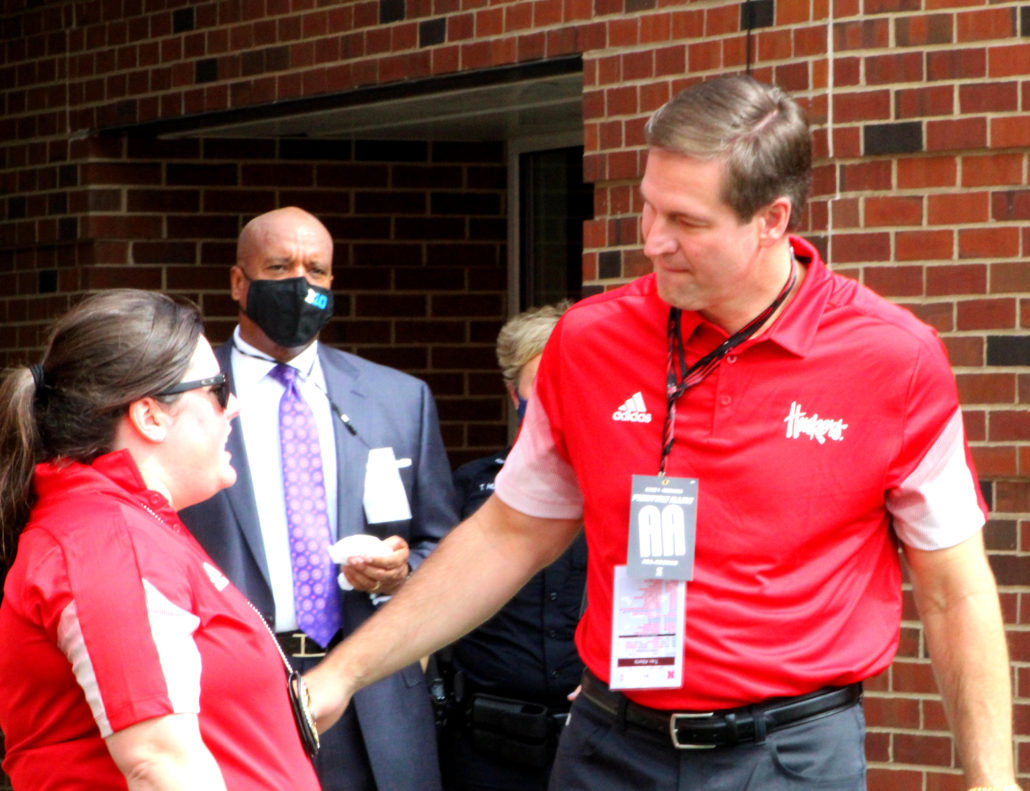 Although Nebraska has one more game left on the schedule, all the buzz is circling around what its' Athletic Director is going to decide for the program's future.
Trev Alberts has been on the job for 16 months and is no stranger to making big decisions. After all, when Alberts held the same position at Nebraska-Omaha, he dropped football and wrestling to move up a Division in basketball. The 52-year old raised eyebrows when he fired Scott Frost after a 1-2 start this season, and gave him a hefty severance package as a parting gift.
Alberts made history when he placed the interim tag on Mickey Joseph, who became the first African American coach in any sport at Nebraska. With Iowa looming on Black Friday, the College football world is expecting Alberts to make his biggest decision to date after the game.
Big Red Nation been patiently waiting on who's going to be the next coach. And Alberts started a national search after the Georgia Southern loss. Joseph is 2-6 as the interim, so many fans feel the inevitable for the former Husker quarterback.
However, Joseph is still well-respected, and a great recruiter. Which is why many Nebraska fans are anticipating Alberts to keep Joseph on the staff in some sort for familiarity. It's just hard to turn off the outside noise when names like Matt Rhule, Lane Kiffin and Dave Aranda are out there as potential hires.
And that's mind-boggling when a coaching carousel is getting all of the attention, and there's still a game left to play. That's because no one is expecting the Huskers to win at Kinnick Stadium, especially since they haven't done it since 2014.
It's obvious the players, coaching staff and fans want to get the disappointing season over with. The early signing period for recruiting is less than a month away too. So time is of the essence for Alberts. Regardless, he's a former Husker National Champion, who understands the program's tradition and the importance of winning.
Nebraska is one of the traditional blue bloods, and is part of the 900-win club, but the lack of success has fractured the fan base for the past two decades. Through it all, the fans have remained loyal though, and the sellout streak continues. Alberts knew when he took the job that he was going to be under a microscope. And with great power comes great responsibility.
It's no mystery Nebraska has lost its' way since Tom Osborne retired, and there's been five suspect hires over the past 25 years. In hindsight, none of them were even qualified for the job.
Some fans thought Osborne shouldn't have named Frank Solich as his successor, who was never a head coach prior to that. Solich did win 58 games in six seasons, but it was crystal clear Nebraska was drifting under his watch.
The Bill Callahan experiment lured elite talent to Lincoln, but he suffered a losing season in year four, and didn't seem to care much about the job at that point. Bo Pelini won at least nine games every season he coached at Nebraska, but each of those campaigns were accompanied by four losses and countless acts of embarrassment on the sidelines.
Mike Riley was a nice guy and a decent recruiter. He even led the Huskers to a 7-0 start in 2016, but in the end Riley lacked the energy and success the fans desired. Frost arrived with the most hype out of the five, but had by far the worst tenure.
All of Nebraska's shortcomings has to be on Alberts' mind when considering the right candidate. Being a former Husker and having head coaching experience didn't pan out well, so no one really knows what it's going to take to make the ideal hire.
Rhule was instrumental in reviving Baylor from Art Briles' controversial tenure. Aranda led the Bears to a Big 12 Championship last year. Kiffin has won 18 of his past 24 games at Ole Miss. There's been several other names rumored to be in the mix, most notably Alabama's Bill O'Brien, Texas' Gary Patterson and NC State's Dave Doeren.
Some fan are wishing Alberts makes a homerun hire like former coach Urban Meyer, or Jackson State's Deion Sanders. While others are anticipating more of a realistic hire like Kansas State's Chris Klieman or Iowa State's Matt Campbell. Each candidate comes with pros and cons though. It has to be about more than just winning too. The coach has to be the right fit, but there's nothing wrong with thinking outside of the box, especially since nothing has worked so far.
Alberts still holds all of the cards and likely knows who's going to be Nebraska's head coach. He's obviously doing a great job of keeping everything under wraps while the season is still in play. And once the clash at Iowa ends, Big Red Nation will be anxiously waiting for Alberts to make the biggest decision of his career.