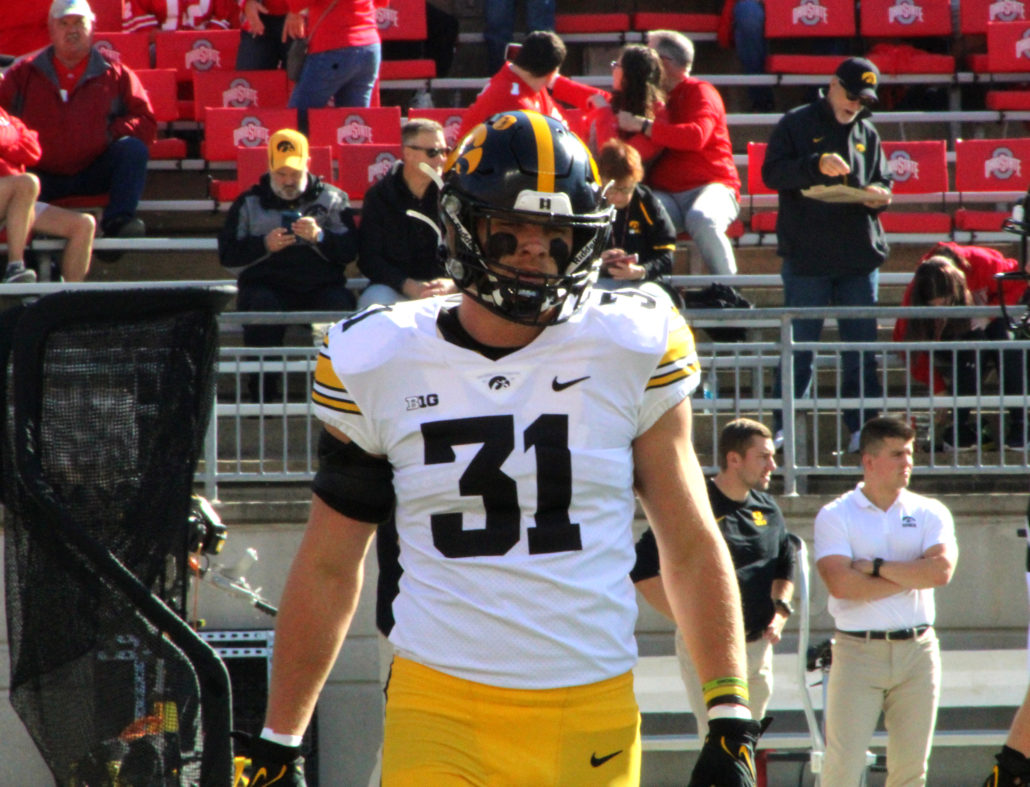 IOWA CITY, Ia. — This fall Iowa's senior linebacker has picked up where he left off in 2021, when he led the nation in tackles.
Jack Campbell's preparation, production and leadership has stood out in his head coach's eyes. After all, Campbell is a monster on the gridiron, who's a natural at holding down the middle of the Hawkeyes' defense and always sets the tone every game.
The Iowa native currently leads the Big Ten and is 14th in the FBS in tackles per game. Not to mention Campbell been stockpiling the accolades during the process. He's a two-time semifinalist for the Butkus hardware, which is awarded to the nation's best linebacker. Campbell is also a semifinalist for the Bednarik.
Ferentz knows when a Hawkeye is in the running for those type of trophies, they've earned the recognition. Which is why he appreciates everything Campbell brings to Iowa's defense.
"He has a different skill set, which is really unusual for a player here, the linebacker to be his size, have this kind of range," Ferentz said. "But I think the commonality, the best guys we've had in our program, just seems like they all think the right way, take great pride in what they do, and are humble guys for the most part."
There's no denying Ferentz has fielded some elite linebackers in his tenure like Chad Greenway and Josey Jewell. However, what separates Campbell is how he gets the rest of his teammates to feed off his energy and intensity. All 11 defenders operate as one unit. Which is why Iowa is currently third in the country in total defense.
Campbell is the heart and soul of the Hawkeyes' defense, and he's as disciplined as they come. He has always represents Hawkeye nation in a classy manner and carries himself with pride.
For a defender that stands six-foot-five, and weighs 235 pounds, Campbell has low center of gravity and can fly from sideline to sideline. To Ferentz it's like having a quarterback on the defense, who's willing to take responsibility and accept accountability.
"He's a different guy and a different linebacker than the ones we've had, and we've had some really good ones," he said. "And I think about Jack, he is all about the team, he's doing it for the right reasons, and, boy, he does it well."
Campbell is a tackling machine and loves eating ball carriers for breakfast. He has tallied double-digit stops against South Dakota State, Nevada, Michigan, Illinois and Wisconsin this fall. The Hawkeyes' defense has played lights out along the way, which is why the team is No. 1 in the Big Ten West standings approaching week 12. Ferentz knows without players like Campbell guiding and leading on and off the field, Iowa wouldn't be in this position.
"His heart and soul, toes to the head, it's all about football and what's best for the team," the 67-year old coach said. "As a coach, you appreciate that."
Iowa (6-4) is on a three-game winning streak heading into the rivalry clash at Minnesota. There's a ton on the line for both teams. Great players come up big in pivotal games, and Campbell is always ready when it's time to deliver in the clutch.
So Ferentz is expecting Campbell to bring the tenacity the rest of the way as the Hawkeyes look to clinch back-to-back Big Ten Championship Game berths for the first time in school history.
Ferentz anticipates Campbell and other Hawkeye leaders to keep the rest of the players grounded and dialed in on the goal at hand. It helps that Iowa hasn't lost to Minnesota (7-3) since 2014.