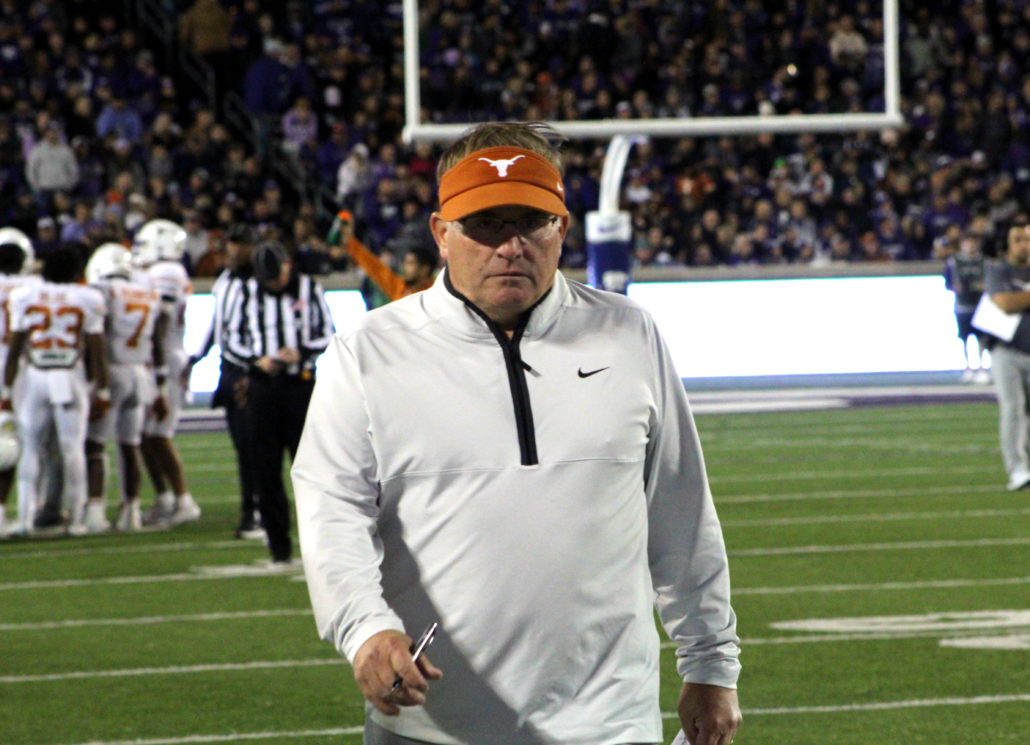 Saturday's game between the two Big 12 programs will be pivotal in the race for a conference title, with plenty of storylines.
None bigger than the spotlight shining on Texas' Gary Patterson, who'll be squaring off against a team he coached for 21-plus seasons. After all, Patterson is TCU's all-time winningest coach, with a 181-79 record, and he put several conference championships in the trophy case.
However, the Horned Frogs sent shockwaves throughout College football when they parted ways with Patterson after eight games last year. Although he had a 3-5 campaign, several fans thought Patterson deserved a more respectful departure.
Fast forward a year later, and Sonny Dykes has TCU 9-0 for the first time since 2010. It's a feat Patterson accomplished a few times with the program. Of course he should be happy for his former players, but all of Dykes' success in his first year with the Horned Frogs has to have Patterson feeling some type of way. Especially since Dykes is doing it with a roster mostly made up of players Patterson recruited, including quarterback Max Duggan.
To add more fuel to the fire is the fact that TCU is No. 4 in this week's AP Poll and Playoff rankings. Now Patterson, who's a special assistant to Steve Sarkisian, will get an opportunity to have the last laugh. Texas rarely gets to play spoiler to a team not named Oklahoma. And the Longhorns would love nothing more than to ruin the Horned Frogs' magical season. It would also be the first signature win of the Sarkisian era.
So there's no denying Texas (6-3) has a lot to play for too. If the Longhorns beat the Horned Frogs, they'll stay locked in that No. 2 spot in the Big 12 standings. The Playoff Committee has Texas at No. 18 this week. And a victory by the Horned Frogs will definitely solidify their ranking as a top-four team.
Patterson will probably try his best this week to avoid being a distraction for the players. It's no mystery the Longhorns want to win this one bad for Patterson though.
He has to know the strengths, weaknesses and tendencies with most of TCU's players. And that should give the Longhorns the advantage. Patterson was 2-2 head-to-head against Dykes when he was at SMU, but lost the last two meetings.
The 62-year old's name has been brought up in the coaching carousel at other Power Five programs also, including Nebraska.
Saturday night under the lights at Darrell K. Royal will arguably be College football's biggest stage this weekend. Patterson will likely hug and greet his former players during warmups, but once kickoff starts it's going to be all business on the gridiron. Hopefully there'll be no remaining animosity from either side, regardless of the outcome.