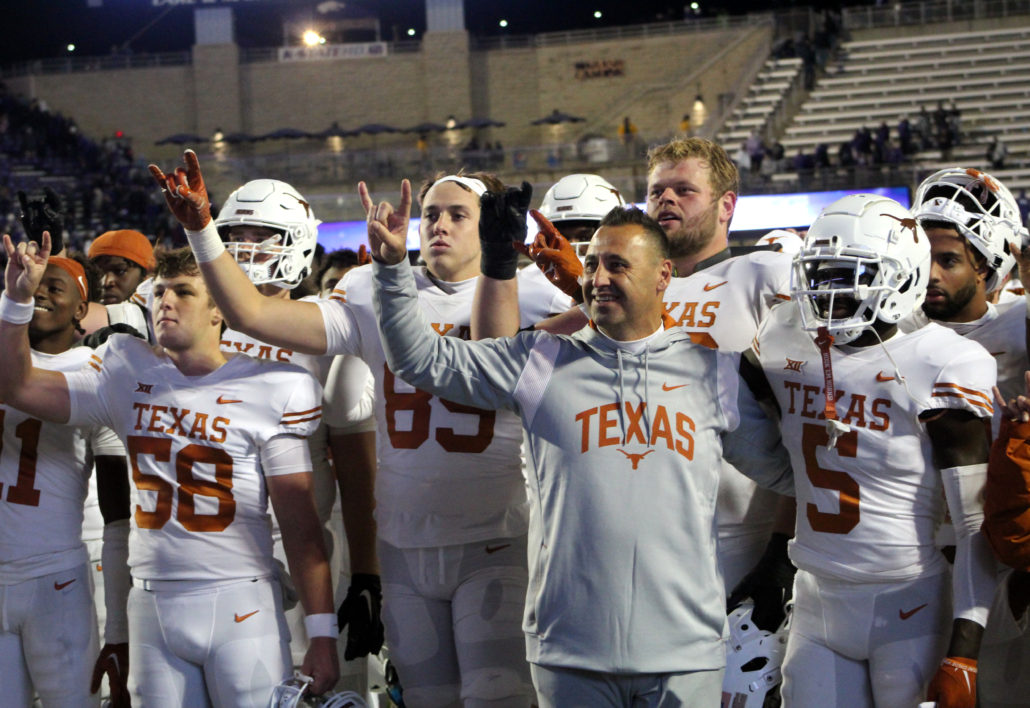 MANHATTAN, Kan. — There's no denying Steve Sarkisian and his players utilized their bye-week.
Texas put its' loss to Oklahoma State in the rearview mirror, came out on a mission and put away Kansas State 34-27 under the lights. It was the Longhorns' sixth-straight win over the Wildcats, including the last three at Bill Snyder Family Stadium, which had a packed crowd of 51,216. Not to mention Sarkisian's boys are now in a three-way tie for second place in the Big 12 standings.
It wouldn't have happened if it wasn't for a breathtaking performance by All-American rusher Bijan Robinson. He carried the ball 30 times for 209 yards, which were both season-highs. Robinson also had a rushing score and averaged seven yards per carry. It was his sixth-straight outing of eclipsing the century mark in rushing.
That's because Texas' offensive line dominated the trenches, opened up gaping holes and mauled defenders throughout the night. The Longhorns' offense was on fire, and scored  31 points in the first half for a second-straight game, which Sarkisian thought was encouraging.
"Obviously we felt like we had to come in the game and run the ball well, and we had to try to control the game that way," Sarkisian said. "These guys were a turnover machine on defense, and they lead our conference in interceptions, so to come in and run the ball the way that we did with the success that we had, I thought that was really impactful in the game."
Quarterback Quinn Ewers completed 18 of his 31 passes for 197 yards and two touchdowns. He connected with wideout Xavier Worthy for two scores in the second quarter. Worthy now has a jaw-dropping, nine touchdown catches over the last six games.
Although the Longhorns finished with fewer yards and first downs than the Wildcats, they still found a way to win. It didn't help that the offense lost two fumbles though.
Kansas State (6-3) made Texas fans very nervous in the second half, with a 17-point rally to pull within one touchdown. Meanwhile the Longhorns were held scoreless in the third quarter.
Giving up big leads had become all too familiar in Sarkisian's tenure, but the Longhorns made key adjustments on both sides of the ball against the Wildcats.
"It's not like we have our heads in the sand and not aware that we got work to do," he said. "We need to play better than we played in the second half tonight, for whatever reason, I gotta keep digging."
Texas stepped up on defense in the clutch and caused two key turnovers, including the game-clinching fumble recovery. Jaylan Ford tallied a game-high, 10 tackles, forced a fumble and picked off a pass. DeMarvion Overshown led the team with seven solo stops. Keondre Coburn and Barryn Sorrell each put the quarterback to the turf, which impressed Sarkisian.
"We finally made a play, the ball had been out three times previously to that last fumble recovery, to where we just didn't get it," the 48-year old coach said. "Sooner or later the ball is going to bounce our way, and great sack by Coburn and nice recovery by Jaylan Ford."
Now Texas (6-3) controls its' own destiny, despite Kansas State and Baylor having the same conference record. Still, the Longhorns have already defeated the Wildcats, and play the Bears on Senior Day. Sarkisian is just trying to take it all one game at a time, but he's proud to have Texas bowl eligible for the first time since 2020.
Sarkisian wants his players and staff to enjoy their sixth victory of the season, but he's eager to shift his focus towards an undefeated TCU team at home next week. Being No. 2 in the standings will mean nothing if the Longhorns can't beat the Horned Frogs. Regardless, Sarkisian understands his team is navigating through the Big 12 gauntlet, and he just wants them to finish strong down the stretch.
"We knew this month of November was going to be a big month for us, we got a great opponent coming in next week, and looking forward to seeing all of our fans at DKR, it should be a great environment."