Joe Klanderman expecting defense to build off last week's shutout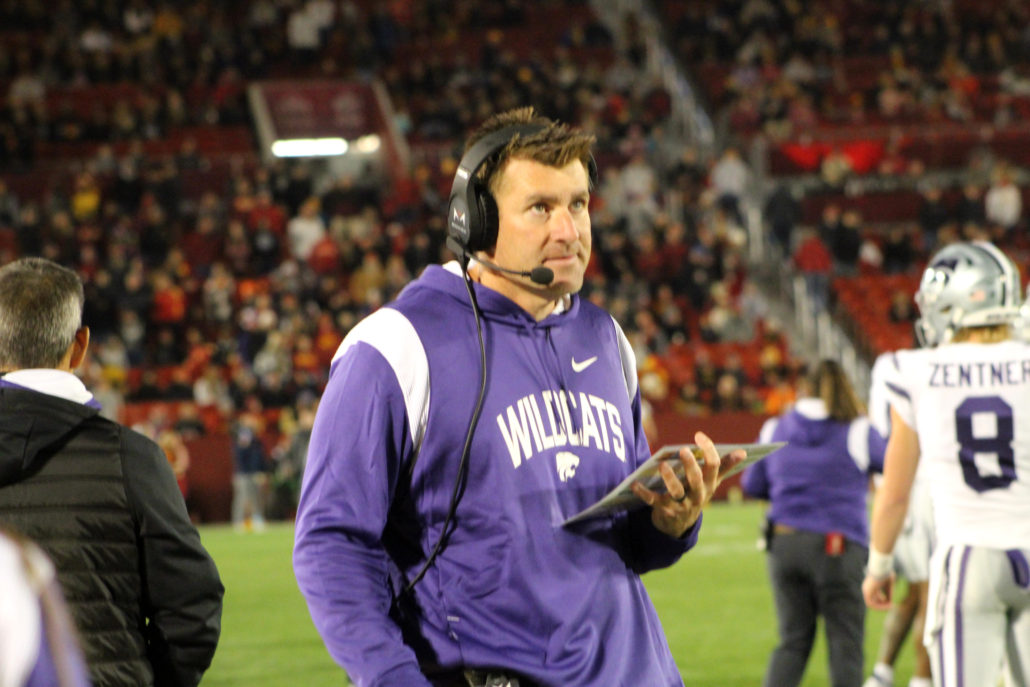 MANHATTAN, Kan. — Although Kansas State is coming off its' second shutout of the season, there's another challenge looming in week 10.
Not only are the Wildcats facing a team they haven't beat since 2016, but they're also fighting to keep their No. 2 spot in the Big 12 standings. Defensive Coordinator Joe Klanderman is proud of his unit up to this point. After all, Kansas State is third in the Big 12 in total defense. Not to mention the Wildcats are 11th in the FBS in points allowed.
Those are encouraging numbers in Klanderman's eyes, but he still keeps his players striving for more, and never staying complacent.
"I mean, there's still some execution things that we can improve on, and we're always in search of the perfect game," Klanderman said. "I don't know if we're ever going to find it, but I think guys played really hard and gave themselves a chance to be successful."
Klanderman is well aware that Texas' offense has had a week off to prepare for his defense. So he's expecting a few wrinkles with the Longhorns' skill position players. And that includes All-American running back Bijan Robinson, who leads the Big 12 in rushing yards and touchdowns on the ground.
The 13th-ranked Wildcats haven't faced a back of Robinson's caliber this fall. And Kansas State is 53rd in the country in rushing defense. Which is why Klanderman is planning on making adjustments on the fly. Kind of like what he did last week against Oklahoma State, when Klanderman lined up linebacker Khalil Duke at defensive end.
It worked perfectly against Mike Gundy's scheme, and allowed defenders like Nick Allen to make plays. Allen led the Wildcats with eight tackles against the Pokes, and Klanderman wasn't surprised that he flourished.
"Nick was awesome, and we knew he was going to be," he said. "He just has total control of the game, total control of what he's doing, just vocal kid similar to Deuce (Daniel Green) in a lot of ways."
Kansas State's pass rush is ferocious and Klanderman is anticipating on getting to Texas quarterback Quinn Ewers. With defenders like Felix Anudike-Uzomah, who's a Bednarik Award semifinalist, wreaking havoc off the edge, along with Duke and Allen in the mix, it's no mystery as to why the Wildcats lead the Big 12 in sacks.
It just so happens that the Longhorns excel at protecting their quarterbacks, and only allow 1.25 sacks per game, which is third-best in the league. When Ewers has time he can light up any secondary. Not to mention he has stud receiver Xavier Worthy in his arsenal.
Worthy can stretch the field with is speed and athleticism. He also leads the conference in receiving yard and touchdown catches. And Worthy has Klanderman's full attention, because he works closely with the safeties.
"Worthy's deal is he's just incredibly fast, just not nearly as big as the others, but tough to get your hands on him in space," the third-year defensive coordinator said. "The route concepts that they do with him are a little different than they would do with some of the others."
No doubt Kansas State's defense has to be disruptive and throw off the timing of Texas' offense. Coach Steve Sarkisian likely studied the film from the Wildcats win over the Pokes, so the Longhorns probably won't make the same mistakes.
Kansas State (6-2) is trying to snap a five-game losing streak in this series, so that should give the players more than enough motivation. Texas (5-3) has just as much to lose, with that No. 2 spot on the line. The home crowd will be a major factor, especially under the lights, and great defenses feed off that energy.
The Longhorns scored 69 points the last time they visited Bill Snyder Family Stadium. So Klanderman and his players have to be determined not to let that happen again.