Will Howard taking that next man up mentality to another level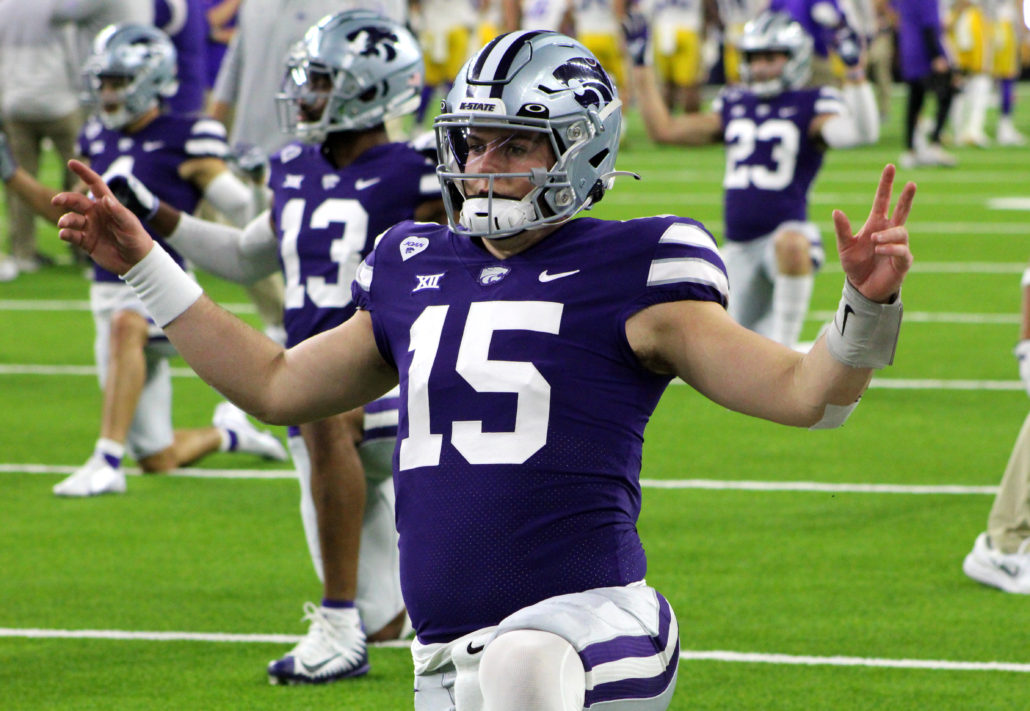 Kansas State's backup quarterback is coming off a career day in the blowout victory over Oklahoma State, and silenced all of his past critics.
Although Will Howard had two years worth of starting experience, he took a backseat to the arrival of Adrian Martinez. It had to be a humbling experience for him to ride the bench and watch another signal-caller lead the team up the Big 12 hierarchy.
However, Howard emerged from the shadows and got his opportunity against TCU in week eight. Martinez got knocked out of the game in the first quarter, and Howard filled in for him nicely. He threw for 225 yards, two touchdowns and an interception in the loss to the Horned Frogs. Howard also generated a rushing score.
It was a promising performance, and Coach Chris Klieman obviously was encouraged by Howard's outing. Which is why he had no problem with Howard starting against Oklahoma State. There was talk throughout the week of Martinez returning to the lineup and being a game-time decision.
Regardless, everyone in the locker room knew what was coming, and they all rallied behind Howard. The Pennsylvania native didn't disappoint either. Howard completed 21 of his 37 passes for 296 yards, four touchdowns and no interceptions against the Pokes.
His numbers raised eyebrows across the Big 12 because he accomplished that feat against an AP top-20 team. The 48 points the Wildcats scored was their highest in the past 25 games. And that's a testament to Howard's maturation process. The six-foot-five, 235-pounder made others around him better and the rest of the offense fed off his energy.
Kansas State (6-2) finished with more yards, plays and first downs than Oklahoma State. Howard was able to spread the ball around, and six different Wildcats caught a pass from him. The offense didn't commit any turnovers with Howard at the helms, played complimentary football and dominated in time of possession.
Most importantly Kansas State downed Oklahoma State (6-2) for the first time since 2018, which was the cherry on top for Howard. It remains to be seen if Howard is just cracking the surface on his potential. He solidified he's a valuable piece to the offense when given a chance. And having two capable starters is a luxury for Coach Chris Klieman.
After his stellar outing, fans are wondering what Howard can do for an encore. As long as Kansas State keeps winning, each game becomes more pivotal. The No. 13 Wildcats are no longer the hunters, and will be the hunted down the stretch. Which means Klieman's squad will be getting every opponent's best effort.
Because of Howard's play on the gridiron, Kansas State's Big 12 Title hopes are very much alive. Texas is coming off a bye-week and will be invading Bill Snyder Family Stadium next Saturday. The winner will have that No. 2 spot in the Big 12 standings on lock, especially if Oklahoma State loses again.
Obviously Howard was able to pick up some good traits from Skylar Thompson and Martinez, and applied that to his play on the gridiron. There's no denying Howard is a completely different player than the one who threw 11 interceptions in 2020.
So much so, that Klieman may have a quarterback controversy on his hands for the remainder of the season.