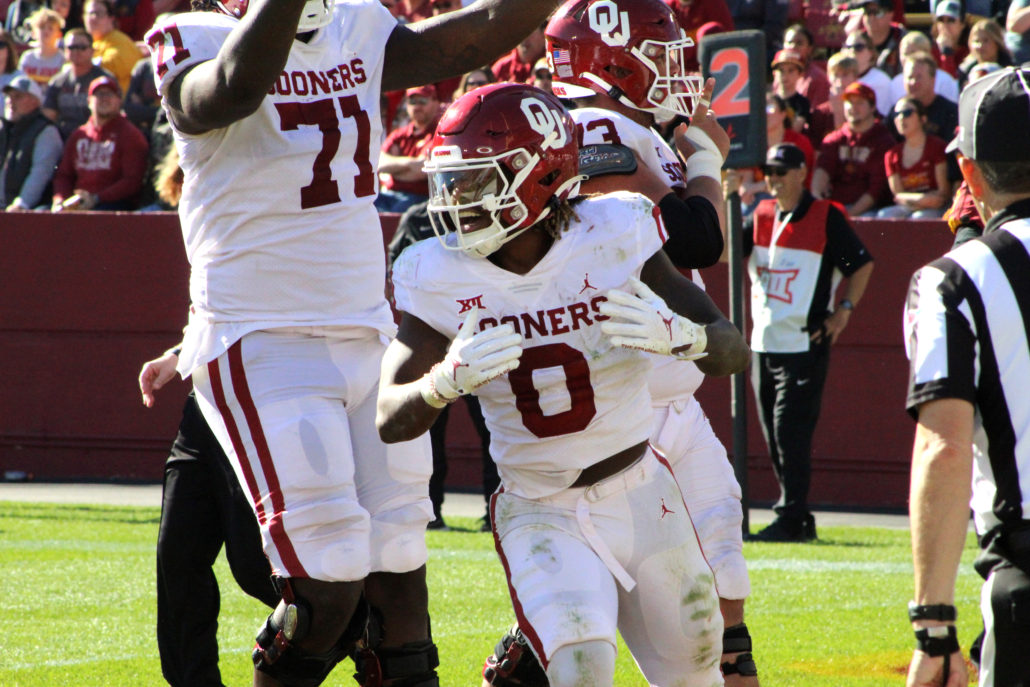 AMES, Ia. — Last season the running back was Kennedy Brooks' backup, and finished as Oklahoma's third-leading rusher.
Eric Gray is no stranger to waiting his turn. After all, his journey has been about perseverance and patience. The former four-star prospect rushed for 772 yards and scored six touchdowns as a Tennessee Volunteer in 2020. Gray knew he was entering a crowded Sooner backfield last year, and played the cards he was dealt.
However, everything has come full circle for Gray this fall. The Memphis native has eclipsed the century mark in rushing in five of Oklahoma's eight games, including 101 in Saturday's victory at Iowa State. Gray's 20 carries against the Cyclones tied a season-high. Not to mention he scored his fifth rushing touchdown of 2022, which happened in the fourth quarter and put the game out of reach.
None of it came easy for Gray though. He spent nearly 30 minutes in the injury tent before he returned to the game. Towards the end of the contest he walked towards the locker room with a noticeable limp in his leg. Gray later downplayed any lingering issues, and emphasized that he's fully healthy.
"I just needed more of a stretch, we got in the locker room and stretched it out, and I feel fine," Gray said. "I'm a level-headed guy, I knew I was going to come back in the game, it was just a matter of time of stretching it out, allowing it to run its' course, and get back in there and play hard."
The 5-foot-10, 210-pounder is like lighting in a bottle out in space with his explosiveness. And he's proud of the big boys up front for opening up gaping holes for him to run through. Iowa State's defense is one of the nation's best, but Oklahoma was able to get a consistent push throughout.
"Our o-line has definitely stepped up and done a great job of imposing their will on defenses," he said. "They're opening up a lot of holes in there, allowing me to get to the second level and make people miss."
Gray has more respect for Coach Brent Venables as a game day motivator too. Venables played a clip for the offense of a reporter claiming the Cyclones were going to win easily. Gray and his teammates took that as disrespect. They had to make everyone respect the 'O' on the side of their helmets, so the Sooners came out on a mission.
"Well we heard it all week how good the Iowa State defense was, and for me it was stick to my keys," the 22-year old said. "There was going to be opportunities in there, and I saw opportunities on film that others offenses didn't take advantage of."
Gray admitted that punching the ball into the end zone was an unbelievable feeling for him and his teammates. Most importantly, he's just glad to be back winning again, because that's when everyone is having fun. Oklahoma (5-3) is starting to catch fire at the right time, and Gray is noticing a surge.
The players are gaining more confidence after every game, thanks to leaders like Gray in the locker room. In Gray's eyes, the Sooners are a completely different team than they were a month ago. The players are taking accountability and uplifting each other to be better. And that's encouraging to Gray.
"We had our ups and downs but I feel like the offense is clicking and we're hitting our stride."