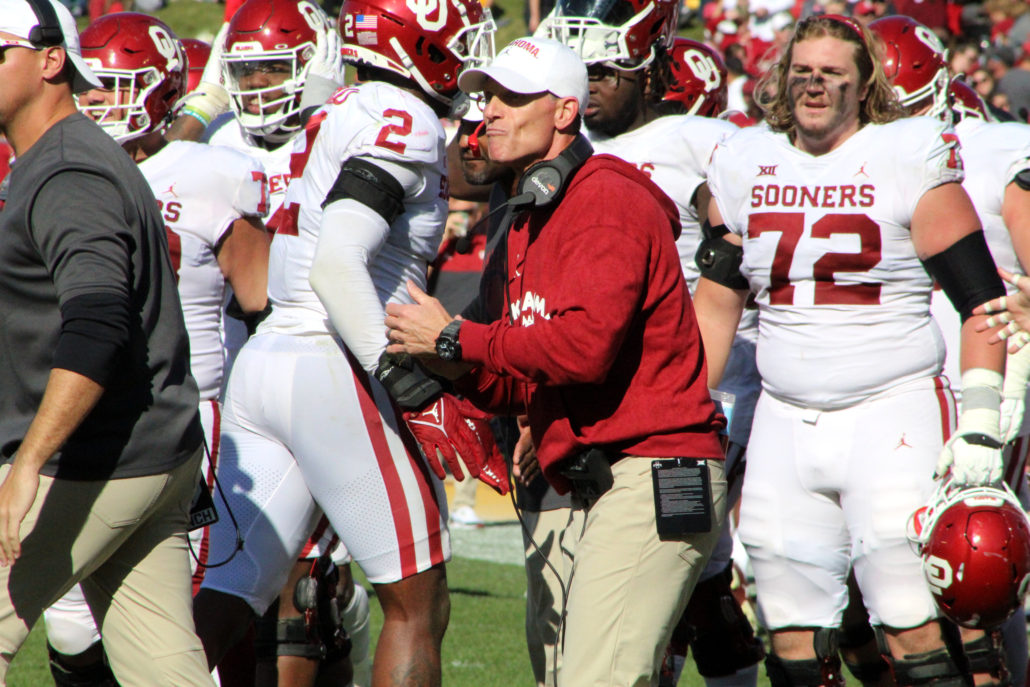 AMES, Ia. — It wasn't pretty by any means, but Oklahoma was able to survive a scrappy road battle at Iowa State, to keep its' Big 12 hopes alive.
The 27-13 victory was the Sooners third-straight over the Cyclones. And Oklahoma accomplished that feat in front of a crowd of 58,716 at Jack Trice Stadium. First-year Coach Brent Venables was proud of his team because they scored in every quarter and never trailed in the contest.
Although the Sooners finished with fewer yards, plays and first downs than the Cyclones, they still won. That's because Iowa State (3-5) had three costly turnovers. Quarterback Hunter Dekkers was picked off three times, and Oklahoma was able to capitalize.
The Sooners' defense held the Cyclones' offense to 68 yards on the ground, which was its' second-lowest total of the season. Having no running game basically made Iowa State one-dimensional on offense, which put more pressure on Dekkers, and he cracked like an egg.
"Just incredibly proud of our guys, our focus right now is about finishing what you started," Venables said. "I fear not finishing what I started, and this has been the mantra of this team, the leadership."
Quarterback Dillon Gabriel completed 15 of his 26 passes for 148 yards and a touchdown. Venables pulled out all the stops and even got tricky, with a fake field goal attempt that resulted in a two-yard touchdown pass from Zach Schmit.
Senior running back Eric Gray rushed for a game-high, 101 yards, and his fourth quarter touchdown basically put the game on ice for the Sooners. It was Gray's fifth 100-yard performance this season. That's a testament to the blocking ability from the big boys up front. And that's what impressed Venables the most.
"We knew that our offense was going to have to play efficiently and patiently, being tough, physical and disciplined," he said. "We won the rushing total, we won the turnover margin, and we were more efficient on third and fourth downs."
There's still plenty of mistakes to clean up in Venables' eyes though. From the silly penalties, to the lost fumble. The Sooners will need to find a way to stay disciplined and fundamentally sound. Special teams were a factor, with Schmit's two clutch field goals. Oklahoma also averaged nearly 50 yards on six punts. And the Cyclones couldn't generate much traction, having to navigate long drives because of bad field position.
Not to mention defenders Woodi Washington, Danny Stutsman and Justin Broiles all hauled in an interception.  Linebacker DaShaun White tallied a career-high, 14 total tackles, including 10 solo. Washington added eight stops and Stutsman had five.
Overall Venables thought his players put together a gutsy performance. Still, he knows there's more wrinkles to be ironed out on both sides of the ball. So he's anticipating an intense week of practice as Oklahoma prepares to host Baylor next Saturday.
"We had too many drops on offense, and then on defense I felt that we allowed them to stay in the game," the 51-year old coach said. "I thought that we made some things way too easy for Iowa State, with all due respect."
Now Oklahoma (5-3) is in the middle of the pack in the Big 12 standings, with games left against Oklahoma State and Baylor. The Sooners can leap ahead of those two teams with a win. However, Oklahoma still needs Kansas State to lose twice and for Texas to drop another to move into that No. 2 spot.
There's still a lot of football left to be played and nothing is set in stone. Venables just wants his players to stay focused and to mute the outside noise. He wants his players continually striving and never staying complacent. That's what will keep the team going, knowing there's still unfinished business.
"If you sign up for something and you're always looking for how you're going to be rewarded, you'll never have a chance to be your best."