Cyclones still searching for first Big 12 victory of season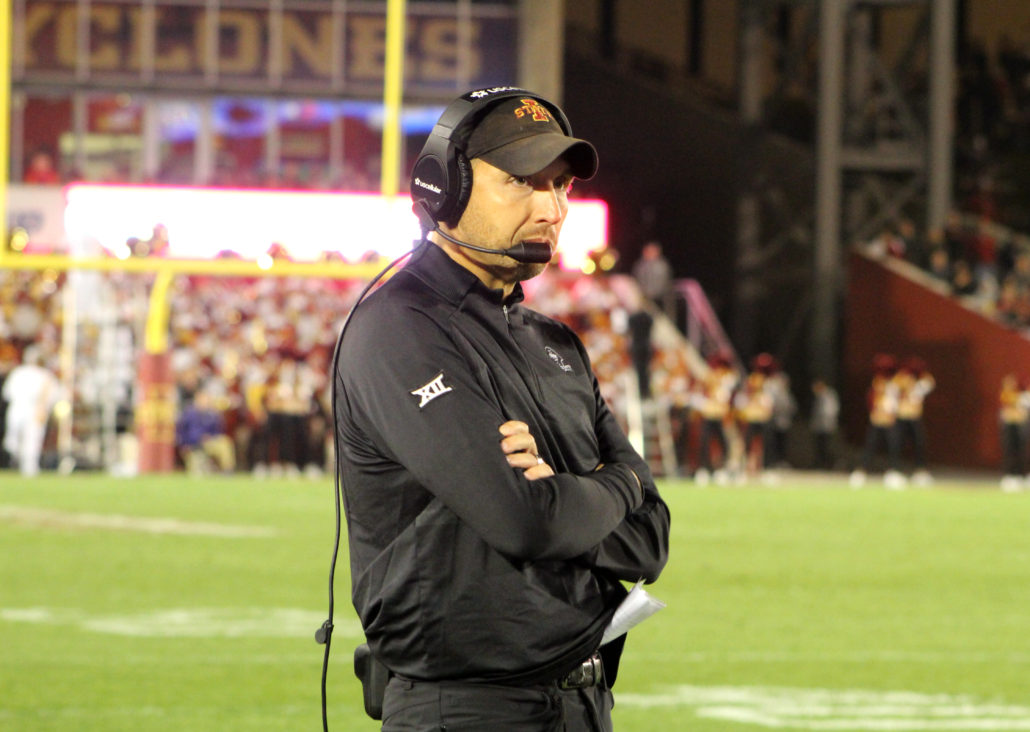 The Cyclones have hit the reset button on a disappointing campaign, and they're looking to build off a utilized bye-week.
After all, Iowa State is riding a four-game losing streak, after winning its' first three contests. Coach Matt Campbell has his team 0-4 in Big 12 play for the first time since 2016. So there's no denying the sense of urgency in Ames.
However, it's frustrating for fans that Iowa State has come so close lately, with its' last three losses by a combined seven points. On offense the Cyclones have really struggled with transitioning to life after Brock Purdy and Breece Hall. So much so, that Iowa State is dead last in the conference in scoring, rushing and total offense.
It's crystal clear the offense has been a liability, and hasn't complimented Iowa State's vaunted defense all season. Sophomore quarterback Hunter Dekkers has thrown four interceptions over the past four games. And he hasn't received much help from the backfield. The Cyclones have only scored six rushing touchdowns through seven games.
A lot of that can be contributed to the offensive line. The big boys up front have struggled to open holes for the running backs and can't protect Dekkers. Iowa State's offense has allowed 2.14 sacks per game, which is eighth in the Big 12.
This fall there's been a ton of offensive production around the league. Shoot out games have become the norm again in the Big 12, so it's a bad time for the Cyclones to be abysmal on offense. Offensive Coordinator Tom Manning must do a better job putting his players in the right places to be successful on the gridiron.
The Cyclones have only scored 41 points over their last three games, which is a far cry from the 31.3 they averaged in 2021. Now Iowa State is hosting a Oklahoma team this Saturday, that scored 52 points on Kansas last week. This will be the first time since 1999 in this series that both teams are unranked.
Not to mention the loser of this game will be in last place of the Big 12 standings. The Sooners are trying to climb back up the Big 12 hierarchy. Quarterback Dillon Gabriel returned to the lineup against the Jayhawks, and threw for 403 yards and two touchdowns. He makes everyone around him better and that's when Oklahoma's offense is the most dangerous.
Campbell needs to make sure the Cyclones are ready to answer the bell on offense just in case Saturday's clash turns into a shootout. Campbell is 1-6 against Oklahoma, including five-straight losses. Closing out forgettable October with a win will go a long way with how the rest of the season plays out for Iowa State.
Oklahoma (4-3) has been suspect on defense all season long though. As a matter of fact the Sooners are dead last in the Big 12 in total defense. So if Manning game plans right for Oklahoma's defense, Iowa State should be able to put more than it has in the previous four games.
It's still any given Autumn Saturday. And after coming up short lately, Campbell's squad is more than capable of finally getting in the Big 12 win column.