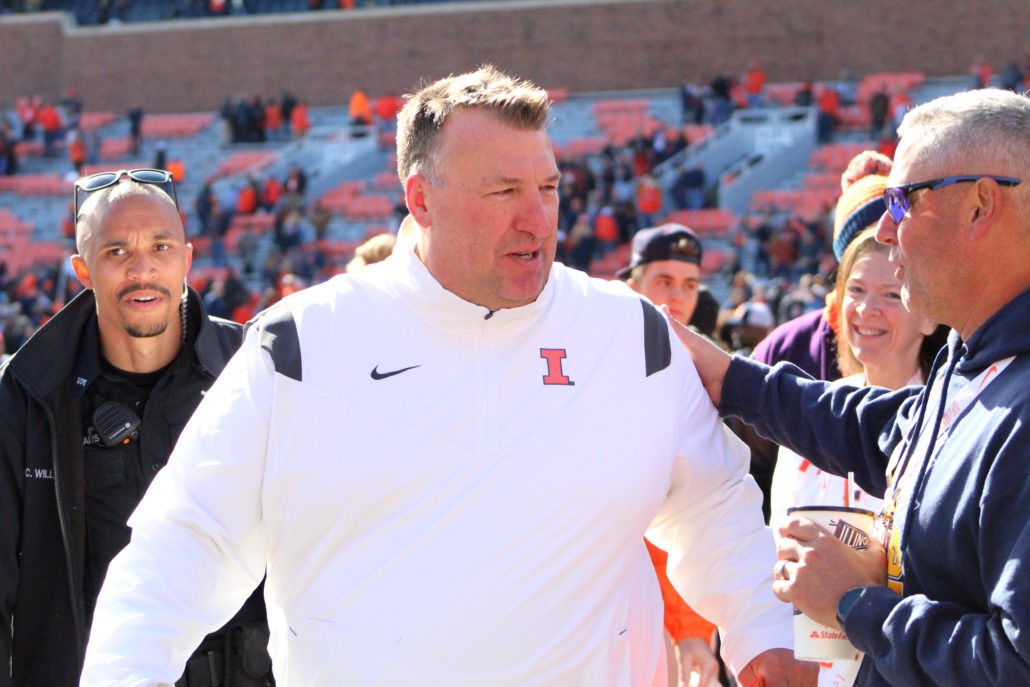 CHAMPAIGN, Ill. — It's been 10 years since the Illinois coach last visited Lincoln.
And Bret Bielema remembers it all vividly. Although it was his last campaign with Wisconsin, and he eventually won the Big Ten Title later that season, Bielema can't forget how Nebraska mauled his players on both sides of the ball.
The Huskers won that game 30-27 in thrilling fashion, and they haven't beat the Badgers since. Bielema's not with Wisconsin anymore, but he knows he's walking into a snake pit entering the Sea of Red this Saturday. After all, Bielema had the last laugh in 2012, when the Badgers annihilated the Huskers 70-31 in the Big Ten Championship Game.
There's no denying Big Red Nation still wants revenge for that. So Bielema is making sure the Fighting Illini aren't overlooking a Husker team with four losses and an interim coach in Mickey Joseph.
"I think Coach Joseph because he played there, he definitely had a huge impact on what's happened since that transition," Bielema said. "I've noticed a difference on offense, defense, and even on special teams."
No doubt there's a lot at stake in this matchup. Illinois has a ton to lose, while Nebraska has everything to gain. Not to mention both teams are coming off a bye-week. The Fighting Illini are currently atop the Big Ten West standings, and ranked No. 17 in this week's AP Poll. Meanwhile Joseph needs to win three of the five remaining games to make the Huskers bowl eligible for the first time in six years.
It's a perfect opportunity for Nebraska (3-4) to pull off a huge upset. The Huskers haven't beaten an AP ranked team at home since 2016. Which is why Bielema hasn't been worried about the outside noise. Nor is he elated how the West played out in his team's favor during the week off.
Bielema took advantage of Illinois' bye-week, and got his backups a ton of reps and some recruiting done. A lot of his players were able to get healthy too. There's one aspect about Nebraska that has Bielema concerned though. The Huskers accomplished something this season the Fighting Illini couldn't.
"They were able to beat an Indiana team by two scores, something we were unable to do," he said. "I think them coming out the bye-week and they did really well in that Indiana game, are all the key ingredients for us to be ready to play a really good game on Saturday, and I'm excited for the opportunity."
The Hoosiers delivered the Fighting Illini their only loss of 2022. Illinois (6-1) has won the last two over Nebraska. The Fighting Illini outscored the Huskers 71-45 in those meetings. Bielema is 3-1 against the Huskers as a head coach. However, none of that matters this time around. Bielema is anticipating a physical slugfest, and he knows Nebraska won scrappy against Rutgers.
The Huskers have the fourth-best passing offense in the Big Ten. Quarterback Casey Thompson can do damage when he has time. And Thompson has dynamic wideout Trey Palmer in his arsenal, who leads the conference in receiving yards per game.
Illinois has the nation's best defense though. The Fighting Illini are a tenacious buch, and they love mauling ball carriers and making quarterbacks eat grass.
This will be by far the best defense Nebraska has faced in 2022. The Fighting Illini are preparing to unleash the nation's leading rusher on the Blackshirts too. Chase Brown is having a Heisman caliber campaign, and he's going up against the Blackshirts, who are dead last in the Big Ten in rushing and total defense.
Regardless, Bielema knows games aren't played on paper. So his staff and players are taking it one game at a time.
"The way they're playing the game, especially at home, which we're going into, they play physical Big Ten football, so a tremendous challenge for us."