Ranking the Big Ten approaching week nine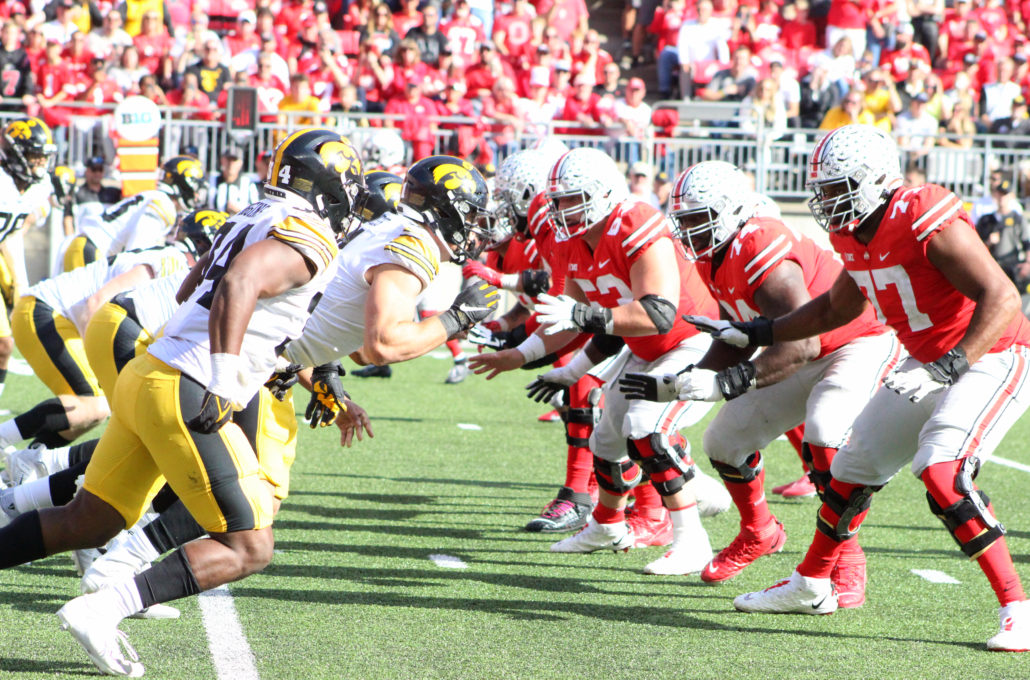 The battle for No. 1 in the East and West standings keeps getting more intense after each week.
The Big Ten has four teams ranked in the AP Poll in week nine. Nothing is set in stone and everything is still up for grabs, with a lot of football left to be played. Some teams are starting to surge, while others are dwindling down.
Regardless, all 14 teams still have a shot at a winning season. And this Saturday will present opportunities for some teams to improve their chances.
14. Northwestern, (1-6): The Wildcats are having a disastrous campaign. Northwestern is riding a six-game losing streak. Not to mention Pat Fitzgerald's boys have lost nine of their last 10 Big Ten games, including three-straight. The offense has been the Wildcats' achilles heel. Northwestern is currently 13th in the league and 118th in the FBS in points per game. Quarterback play has been a liability. Brendan Sullivan replaced a struggling Ryan Hilinski, and started last week against Maryland, but threw two interceptions. Northwestern continues to be careless with the ball too, ranking 126th in the nation in turnover margin. Now Fitzgerald's squad will be facing a top-15 defense in four of their remaining five games. It all starts with a dwindling Iowa team this week, and the loser will be in last place in the West.
13. Indiana, (3-5): The Hoosiers are on a five-game losing streak, including their last four in Big Ten play. There's no glaring weakness, Indiana is just awful on both sides of the ball. Tom Allen's team is currently 106th in the FBS in total offense and 101st in total defense. Quarterback Connor Bazelak has been a turnover machine. The former Missouri Tiger has been picked off a jaw-dropping, seven times over the past five games. Losing at Rutgers last week was Indiana's best chance for a victory. And the remaining four games on the slate are brutal. The good news is Tom Allen's squad has a bye in week nine. The bad news is when Indiana returns to the gridiron it plays, Penn State at home, Ohio State and Michigan State on the road and Purdue on Senior Day. Allen is staring down a second-straight losing season.
12. Iowa, (3-4): The Hawkeyes are having their worst season since 2012. Iowa has lost four of its' past five games overall against Big Ten opponents, including three-straight. The Hawkeyes are still tenacious on defense though, with an All-Big Ten caliber player at every level of the unit. Not to mention Kirk Ferentz's team is sixth in the nation in total defense. However, the other side of the ball has been another story. Iowa has been horrendous on offense in every way imaginable. And the numbers don't lie. The Hawkeyes are dead last in the Big Ten in scoring, rushing, passing and total offense. Poor quarterback play, an abysmal rushing attack, dropped passes and poor protection has made Iowa's offense the laughing stock of the league. The offense turned the ball over a jaw-dropping, six times at Ohio State.
11. Rutgers, (4-3): The Scarlet Knights finally earned their first Big Ten win of the season last week. Rutgers also snapped a five-game losing streak in conference play. Now Greg Schiano's boys are two victories away from becoming bowl-eligible the normal way this time. Rutgers' offense finally showed a pulse against Indiana. And that's really all the Scarlet Knights needed to be a solid team. After all, Rutgers has one of the best defenses in the nation. It's tough to argue against that when the Scarlet Knights are seventh in the FBS in total defense. Now Schiano's squad need to carry the momentum they generated against the Hoosiers the rest of the way. However, three of the next five games are on the road, so Rutgers will have to pull off two upsets along the way. Everything appears to be trending up though.
10. Michigan State, (3-4): Mel Tucker's team had a bye in week eight, which was needed to regroup after a 1-3 start in Big Ten play. Michigan State has momentum now, and is trying to build off its' victory over Wisconsin. Having the week off should've helped the Spartans address several areas. After all, Michigan State's defense continues to be downright awful against the pass. The Spartans are currently 13th in the Big Ten and 111th in the FBS in passing yards allowed. Not mention Michigan State is 104th in the country in total defense. Hopefully Tucker's boys improved against the run, because being 78th in the nation in rushing defense is a red flag. And a Michigan team looking for revenge is up next. No doubt the Wolverines have one of the best rushing attacks in the country, so the Spartans better be ready.
9. Minnesota, (4-3): There's no denying P.J. Fleck's boys are on a slump. The Golden Gophers are winless in October, losing three-straight. And that's mind-boggling, considering Minnesota went undefeated in September and ended the month ranked No. 21 in the AP Poll. The Golden Gophers outscored their opponents 183-24 in their first four games. However, Minnesota has been outscored 91-41 in its' last three contests. Quarterback play has been a big reason, with a jaw-dropping, seven interceptions thrown during the three-game losing streak. Although the rushing attack is still solid, the Golden Gophers' offense has regressed. Minnesota scored 10 points against Purdue, 14 against Illinois and 17 against Penn State. Now a Rutgers team with a suffocating defense is up next for Minnesota's offense.
8. Nebraska, (3-4): Mickey Joseph needs to carve out three more victories to have the Huskers bowl-eligible for the first time since 2016. That's probably easier said than done, considering Nebraska's five remaining games. The offense has been a strength, and the Huskers have scored 35 or more points in five of their seven contests. However, the Blackshirts continue to be a liability. Nebraska is dead last in the Big Ten and 124th in the FBS in total defense. Not to mention in three of the Huskers' four losses, they've allowed 40 or more points. It's hard to imagine Nebraska winning with defense like it did against Rutgers, but hopefully the bye-week helped Joseph plug up a few leaks. The offense needs to be ready though, with four of the next five games against teams in the top-15 in the nation in total defense.
7. Wisconsin, (4-4): Jim Leonhard led the Badgers to their second victory under the interim tag. He's now 2-1 with his alma mater, and would be undefeated if it wasn't for a thrilling overtime road loss at Michigan State. The Badgers might be considered one of the biggest underachievers of 2022. After all, Wisconsin started out the season ranked No. 18 in the AP Poll. Still, Leonhard is making the most out of his opportunity, while the fans are finding solace in a disappointing season. The offense has looked much better with Leonhard at the helms instead of Paul Chryst. Wisconsin's defense is still suspect though. The next four games are very winnable for Leonhard. Maryland is without its' starting quarterback, Iowa's offense is abysmal, Nebraska's defense is horrendous and Minnesota is imploding.
6. Maryland, (6-2): Mike Locksley has the Terrapins off to their best start through eight games since 2010. Not to mention it's the first time Maryland is bowl-eligible for a second-straight season since 2013-14. The Terrapins have also won three of their last four Big Ten games. It's a clear sign that Locksley has cemented his foundation with the program. Normally the Terrapins collapse around this time of the season, but they're scrappy and are winning the close games. Although star quarterback Taulia Tagovailoa hasn't played since injuring his MCL against Indiana, but Maryland found ways to win without him over the past two contests. Regardless of the matter,  Tagovailoa gives the Terrapins a chance to be in every remaining game on the schedule. He'll have time to heal, with the bye in week nine.
5. Purdue, (5-3): Purdue got exposed in last week's loss at Wisconsin, which snapped its' four-game winning streak. Still, the Boilermakers are still second in the Big Ten West standings. Purdue is currently third in the Big Ten in total offense. And that's mainly from the the play of quarterback Aidan O'Connell, despite his three-interception performance against the Badgers. However, it's the Boilermakers' defense that's been a major weakness. Purdue's defense has allowed 29.2 points per game in Big Ten play this fall. And that's a reason why five of Purdue's eight games has been offensive shootouts. Those types of games could go either way, but that's starting to become Jeff Brohm's style of play. Now Purdue can regroup on a bye in week nine. Iowa and Illinois is up next, and both have stifling defenses.
4. Illinois, (6-1): The Fighting Illini are the hottest team in a watered-down Big Ten West. Bret Bielema couldn't have asked for a better campaign to his second season with the program. After all, Illinois sits atop the West standings and is No. 17 in this week's AP Poll. That's a clear sign that Bielema has the team a year ahead of schedule. The Fighting Illini are physical on both the offensive and defensive line too, which has contributed a lot in their success. All-Big Ten running back Chase Brown leads the entire nation in rushing yards, and he's a Heisman contender. Quarterback Tommy DeVito has thrown 10 touchdowns and just two interceptions on the year. Illinois' defense has raised eyebrows across the conference. The Fighting Illini lead the FBS in total defense, and should be healthier coming off a bye-week.
3. Penn State, (6-1): James Franklin's team is still in the Big Ten East race. Penn State bounced back from a blowout loss at Michigan, and put a beatdown on Minnesota in front of a White Out crowd at home. Quarterback Sean Clifford was even named the Big Ten's Offensive Player of the Week for his performance against the Golden Gophers. Now Penn State is No. 13 in this week's AP Poll and has momentum approaching the ultimate measuring stick, hosting No. 2 Ohio State in week nine. The Nittany Lions haven't beaten the Buckeyes at home since 2016. Clifford can cement his legacy with the program by upsetting Ohio State. And that'll do wonders for Penn State in next week's Playoff rankings.
2. Michigan, (7-0): The reigning Big Ten champs have won 13 of their last 14 games against conference opponents, including nine-straight. Michigan is No. 4 in this week's AP Poll, and rightfully so. After all, Michigan has dominated on both sides of the ball. The Wolverines have the Big Ten's No. 1 rushing attack, averaging a jaw-dropping, 241.7 yards per game. Junior running back Blake Corum is a Heisman candidate, who's tied for first in the country with 13 touchdowns on the ground. He's also second in the league, and seventh in the FBS in rushing yards. Michigan is sixth in the nation in scoring offense, averaging 42.7 points per game. Michigan's defense has been more impressive though. The Wolverines are fifth in the FBS in yards allowed. Not to mention Jim Harbaugh's team leads the Big Ten in sacks.
1. Ohio State, (7-0): The Buckeyes are the Big Ten's highest-ranked team, sitting at No. 2 in this week's AP Poll. Ohio State appears to be on a crash collision course with Michigan for Big Ten supremacy and a Playoff berth. And the Buckeyes have all the ingredients for a National Title recipe. All-American quarterback C.J. Stroud leads the country with 24 touchdown passes. Stroud also leads the FBS in passing efficiency. He has a plethora of weapons in his arsenal, including wideouts Marvin Harrison Jr., and Emeka Egbuka. The two have combined for a jaw-dropping, 79 receptions, 1,333 receiving yards and 17 touchdowns. All-Big Ten running back TreVeyon Henderson has played solid. Jim Knowles has made a positive impact on the Buckeyes' defense. Ohio State is second in the FBS in total defense.