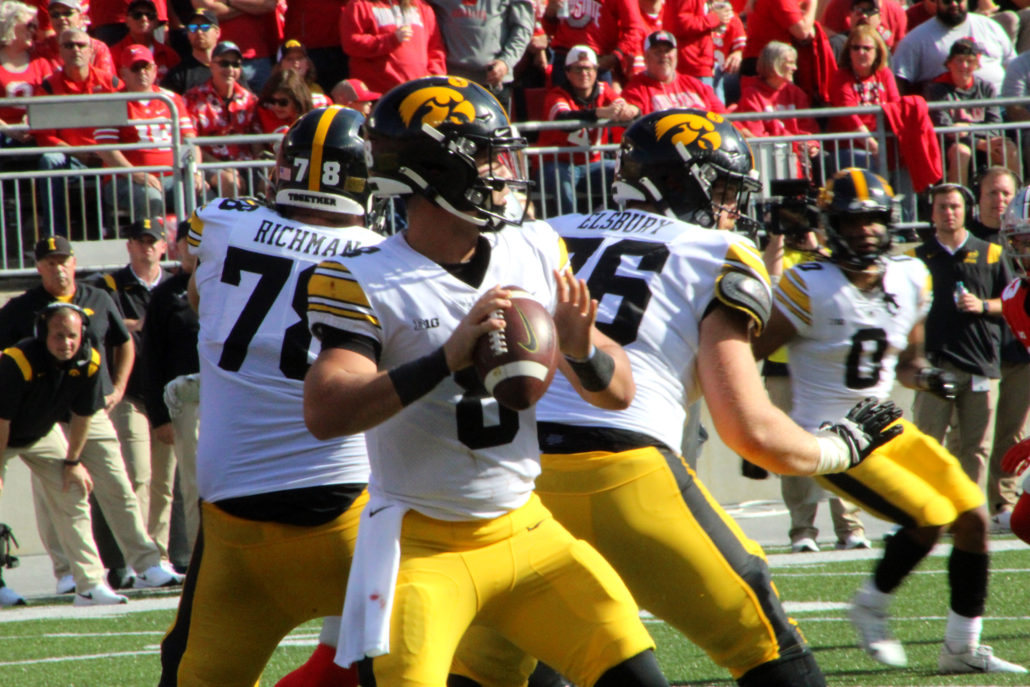 COLUMBUS, Ohio — There's no denying the Hawkeyes walked into a snake pit when they entered the Horseshoe Saturday morning.
After all, Iowa hadn't played Ohio State since a 31-point blowout victory in Kinnick five years ago. It was obvious revenge was on the mind of the Buckeyes, and they smashed the Hawkeyes 54-10. It was the most points Iowa had allowed in a Big Ten game since 1975.
Iowa (3-4) came out and played inspired early on though, especially on defense. The Hawkeyes held the Buckeyes to 360 yards of total offense, which was their lowest output of the season. Phil Parker's defense provided a spark with an explosive play on Ohio State's second drive of the game.
Senior edge rusher Joe Evans knocked the ball loose from quarterback C.J. Stroud and returned it 11 yards for a touchdown. It gave Iowa its' first and only lead of the contest. The impressive part about the Hawkeyes' defensive performance in the first half, was the fact that they held the Buckeyes' explosive offense to four field goals and a touchdown after five trips to the redzone.
However, Coach Kirk Ferentz watched as Iowa's offense became a liability once again, and committed six costly turnovers.
"Offensively we had protection issues right off the bat in the first quarter, and turnovers are tough to overcome no matter who you're playing," Ferentz said.
Senior quarterback Spencer Petras was picked off on the first play of the game. He later coughed up a fumble and threw a pick-six, before Ferentz benched him and inserted Alex Padilla. The junior signal-caller didn't fare much better either. Padilla fumbled the ball and threw an interception.
The Buckeyes only led 26-10 at halftime, and the Hawkeyes' defense picked off Stroud to start the third quarter. Still, Iowa couldn't capitalize off the turnover. And midway through the third quarter the floodgates were open. Ohio State's defense smelled blood in the water, and held Iowa scoreless the entire second half.
The lack of discipline and fundamentals sort of came down like an avalanche on the Hawkeyes on both sides of the ball. A light bulb eventually turned on for Stroud, and he picked Iowa's secondary apart with ease down the stretch. It's hard to argue against that when the gunslinger threw four touchdowns to four different players in the second half.
Having no offense to score points, and a fatigued defense led to a complete meltdown, and Ferentz could do nothing but watch.
"It's hard to find a weakness, but to keep them short of the end zone that's a positive certainly," he said. "But it doesn't matter if you can't match points at some point, and they're tough defend."
Petras and Padilla only completed 11 of their 24 passes for 81 yards, no touchdowns and three interceptions. Not to mention Ohio State's defense generated five sacks. For a second-straight game Iowa failed to score an offensive touchdown, despite having an extra week to prepare. And that frustrated Ferentz the most.
Regardless of the matter, Ferentz thought his quarterbacks had some promising moments, considering they were playing in front of a raucous crowd of 104,848.
"I thought both quarterbacks tried to compete and do their best out there, we'll look at the tape tomorrow and see what we can do," the 67-year old coach said. "Alex has practiced well, he's totally invested just like Spencer is, and again it was a tough situation for him to enter the game."
Ohio State (7-0) was the ultimate measuring stick for Iowa, but at least Ferentz knows where his team stands. As of now it's back to the drawing board for sur. Ferentz is going to try and pick up the pieces. Which means evaluating his players, his staff and most importantly himself.
Fans are clearly disgusted with the direction of the program. Still, Ferentz wants everyone to be patient, with five games left on the schedule.
"Needless to say we're not where we want to be right now, but we're going to keep pushing forward."