Buckeyes smother Hawkeyes in second half after sluggish start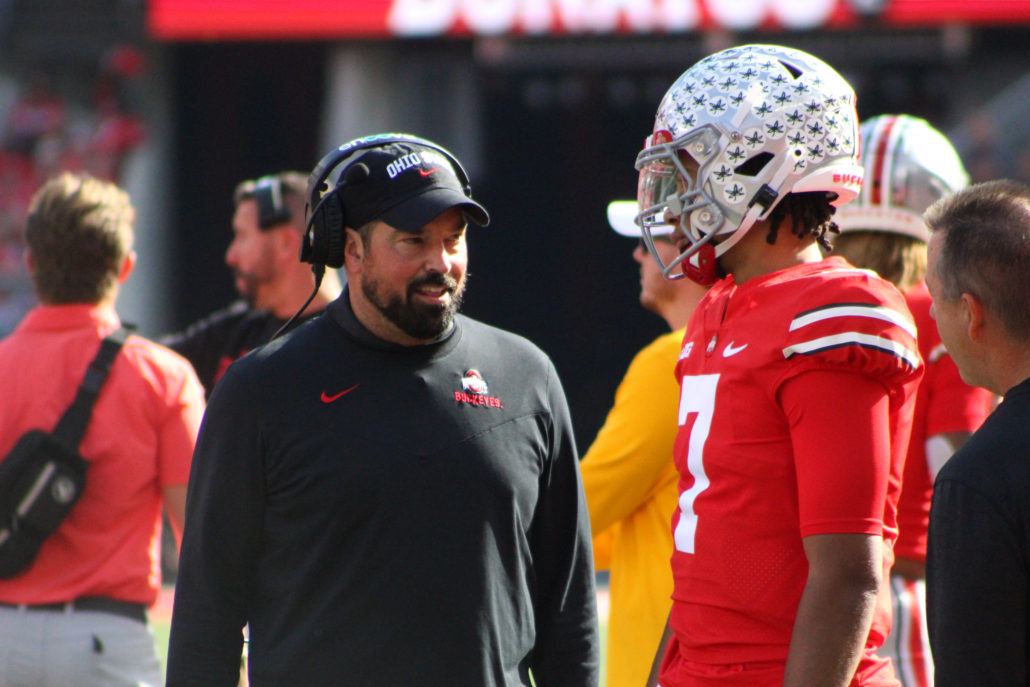 COLUMBUS, Ohio — Although the Buckeyes looked rusty early on after coming off a bye-week, they still captured their seventh win of the season.
Ohio State returned Iowa a favor from five years ago. And delivered a 54-10 whipping Saturday afternoon in front of a crowd of 104,848 at the Horseshoe. Serving up a cold dish of revenge was just what the doctor ordered for the Buckeyes, but the game was closer than the final score indicated.
After all, an unranked Hawkeye team held the No. 2 Buckeyes to a season-low, 360 yards of total offense. Not to mention Ohio State had five trips to the redzone in the first half, but only one resulted in a touchdown, while the other four were field goals.
Not being able to punch the ball in the endzone frustrated Coach Ryan Day for a couple of reasons. First off, he thought his players utilized their time off in week seven. Secondly, everyone prepared well in practice. So Day was surprised the offense didn't execute consistently at a high level.
"I guess that's not what we're used to here, but that's the reality of it," Day said. "We were playing against a really good defense, and when you play good defenses it's not going to be fireworks every series."
Quarterback C.J. Stroud had an uncharacteristic performance. The Heisman hopeful fumbled the ball on Ohio State's second drive of the game. And Iowa edge rusher Joe Evans scooped up the pigskin and returned it 11 yards for a touchdown.
Stroud was even picked off on the Buckeyes' first drive of the second half. It was a shocker to fans in attendance, because it was just his second interception of the season. There's no denying both turnovers were head-scratchers. However, a light bulb came on for Stroud and the rest of the offense.
The signal-caller was able to spread the wealth around too. Stroud finished the game with four touchdown passes to four different players in the second half. The Californian connected with Julian Fleming, Emeka Egbuka, Marvin Harrison Jr., and Mitch Rossi. Day made Stroud attack Iowa through the air because Ohio State's ground game couldn't gain any traction.
"It was weird because we were in plus territory all day early on, but never got into a rhythm," he said. "We were kind of throwing things because we were a little compressed, so when we had to move the ball down the field, we were a little bit better and we got into a rhythm that way."
It was the first time this fall that Ohio State had to overcome adversity. Day was pleased with how his players responded, which is a sign of a great team. Fleming had a game-high, 102 receiving yards on just two catches. Ohio State ran more plays than Iowa, generated more first downs and was about even in time of possession.
However, the Buckeyes' defense continued their dominance on the gridiron, and held Iowa to 158 yards of total offense, its' second-lowest output of the season. Ohio State's secondary blanketed Iowa's pass catchers, and picked off three passes, including one that got returned for a touchdown by Tommy Eichenberg.
The Hawkeyes were also held scoreless in the second half. Safety Tanner McCalister picked off two passes himself. Edge rusher Zach Harrison put the quarterback to the turf and safety Lathan Random tallied a team-high, eight tackles.
Day appreciates that the defense held down the fort until the offense came around. Now Day feels his players are battle-tested.
"We can't continue to let those things happen, we have to learn from them and grow," the 43-year old coach said. "But I think it was healthy for us to go through the challenge today."
Now Ohio State (7-0) has momentum heading to Happy Valley next week to take on a ranked Penn State team.