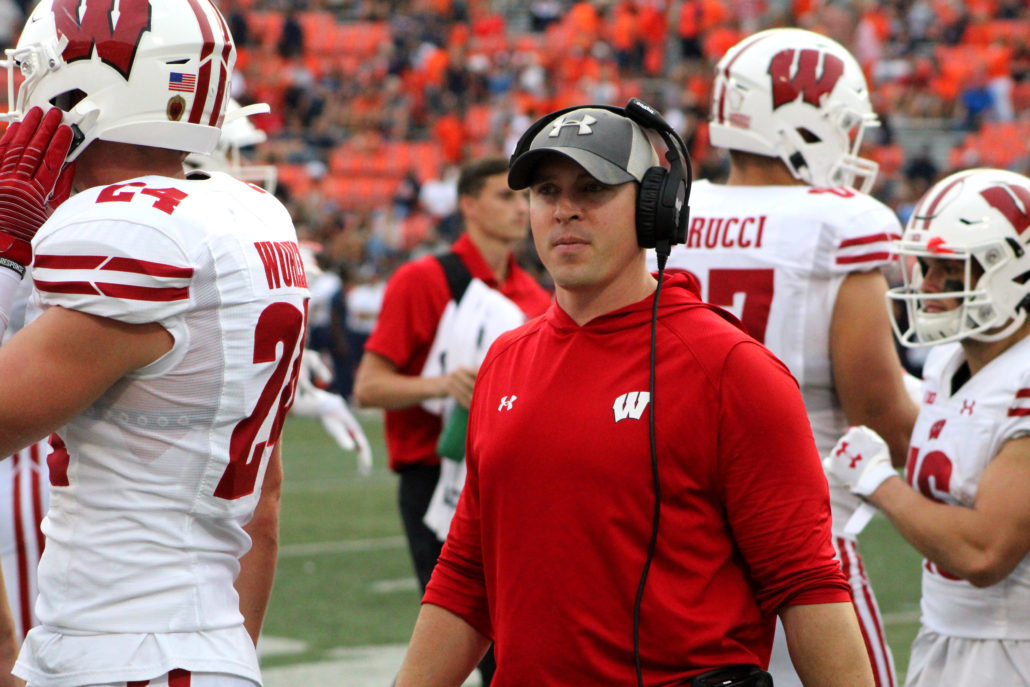 Wisconsin Athletic Director Chris McIntosh has only been on the job for a little over a year, but made his toughest decision to date Sunday evening.
He gave Coach Paul Chryst his walking papers after a 2-3 start to this season. It was a head-scratcher to some, considering Chryst has had a highly-successful tenure up to this point, with a 67-26 record. Chryst is also a former Badger quarterback, but no individual is bigger than the program.
Wisconsin has underachieved mightily in 2022, which is mind-boggling because it started the season No. 18 in the AP Poll. Some fans believe Chryst's firing should've happened a season or two ago, especially after the Badgers' 1-3 start in 2021.
However, when one door closes, another opens up. And McIntosh placed the interim tag on Jim Leonhard, who's more than capable of leading Wisconsin.
After all, the Badger Defensive Coordinator is arguably the best in the game at what he does, and he checks all the boxes to be a Power Five coach. First off, Leonhard is a former Badger safety, and a Wisconsin native. He played several seasons in the NFL, and has been with Wisconsin since 2016, including the last six years as Defensive Coordinator.
And during Leonard's time orchestrating the defense, the Badgers have fielded multiple elite units, that dominated on the gridiron. Last year was Leonhard's best yet and Wisconsin led the entire FBS in total defense. On top of that, the Badgers' ranked first in the Big Ten in total defense for the past two seasons.
A plethora of Wisconsin defenders have earned All-Big Ten consideration under Leonhard's watch too. Not to mention the Badgers have had a jaw-dropping, 14 defenders selected in the NFL Draft since 2016. It all solidifies that Leonhard knows how to scout, recruit and develop talent.
What's more impressive is the fact that Wisconsin doesn't recruit at a high level. So what Leonhard has accomplished with three-star talent up to this point is nothing short of amazing. All of his success even caught the attention of outsiders. Regardless, Leonhard has remained loyal to his alma mater. So much so, that he turned down the Green Bay Packers for the same gig in February of 2021.
The 39-year old has patiently waited for this once in a lifetime opportunity, and it all fell in his lap. There's no denying the Badgers needed a breath of fresh air after a rough start to 2022. Leonhard understands the physicality and style of play it takes to succeed in the Big Ten. His presence on the sidelines should be enough to unify the locker room and fan base.
Now everyone is rallying behind Leonhard, and can finally see light at the end of the tunnel. It remains to be seen if there's a certain number of wins he must have out of the remaining seven games for McIntosh to remove the interim tag. Still, Wisconsin is generating some momentum with Leonhard leading the program now.
It's all bittersweet though, because a former Badger had to lose his job, but Leonhard must keep the team moving forward. Although the next two games are on the road, both will be against teams with a losing record.
Which is why the players should expect an intense week of practice if they plan on starting the Leonhard era off with a bang this Saturday at Northwestern.