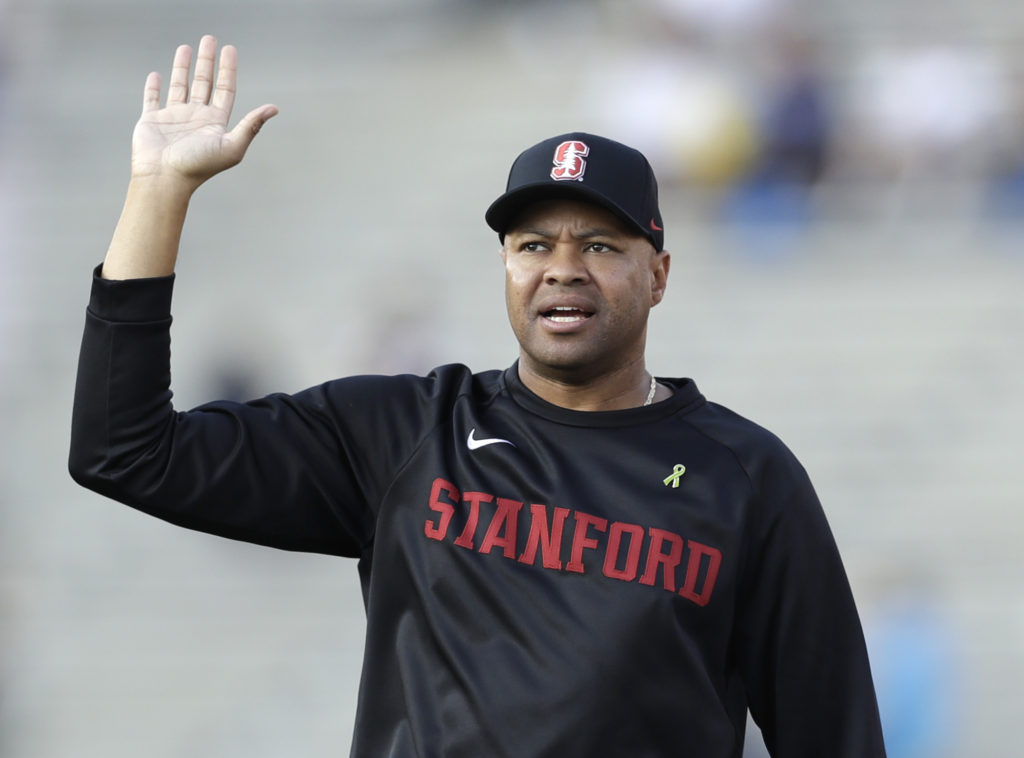 College football has quickly turned into a what have you done for me lately type of sport, regardless of past success.
Nebraska, Colorado, Georgia Tech, Arizona State and Wisconsin have all fired their coaches through the first five weeks of this season. And there will be more Power Five jobs opening if these eight coaches can't right the ship to their roller coaster campaigns this fall.
There's no denying it's time to hit the panic button on these coaches' tenures with their respective programs.
Bryan Harsin, Auburn: There's still a black cloud lingering over the program after a turbulent offseason, which he described as a personal attack. Harsin's drama off the field was one issue, but the Tigers' performance on the gridiron hasn't been much better. Auburn has already lost two games, and both of those happened at Jordan-Hare Stadium. Not to mention Harsin has lost five of his last six SEC games. The Tigers are currently 11th in the SEC, and 80th in the FBS in total offense. Auburn's defense has been somewhat decent. Still, the unit is middle of the pack compared to the rest of the SEC. Not to mention the Tigers have arguably the toughest remaining schedule of any team in the country, with four ranked teams looming on the slate. It's doubtful Harsin survives a second-straight losing campaign on the Plains.
Justin Wilcox, California: He's in his sixth year leading the program and has recorded a 29-30 overall record. Wilcox's best season was in 2019 when California won eight games, including a bowl victory, but still finished with a losing record in conference play. The Golden Bears have lost two of their last three games, and need to become a better team on the road. Wilcox's boys have lost nine of their last 10 road games. Not to mention three of the Golden Bears' next five contests are away from home. The 45-year old is 16-26 against Pac-12 foes in his tenure with California, and that won't continue to cut it. Luckily for Wilcox his team has week six off, and need to retool their offense. Anything to get some consistency after scoring 49 points on Arizona, and following it up with just nine at Washington State.
Eliah Drinkwitz, Missouri: The 39-year old came into the SEC with a lot of buzz after leading Appalachian State to 12 victories and a Sun Belt Title in 2019. However, his tenure with the Tigers has been nothing like what he experienced with the Mountaineers. Drinkwitz has found out the speed, physicality and coaching in the SEC is superior than the Sun Belt. He's 13-15 overall at Missouri. The Tigers have lost three of their last four games, and three-straight on the road. Not to mention Missouri has lost nine of its' last 12 conference games. To add more fuel to the fire, Drinkwitz has yet to deliver a winning campaign. The Tigers are one of four SEC East teams that's winless in league play. Saturday's clash at Florida will determine a lot. If Missouri snaps its' road losing streak or remain in last place of the East division.
David Shaw, Stanford: Although he was one of the most successful coaches in the country over the past decade, his flame has fizzled out in recent years. Shaw is 94-48 overall with Stanford, and is in the 12th season of his tenure. The 50-year old is one of the longest-tenured coaches in the FBS, but something has to give at some point. The Cardinal are 12-23 over their last 35 games. Not to mention Shaw is 9-18 in Pac-12 play during that span. To make matters worse, Stanford is 1-3 this season, and all of those losses were by the hand of conference foes. The Cardinal is one of four Pac-12 teams that are winless in league play. And that won't change until Shaw can fix the atrocious defense. Stanford has allowed 40 or more points in three of its' last four games, and is currently 111th in the FBS in total defense.
Jeff Hafley, Boston College: At first he had the Eagles trending up after leading them to a winning campaign during his initial season in Chapel Hill. However, Hafley has been leading Boston College in the wrong direction ever since. He's 14-14 overall with the Eagles, including 8-13 in ACC play. Hafley has lost five of his last seven games overall. Not to mention Boston College been outscored 71-24 on the road this season. The Eagles currently rank 10th in the ACC and 70th in the FBS in total defense. Phil Jurkovec is a solid quarterback, but he needs better protection from the big boys up front. Losing all of that experience, production and leadership from a year ago has plagued the Eagles in the trenches. Boston College has allowed a jaw-dropping, 18 sacks through five games, which is the worst in the ACC.
Pat Fitzgerald, Northwestern: It might seem far-fetched to some that he's on this list. However, Nebraska and Wisconsin proved this season that being a former player at your alma mater means nothing to the overall success of the program. Fitzgerald is the second-longest tenured coach in the Big Ten. Not to mention he's the Wildcats' winningest coach by a huge margin. Still, Northwestern seems its' in a downward spiral and headed for a second-straight losing season. The Wildcats are one of the worst teams in the Power Five, and will be lucky to win another game in 2022. After all, Northwestern is on a four-game losing streak. Fitzgerald has also lost 10 if his last 11 contests overall. Although he's 110-94 at a school known for academics, the Wildcats are 66-70 in Big Ten play under Fitzgerald.
Scott Satterfield, Louisville: The Cardinals have been very disappointing this fall. Satterfield currently has Louisville in a slump. The Cardinals are one of two teams from the Atlantic division, that are winless in conference play. It's a head-scratcher that Satterfield has one of the best quarterbacks in the league in Malik Cunningham, but can't win more games. Satterfield is in his fourth season with the program, and hasn't delivered anything of merit. The 49-year old is 20-22 overall, including a 12-17 mark against ACC foes. The Cardinals are currently at the bottom of the Atlantic and on a three-game losing streak in ACC play. Satterfield needs to avoid a second-straight losing season. The offense is good enough to win games, but the defense is a liability, allowing 31 or more points in all three losses.
Neal Brown, West Virginia: He's in his fourth season with the Mountaineers and has posted a 19-21 record overall. Brown's tenure with West Virginia has been nothing like what he endured at Troy. After all, the Louisville native went 31-8 over his last three seasons with the Trojans, which included road victories over LSU and Nebraska. He was also 20-4 against Sun Belt opponents. However, Brown has struggled mightily adjusting to the style of play in the Big 12. Not to mention Brown is 11-17 in conference play. Although he has posted two losing seasons in the three years he's been on the job, Brown still led West Virginia to back-to-back bowl games. The 42-year old is facing a lot of heat to get the Mountaineers over the hump. Losing four of his last six contests overall, will make the seat hotter down the stretch.