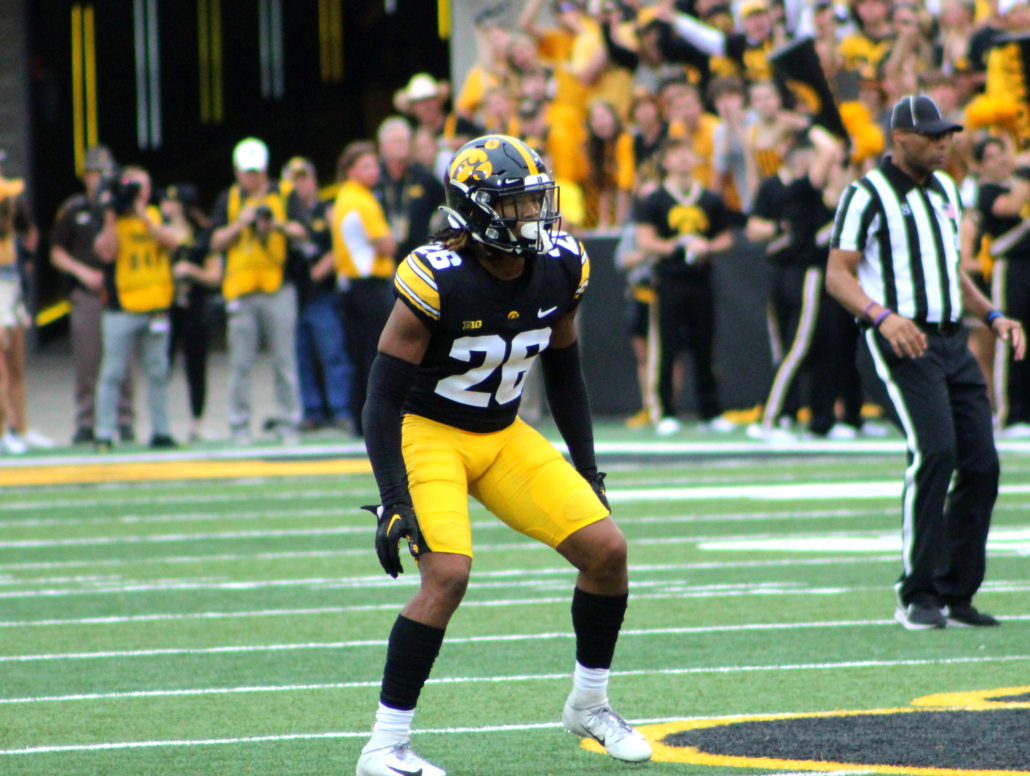 Iowa's senior safety has put in hard work on the gridiron for the past two seasons, and now he's starting to receive his due.
Not only is Kaevon Merriweather one of four team captains for the Hawkeyes, but he's also the enforcer of the secondary. His defensive prowess was on full display in Iowa's road victory over Rutgers last Saturday.
Merriweather delivered on clutch plays for the Hawkeyes, including his first interception and defensive touchdown of the season. The Michigan native's stellar performance raised several eyebrows across the league. So much so, that Merriweather was named co-Big Ten Defensive Player of the Week for his heroics.
It was the first time in his Hawkeye career that he received the honor, and was long overdue. There's no denying Merriweather has molded himself into one of the top defensive backs in the conference. Merriweather's natural instincts, speed, physicality and coverage skills allows him to blanket half of a field. And he always happens to be in the right place at the right time.
After Sebastian Castro's bone-jarring hit on Joshua Youngblood, which knocked the ball loose, Merriweather was right there to scoop up the pigskin and returned it 30 yards for a score. Not to mention he's a natural at reading the quarterback's eyes. So it shouldn't come as a surprise that Merriweather picked off Evan Simon's pass on Rutgers' first drive of the second half. He also finished the game with three stops.
Iowa has several elite defenders on its' roster, but Merriweather is the one who sets the tone and is most definitely a vocal leader. Which is why the weekly honor couldn't have come to a more deserving Hawkeye. Several Iowa fans felt Merriweather should've got more All-Big Ten consideration last year.
After all, the former three-star prospect tallied 42 tackles, hauled in an interception and broke up four passes in 2021. Merriweather is off to a great start to having an All-Big Ten caliber season this fall. He could care less about individual accolades though, and is all about the team.
And Iowa (3-1) is currently sixth in the FBS in total defense, and has only allowed two passing touchdowns. The Hawkeyes are starting to catch fire at the right time, as their defense continues to lead the way. Punter Tory Taylor is arguably the best in the country, who continues to force offenses to navigate long drives. And in return that puts Merriweather and the rest of Iowa's defenders in great positions to make plays.
No doubt Merriweather's experience, leadership and production will be needed again when Iowa hosts No. 4 Michigan this Saturday.
The Hawkeyes haven't knocked off an AP top-five team at Kinnick Stadium since 2017. So if Iowa can accomplish that feat, it will be another milestone Merriweather can add to his solid career in Iowa City.