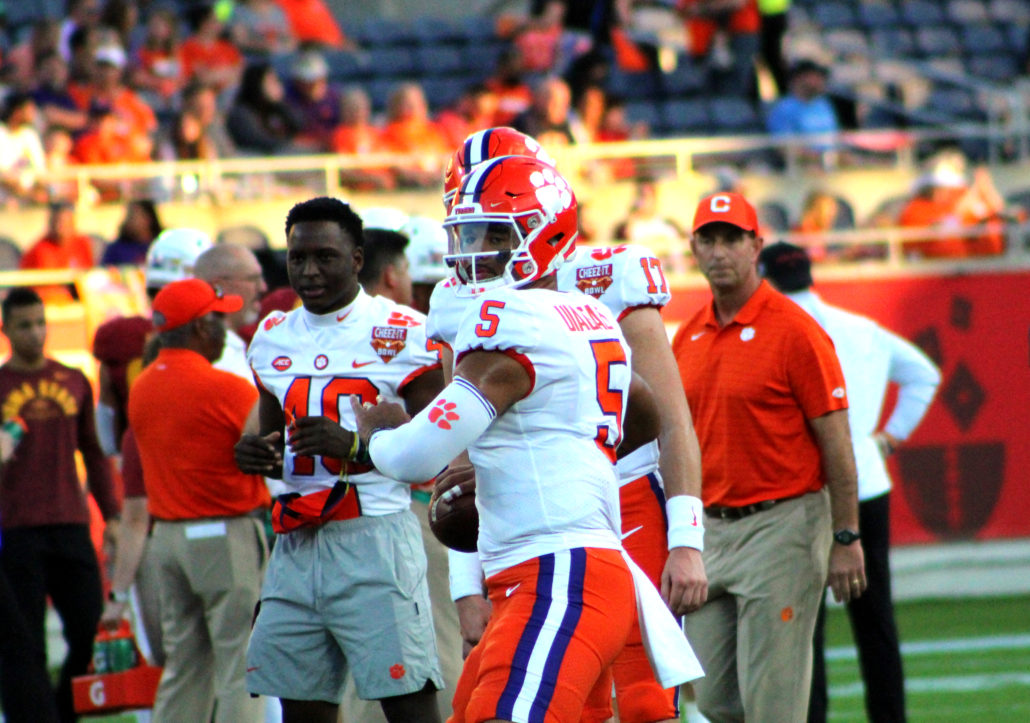 They all have had their fair share of criticism.
First they love them, then they hate them, then they love them again. Fans wanted them benched, clowned them on social media and even booed them from the stands at the games.
However, these quarterbacks have persevered through the tough times and responded to adversity. After leading their team to a victory in week four, these gunslingers look poised for something special down the stretch. And it's encouraging that they're all coming off stellar performances.
Spencer Petras, Iowa: The gunslinger has been Dr. Jekyll and Mr. Hyde so far in 2022. Petras only completed 23 of his 51 passes, for 201 yards and two interceptions through the first two games. However, he completed 26 of his 43 passes, for 323 yards a touchdown and no interceptions over the last two contests. Petras commanded the huddle, looked poised in the pocket and played with confidence against Nevada and Rutgers. The Scarlet Knights are a scrappy bunch too. So for Petras to lead the Hawkeyes to a Big Ten road victory shows his growth in Brian Ferentz's system. The California native is no longer performing like a liability to the team. Not to mention his chemistry with All-Big Ten tight end Sam LaPorta is blossoming. It's promising that the two have connected 14 times over the last three games.
Adrian Martinez, Kansas State: He had arguably the best performance of any quarterback in week four. Storming into Norman, and beating the No. 6 team in the country was a huge statement. It was the best way Kansas State could respond to adversity after losing at home to Tulane a week prior. For the first time in Martinez's career he was able to finish. He literally put the Wildcats on his back and carried them to the finish line. He never had that type of performance at Nebraska, so the College football world was blown away by what he accomplished. After his rollercoaster career as a Husker, everyone has to respect his journey and what he's doing as a Wildcat. Right now Martinez is America's quarterback, and there's light at the end of the tunnel. What if he's just cracking the surface?
DJ Uiagalelei, Clemson: The former five-star prospect put in the work during the offseason to get to the position he's in today. Uiagalelei trimmed his weight down, worked on his accuracy and improved his mobility. Everything has paid off as the No. 5 Tigers are fresh off their second ACC road win of the season. Uiagalelei put on the best performance of his career in the victory over Wake Forest too. He torched the Demon Deacons' defense for 375 yards through the air, five touchdowns and no interceptions. It was a gutsy performance by the embattled quarterback. All of the naysayers who criticized his arm, or questioned his ability to lead Clemson's offense, got their answers after that overtime thriller. Clemson is looking like Clemson again, now that Uiagalelei is finally playing up to his potential.
Jack Plummer, California: The Arizona native didn't leave Purdue for nothing. Plummer wanted to make his own mark. Now he's starting to build his own legacy with the Golden Bears in 2022. After he had a subpar outing in the loss at Notre Dame, Plummer responded with a stellar performance in the victory over Arizona. He threw for 245 yards, three touchdowns, no interceptions and California was able to open up Pac-12 play on a high note. Plummer has put up some decent numbers as a Golden Bear, with eight touchdown tosses and just two interceptions through four games. The signal-caller has complete command of the offense, which will be needed with California's next two conference tilts on the road. With his arm talent, Plummer has the potential to be the best quarterback of Jeff Tedford's tenure.
Max Johnson, Texas A&M: The former LSU quarterback has made his presence felt in the offense after Jimbo Fisher benched Haynes King. Johnson has led the Aggies to two-straight victories over ranked teams. So it's a head-scratcher as to why Fisher gave King the nod over Johnson to begin with. After all, Johnson's numbers with the Bayou Bengals were stellar. There's no denying he was humbled by Fisher's decision, but Johnson obviously has used it all as motivation on the gridiron. Johnson has combined for 291 passing yards, two touchdowns and no interceptions against Miami and Arkansas. He's gaining confidence and starting to get hot at the right time too. The Aggies approaching the meat grinder of their SEC schedule. All of Johnson's experience, production and leadership is paying off.