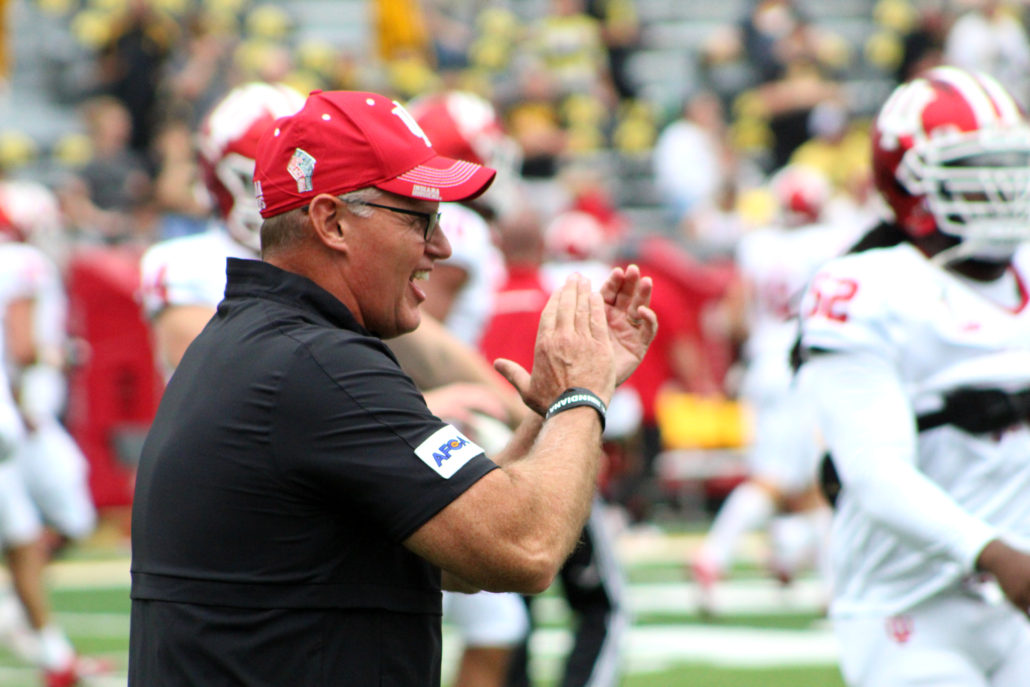 They're all 3-0 and have emerged from the shadows.
No one gave these teams a chance when the season started, but with three games in the books, they've all showed their potential. Although there's still nine games left on the schedule, these 10 teams have made an impact.
Rather it's because of a new regime of coaches, players or both, the success these programs are having is like a fresh breath of air. It's still early in the season though, and some might be pretenders instead of contenders.
Regardless, there's no denying each program's journey up to this point has been a reminder of why it's any given Saturday, and to never count out the underdogs.
Duke: First-year coach Mike Elko couldn't have asked for a better start. The Blue Devils are 3-0 for the first time since 2018. Duke has a lot of momentum as it travels on the road for the first time this season to face an undefeated Kansas team. And that's because the play of sophomore quarterback Riley Leonard. He's been a dangerous dual-threat, and has scored seven total touchdowns through the first three games. Leonard threw for a season-high, 328 yards in the opener against Temple, and 240 against Northwestern. Duke's pass catchers have played exceptional. Jalon Calhoun had six catches for 108 yards against the Wildcats. Not to mention Jordan Moore has caught a touchdown in each game. Western Illinois transfer Darius Joiner has made an impact on defense, with 20 stops over the last two contests.
Florida State: Mike Norvell is shining in year three, and has the Seminoles off to their first 3-0 start since 2015. Florida State has played inspired on both sides of the ball. Quarterback Jordan Travis has blossomed into one of the best quarterbacks in the league. The gunslinger has thrown for 624 yards, four touchdowns and an interception, plus his completion percentage is exceptional. The Seminoles are averaging a jaw-dropping, 243.2 rushing yards per game, which is currently the best in the ACC. Running back Treshaun Ward eclipsed the century mark in rushing yards against Duquesne and Louisville. Wideout Ontaria Wilson had 102 receiving yards against the Tigers, and Johnny Wilson had 149 against the Cardinals. Cornerback Renardo Green has tallied 16 solo stops over the last two games.
Kansas: The Jayhawks have raised several eyebrows with their first 3-0 start since 2009. Lance Leipold is only in year two, but has done a marvelous job building the program from the ground up. He's 4-2 over his last six games overall, which includes road victories over Texas, West Virginia and Houston. Kansas has scored 159 points through its' first three games, which tied for the most in school history. Junior Jalon Daniels has performed like the best quarterback in the league. He has passed for 566 yards, seven touchdowns and an interception. Daniels also has three scores on the ground and rushed for 123 yards against the Cougars. On defense the Jayhawks have a great group of linebackers, including Rich Miller, who has 21 tackles over the last two games. Safety Kenny Logan has 19 stops and an interception.
Indiana: Tom Allen is off to his second 3-0 start in the past three years. Not to mention the Hoosiers are 1-0 in Big Ten play. Indiana has been in some close barn burners too, including an overtime victory. Missouri transfer Connor Bazelak has made an immediate impact in Indiana's aerial attack. The quarterback has already had two 300-yard games. And Bazelak has passed for five touchdowns and an interception. Running back Shaun Shivers rushed for 155 yards against Idaho. Wideout D.J. Matthews had a touchdown reception in each of the first two games, including a 109-yard performance against Illinois. Linebacker Cam Jones has stockpiled a jaw-dropping, 32 tackles through three games. And his teammate Dasan McCullough has generated eight tackles, and three sacks over the last two contests.
Oregon State: Jonathan Smith has his alma mater trending up in year five on the job, and building off last season's winning campaign. The Beavers are off to their first 3-0 start since 2014. Junior gunslinger Chance Nolan has made others around him better, which great quarterbacks are supposed to do. He has thrown for 746 yards, seven touchdowns and two interceptions. Running back Deshaun Fenwick rushed for 102 yards and a score against Fresno State. Wideout Tre'Shaun Harrison has caught two touchdowns over the past two games, and had 133 receiving yards against Montana State. Linebacker Kyrei Fisher has tallied 18 tackles through the first two contests. Defensive back Itan Oladapo has also been very productive, with 21 stops, including 15 solo and a sack over the last two games.
Rutgers: Although it hasn't been pretty, the Scarlet Knights are off to their second-straight 3-0 start under Greg Schiano. And Rutgers has been getting it done without quarterback Noah Vedral, who suffered an injury in fall camp. Evan Simon has been a serviceable signal-caller during Vedral's absence. He threw for 156 yards and two touchdowns against Wagner, but was more of a game manager against Boston College and Temple. On the defensive side of the ball is where Rutgers has excelled. Not to mention the Scarlet Knights are 10th in the FBS in total defense. Linebacker Tyreem Powell generated two sacks against the Eagles. Cornerback Robert Longerbeam picked off a pass in each of the first two games. Vedral could possibly be returning to the lineup against Iowa, and Rutgers is riding a wave of momentum.
Syracuse: Dino Babers had to get Syracuse back on the winning track in 2022, and so far he has delivered. Not only is the Orange off to their first 3-0 start since 2018, but they're also 1-0 in ACC play. Former Mississippi State quarterback Garrett Shrader has been balling out of his mind for Syracuse. Sharder continues to hurt defenses with his arm and legs. He has thrown for 705 yards, eight touchdowns, to go along with three rushing scores. All-ACC rusher Sean Tucker has also been a factor in the rushing and passing attack. Tucker eclipsed the century mark in rushing yards against Connecticut, and caught a touchdown against Louisville. Cornerback Garrett Williams has been all over the field, with 26 tackles, a sack and an interception. Linebacker Mikel Jones has tallied 25 total stops, and two sacks.
Iowa State: Life after Brock Purdy and Breece Hall has gone smooth for the Cyclones. Iowa State is off to its' first 3-0 start since 2012. Not to mention Matt Campbell captured his first Cy-Hawk victory during the process. Quarterback Hunter Dekkers and rusher Jirehl Brock have stepped their game up big time for the offense. However, wideout Xavier Hutchinson has dominated on the gridiron. Dekkers has thrown for 745 yards, eight touchdowns and three interceptions. Brock rushed for 104 yards against Southwest Missouri State, and 100 at Iowa. Hutchinson has hauled in a jaw-dropping, 28 passes, for 319 yards and five touchdowns. Iowa State currently ranks eighth in the FBS in total defense. Veterans Will McDonald, O'Rein Vance and Anthony Johnson have all been staple defenders for the Cyclones.
Washington: Coach Kalen DeBoer couldn't have asked for a better start to his first season in Seattle. Not only are the Huskies off to their second 3-0 start in the last three years, but they're also No. 18 in the AP Poll. Washington is starting to look like Pac-12 contenders after beating Michigan State by double-digits. Former Indiana quarterback Michael Penix Jr. has showed what he can do when fully healthy. He has put up video game numbers too, with 1,079 through the air, 10 touchdowns tosses and an interception. Wideout Jalen McMillan has made secondaries look silly, with 16 receptions for 302 yards and two touchdowns. The offense has been the biggest surprise. The Huskies are fourth in the nation in total offense, and that's light years ahead of when they finished 114th in the FBS in 2021.
Washington State: Jake Dickert is starting to raise some eyebrows with his success in Pullman. The Cougars are 3-0 for the first time since 2018. However, no one took Washington State seriously until it upset Wisconsin on the road. Now the Cougars have everyone's attention, and new quarterback Cameron Ward has been a big reason why. He has thrown for 715 yards, eight touchdowns and three interceptions. And Ward is coming off a season-high performance against Colorado State. Running back Nakia Watson rushed for 117 yards against Idaho, and caught a touchdown at Wisconsin. Wideout De'Zhaun Stribling had a receiving score against the Vandals, and added two more against the Rams. Defense has been the recipe behind the Cougars' success. Washington State is 19th in the FBS in scoring defense.