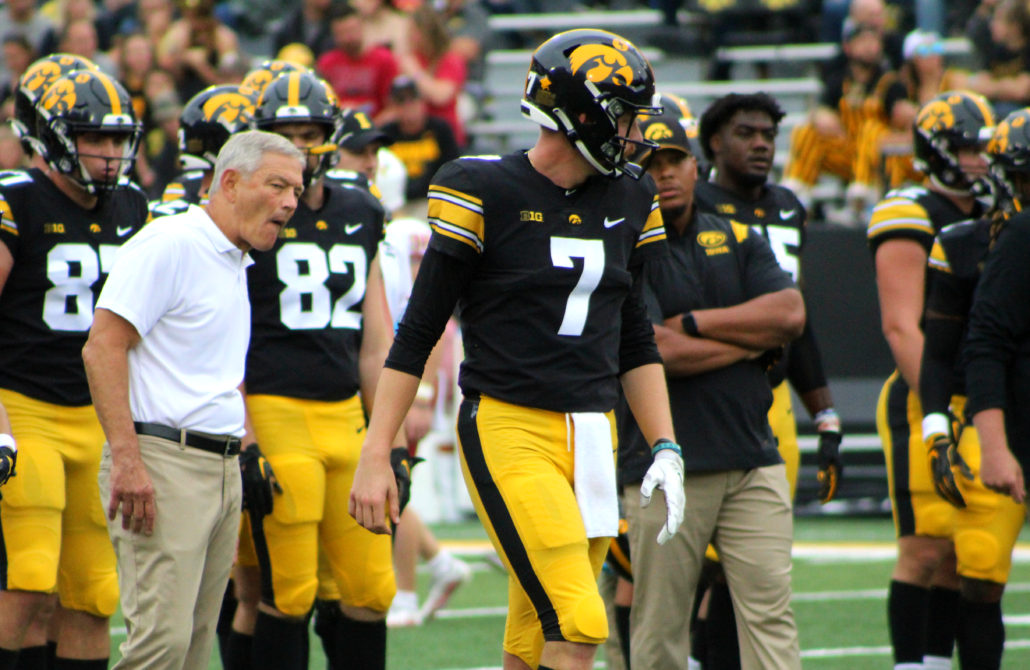 IOWA CITY, Ia. — The Iowa quarterback went through a tough week of criticism, and responded with his best performance of the season.
Spencer Petras was in full command of Iowa's offense in the shutout victory over Nevada, and looked poised in the pocket. His solid outing caught Coach Kirk Ferentz's attention, because Petras showed moxie and determination.
The senior threw his first touchdown of the season. Not to mention he led Iowa on two scoring drives in the first quarter. Petras was a completely different player from the Hawkeyes' first two games. Iowa's offense finally played balanced and Ferentz was pleased with the passing attack.
"It was encouraging because it looked like we were going to go somewhere with it," Ferentz said. "If we can combine that with a good run game hopefully we can be able to do the things we want to do."
Although Petras only completed 14 of his 26 passes, he didn't throw an interception like he did in the previous three games. Instead he made others around him better and his teammates fed off his energy. Not only did the Hawkeyes dictate the game on offense, but their 337 total yards was more than what they generated in the last two contests combined.
Petras was able to keep the Wolfpack's defense honest with his arm, and burned them with a 21-yard, play-action touchdown pass to Arland Bruce when they tried to stop the run. It was the execution Ferentz had been waiting for from Petras this season.
"It felt a little bit more like the kind of football you want to play," he said. "Spencer, I thought, made some beautiful throws and some real near misses, and hopefully in time those will be completions."
The gunslinger was able to spread the wealth around too, with five different players catching at least two passes. The most impressive part about Petras' outing was the fact that he stayed focused through six hours worth of weather delays. The Hawkeyes' offense finished with five more first downs than the Wolfpack's, despite having three less plays.
After that type of outing, Ferentz feels Petras' confidence is back. He still hasn't silenced all of his critics, but they have to respect that Petras overcame adversity. And that'll be key when Iowa travels on the road for the first time this season for the Big Ten opener at Rutgers.
After all, Petras' teammates have rallied behind him. And the staff is starting to trust him more, which in return will open up options in the playbook.
Ferentz just wants Petras to build off Saturday's victory. However, he understands it's going to take better protection from the big boys up front as the Hawkeyes navigate through the Big Ten meat grinder.
With most of Iowa's pass catchers back healthy and returning to the lineup, Petras should be able to blossom into the veteran signal-caller Ferentz knows he can be.
It's a positive vibe that the Hawkeyes' offense is finally heading in the right direction after struggling to move the ball. And to Ferentz, the best is yet to come from the unit.
"I think that was good to see some balls going down the field, and Spencer did a nice job delivering."