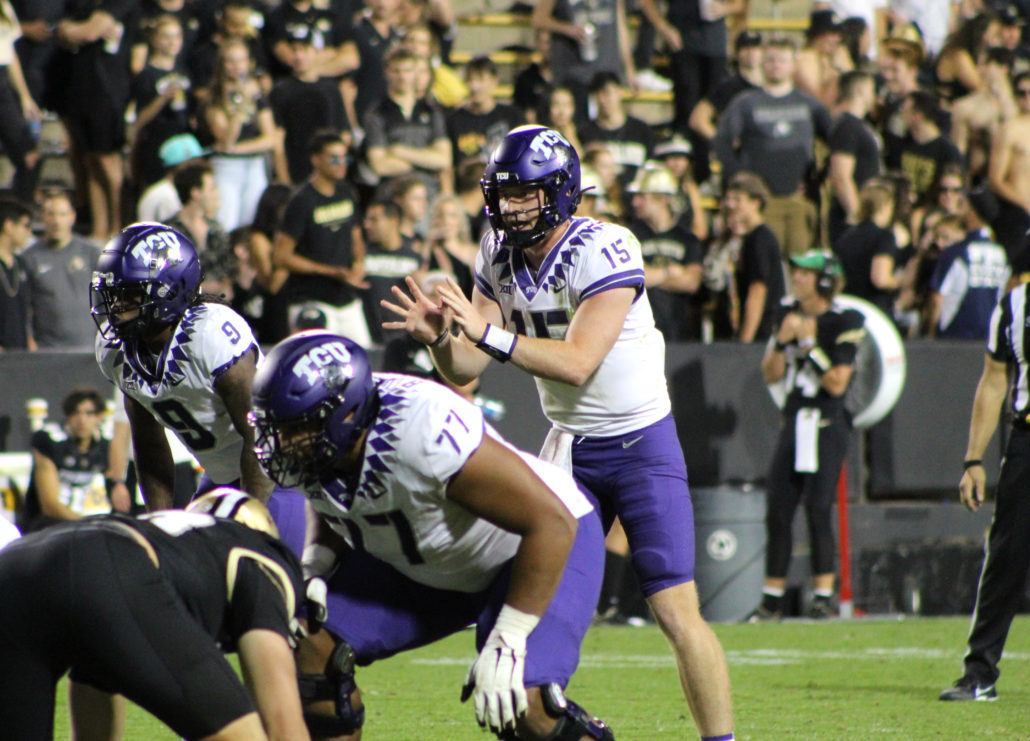 BOULDER, Co. — TCU's first-year head coach went into the opener at Colorado with Chandler Morris as his starting quarterback.
Although Max Duggan is one of the Big 12's most experienced gunslingers, he had to watch from the sidelines as Morris took the Horned Frogs' first snap. That's because Sonny Dykes thought Morris grasped the new scheme faster and built momentum through fall camp.
Which was sort of a head-scratcher, considering Duggan had 5,920 yards through the air, 1,433 on the ground and scored 60 total touchdowns prior to Friday's game.
However, TCU's offense was slow out of the gates, plus Morris suffered a leg injury towards the end of the third quarter and didn't return. Luckily for Dykes, the Horned Frogs had that next man up mentality. Duggan stepped in and the rest of the offense fed off his energy. The former four-star prospect led the offense on three touchdown drives in the fourth quarter. It was also the first time since September of 2017, that TCU scored 21 points in the fourth quarter.
"Chandler got a little banged up and we'll get a sense of where he's at you know," Dykes said. "Max came in and did exactly what I would expect Max to do, play like a veteran and play incredibly well."
Duggan completed two of his three passes, including a 20-yard connection over the middle to wideout Savion Williams. Not to mention Duggan carried the ball three times, and gashed Colorado's defense for a 30-yard gain. Horned Frogs fans already knew Duggan could extend plays and move the chains. Now Dykes knows the value Duggan brings to his offense after the victory.
"You know there's not one person on our team that doesn't believe in Max," he said. "He has got so much experience and has done so many good things in the past, and I thought he came in and handled it like a pro."
The Horned Frogs kept pounding the ball until the Buffaloes defense got fatigued and banged up. Thanks to great protection up front, TCU was able to turn those five yard runs into big gains. That's why Dykes' offense was able to score two rushing touchdowns in the last 11 minutes of the game.
Great quarterbacks make others around them better. And Duggan displayed that and more. Not only did the Council Bluffs native deliver in the clutch, but he never panicked when Dykes called his number. It's something Dykes believes Duggan can build on. After all, it was a promising performance by the signal-caller, despite coming off the bench.
A win is a win in Dykes' eyes, and he's encouraged by Duggan's leadership in the huddle. All of his experience and production is paying off on the gridiron. So Dykes just wants Duggan to be proud of himself and carry that momentum into game two at home against Tarleton.
"My hats off to him, and he really thought he played well."