Grading the Big 12 after week one of non-conference play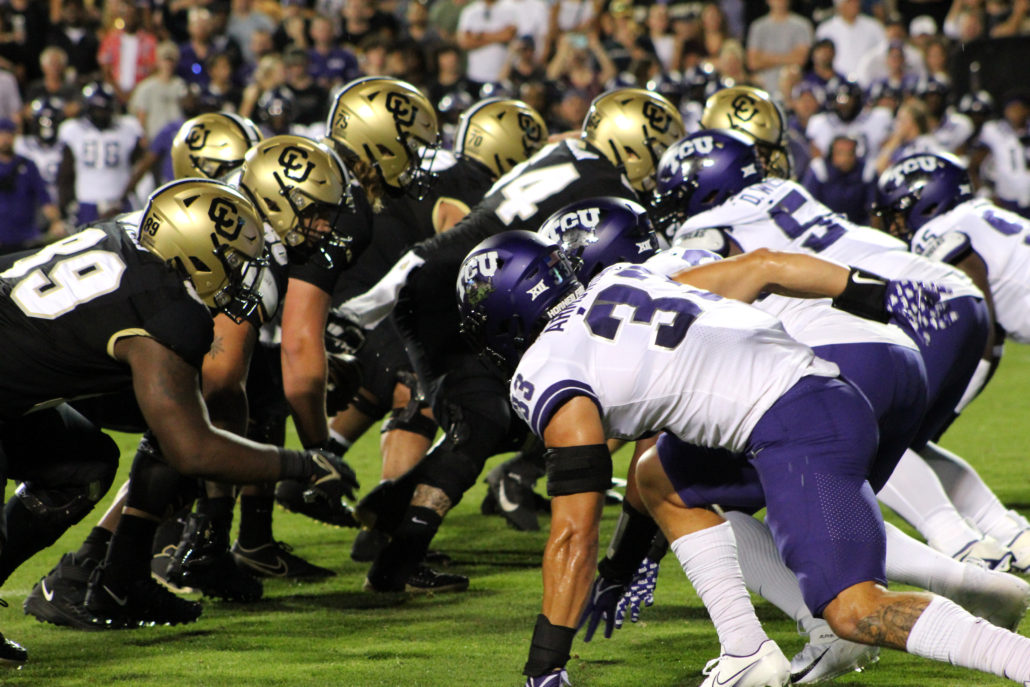 The league was impressive in week one, and went 9-1 against non-conference foes.
Although there were only two matchups of Power Five teams, the Big 12 made a statement with stellar performances. Not to mention all three of the new coaches kicked off their tenures with a victory.
All 10 teams contain firepower on offense and can put up points. It remains to be seen if parity still plagues the conference or if one team will dominate this fall.
Regardless, the rest of 2022 looks encouraging for the Big 12.
Baylor: The reigning Big 12 champs put together a magnificent performance, and annihilated Albany 69-10. It was the most points the Bears have scored since September of 2015. Baylor also racked up 573 yards of total offense, which was its' highest output in the last 11 games. Quarterback Blake Shapen used defenders for target practice. He completed 17 of his 20 passes for 214 yards and two touchdowns, plus Shapen added a rushing score. Baylor's offense recorded a jaw-dropping, seven rushing touchdowns. Wideout Gavin Holmes returned a 72-yard punt for a score. Sophomore Monaray Baldwin led the Bears in receptions and receiving yards. Baylor held Albany scoreless in the second and fourth quarter.
Iowa State: The Cyclones changed the narrative on having slow starts. Iowa State smothered Southeast Missouri State 42-10 with ease. Not to mention it was the most points the Cyclones have scored in a season opener since 2015. The blowout victory marked the new era of quarterback Hunter Dekkers, and he shined in his debut. Dekkers completed 25 of his 31 passes for 293 yards, four touchdowns and an interception. Running back Jirehl Brock rushed for a career-high, 104 yards and a score. Wideout Xavier Hutchinson also had a career day. The senior hauled in eight passes for 128 yards and three touchdowns. Defenders Colby Reeder, Beau Freyler and Myles Mendes all had five tackles each.
Kansas: Lance Leipold couldn't have asked for a better start to his second campaign with the Jayhawks. Kansas stifled Tennessee Tech 56-10, which was the most points it scored in a season opener since 1912. The Jayhawks stockpiled 502 yards of total offense, which was their highest output since game four of last year. Quarterback Jalon Daniels completed 15 of his 18 passes for 189 yards, a touchdown and an interception. He also added a rushing score. Running back Devin Neal had 108 yards on the ground and two touchdowns on just four carries. Kansas' offense finished with six rushing touchdowns. Edge rusher Lonnie Phelps tallied three sacks, and linebacker Eriq Gilyard picked off a pass.
Kansas State: The Wildcats look like a team on a mission and are very underrated. Kansas State didn't have to show much of an aerial attack, but still shutout South Dakota 34-0. The Wildcats were the only Big 12 team to pitch a shutout in week one. Not only was the victory the second shutout of Chris Klieman's tenure, but it was the exact same score from the two program's last clash in 2015. All-American running back Deuce Vaughn rushed for 126 yards and a score. He has now went over the century mark in rushing in 10 of Kansas State's last 14 games. Wideout Malik Knowles had a 75-yard touchdown run. Not to mention four different Kansas State defenders put the quarterback to the turf.
Oklahoma: The Brent Venables era has started off with a blast. Oklahoma downed UTEP 45-13, which was the program's 13th-straight season-opening win. Quarterback Dillon Gabriel was impressive in the pocket in his debut. He threw for 233 yards, two touchdowns, and added a rushing score. Running back Eric Gray finished with 102 yards on the ground, which was a career-high with the Sooners. Wideout Marvin Mims had a game-high, 81 receiving yards. Safety Billy Bowman tallied nine tackles, including seven solo. Linebacker Danny Stutsman generated nine total stops, including six solo. Not to mention Edge rusher Reggie Grimes wreaked havoc with three tackles and 2.5 sacks.
Oklahoma State: The Pokes were impressive on offense, but suspect on defense. The good news is Oklahoma State outlasted Central Michigan 58-44. Mike Gundy's squad led 44-15 at halftime. However, the Pokes' defense had a meltdown in the second half, and allowed 29 points. Quarterback Spencer Sanders was magnificent with 406 passing yards, four touchdowns tosses and two rushing scores. Wideout Braydon Johnson hauled in six passes for 133 yards and touchdown. Linebacker Mason Cobb racked up a game-high, 11 tackles, including eight solo. Freshman Kendal Daniels also had 11 stops and picked off a pass. Oklahoma State has now won nine-straight at Boone Pickens Stadium.
TCU: The Sonny Dykes era started off with an impressive road win against a Pac-12 foe. TCU used a dominating rushing attack in the second half to put away Colorado 38-13 Friday night. Although quarterback Chandler Morris injured his leg in the third quarter and didn't return, veteran gunslinger Max Duggan filled in nicely during his absence. Duggan led the offense on three touchdown drives in the fourth quarter. It was the first time since September of 2017, that TCU scored 21 points in the fourth quarter. Senior wide receiver Derius Davis returned a 60-yard punt for a touchdown and had a rushing score. Linebacker Dee Winters tallied five tackles, including four solo and a sack.
Texas: Steve Sarkisian didn't reveal too much to Alabama and still secured a blowout victory. Texas flat-out smashed Louisiana-Monroe 52-10. Not to mention it was the second time in the past three years that the Longhorns have scored 50-plus points in their season opener. Quarterback Quinn Ewers was solid in his highly-anticipated debut. He finished with 225 yards through the air, two touchdowns and an interception. All-American running back Bijan Robinson rushed for 71 yards and a score, plus he caught a 16-yard touchdown. Tight end Ja'Tavion Sanders led the team with six catches for 85 yards and a touchdown. Linebacker DeMarvion Overshown was active, with a game-high, eight tackles.
Texas Tech: The Red Raiders had the second-largest margin of victory of the Big 12 teams in week one. Texas Tech steamrolled Murray State 63-10 to kickoff the Joey McGuire era. It was the Red Raiders' highest point total in a season opener since 2016. Quarterback Donovan Smith had a stellar outing. He completed 14 of his 16 passes for 221 yards and four touchdowns. Running back Tahj Brooks rumbled for three rushing touchdowns. Wideouts Loic Fouonji and Jerand Bradley each had monster performances. Fouonji hauled in four passes for 110 yards and two touchdowns. Bradley had six catches for 108 yards and two scores. Defensive tackle Philip Blidi tallied four tackles and two sacks.
West Virginia: The Mountaineers were the only Big 12 team that suffered a loss in week one. Pittsburgh won the Backyard Brawl 38-31, which was arguably Thursday's best game. It was Neal Brown's second-straight, season-opening loss. Now he's lost four of his last six games overall. Quarterback JT Daniels had a decent debut, with 214 passing yards, two touchdowns and an interception. Running back CJ Donaldson rushed for a game-high, 125 yards and a touchdown on just seven carries. Wideout Bryce Wheaton caught nine balls for 97 yards and two scores. Linebacker Lee Kpogba stockpiled a game-high, 10 total tackles. West Virginia had four different defenders with a sack.