Ranking the Big Ten's best coaches of 2022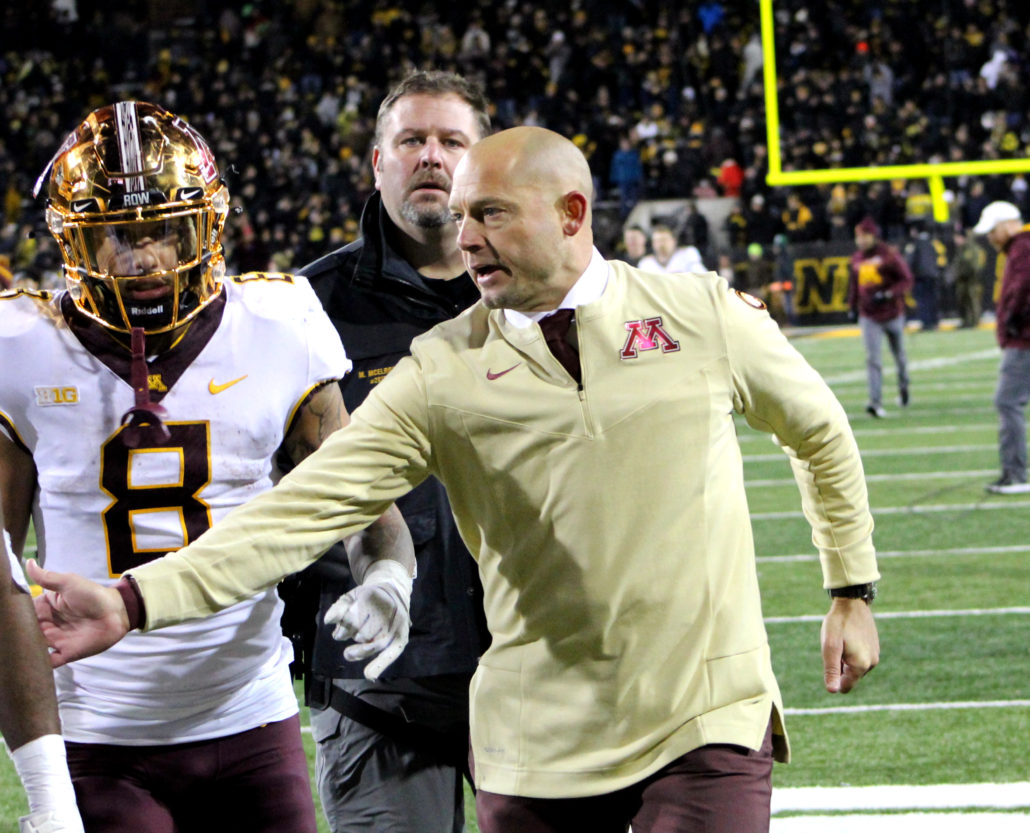 It's the most prestigious conference in all of College football.
The Big Ten is where physicality rules, the rivalries are intense and the trophy games mean more. Although none of the current Big Ten coaches have ever won a National Championship, the league is still full of solid leaders. These 14 coaches continue to turn teenagers into productive young men, who become winners on the field and in the classroom.
From elite recruiting, to lucrative NIL deals for players, the Big Ten has it all. These individuals represent the conference with class and annually fields some of the country's best players. All 14 of them will be looking to add to their legacies this fall.
14. Tom Allen, Indiana: Over the past five years on the job he has delivered two winning seasons. Allen's tenure has been a rollercoaster ride thus far. The Hoosiers won eight games in 2019, and finished 12th in the final AP Poll of 2020. However, Allen followed up that successful season with a 2-10 campaign, including a winless mark in Big Ten play last year. Indiana is currently on a eight-game losing streak, which is the worst in the conference. The Big Ten East is arguably the toughest division in College football, and Allen has stockpiled a 10-20 record against the other six teams. Now the 52-year old needs to deliver something worthwhile for Indiana fans to feel positive about the direction of the program. The schedule this fall is daunting though, with road games at Cincinnati, Nebraska, Ohio State and Michigan State.
13. Greg Schiano, Rutgers: The 55-year old coached for 11 seasons in his first stint with the Scarlet Knights, and stockpiled a 68-67 record during that span. However, that was when Rutgers played in the now defunct Big East. Schiano quickly found out that the Big Ten is more deep and competitive. In two years back on the job, Schiano has delivered a 8-14 record for the Scarlet Knights, including a 5-13 mark against Big Ten opponents. Everything has been trending up approaching Schiano's 14th season with the program. Rutgers even played in a bowl game in 2021, despite it being by default. Regardless, the Scarlet Knights earned that opportunity at the postseason because of their academic success. Schiano has his team headed in the right direction though, and they're due for a winning season in 2022.
12. Mike Locksley, Maryland: The Washington D.C. native had a three-year tenure at New Mexico, but generated a 2-26 record, and was fired after the fourth game of the 2011 season. Locksley went 1-5 under the interim tag with Maryland in 2015. Afterwards Nick Saban took Locksley under his wing for three years and refined his coaching knowledge. Although Lockley posted a 5-12 record through his first 15 games back with the Terrapins, he turned the corner last season. The 52-year old led Maryland to its' first winning campaign since 2014. Not to mention the Terrapins won their first bowl game since 2010. The team is riding a wave of momentum approaching the 2022 season. Maryland fans are expecting an explosive aerial attack with the return of gunslinger Taulia Tagovailoa, and stud wideout Dontay Demus.
11. Scott Frost, Nebraska: The former Husker quarterback reunited with his alma mater in 2018, and arrived in Lincoln with a ton of hype. After all, Frost had just completed a 13-0 campaign at Central Florida. However, the momentum Frost generated after that magical season, quickly fizzled during his first year with Nebraska. After four seasons on the job, the hometown kid has posted a record of 15-29. Not to mention Frost is 10-25 in Big Ten play, including a 5-19 mark against foes from the West division. Those results are mind-boggling, considering Frost has recruited like a monster up to this point. Although the Huskers have lost eight of their last nine games overall, Big Red Nation is expecting a big turnaround this fall. Big name transfers and key hires to his staff during the offseason are reasons to be optimistic.
10. Jeff Brohm, Purdue: The former Louisville quarterback has one of the best offensive minds in the Big Ten. Brohm stockpiled a 30-10 record in three seasons at Western Kentucky, which included two Conference-USA Titles. However, his tenure with Purdue hasn't been as successful. Brohm has a 28-29 record over the last five seasons with the Boilermakers, including a 20-22 mark against Big Ten opponents. Last season Brohm delivered his second winning campaign with the program, which included a bowl victory over an SEC foe. The momentum the 51-year old established after that has everything trending up for all parties involved. So much so, that Brohm agreed to a two-year contract extension in April, that runs through the 2027 season. Purdue is expected to make a serious run in the West this fall.
9. Pat Fitzgerald, Northwestern: He's the second-longest tenured coach in the Big Ten, who's been patrolling the sidelines at his alma mater since 2006. Fitzgerald has done a remarkable job winning at a school that doesn't have the resources of other powerhouse programs around the league. Northwestern is better known for its' academics than its' athletics, but Fitzgerald has gone 109-90 during his tenure, including a 65-69 mark against conference foes. However, his track record over the last seven seasons has been impressive. The 47-year old delivered five winning campaigns during that span, including a 36-28 record against Big Ten opponents, and five bowl victories. Fitzgerald is a former linebacker, so he understands the speed and physicality of the league. That's why he's Northwestern's all-time winningest coach.
8. Bret Bielema, Illinois: Although the 52-year old is the only coach on this list with three Big Ten Championships, he also lost three Rose Bowls. Bielema has been a head coach in the Big Ten and the SEC. He had a highly successful, seven-year tenure at Wisconsin, and finished it with a jaw-dropping, 44-6 record against Big Ten foes. His five-year stint at Arkansas resulted in three winning campaigns. However, Bielema's record with the Razorbacks was 29-34, including a 11-29 mark in SEC play. The Illinois native's return to the Big Ten hasn't fared much better. Bielema's first season with the Fighting Illini ended with a 5-7 campaign, but they won four of their final seven games. Illinois' roster was full of fifth-year players last season, so Bielema will have his biggest coaching challenge to date, filling those voids this fall.
7. Mel Tucker, Michigan State: The Cleveland native began his coaching career at Michigan State under Nick Saban. Tucker has had experience in the NFL, Big Ten, SEC, and Pac-12. He spent one season as Colorado's head coach, and registered a 5-7 campaign. Tucker lost four of his final five games of the 2020 season with the Spartans, but that was during the pandemic, and was his first year on the job. However, Tucker had an amazing turnaround in 2021. Not only did he lead Michigan State to an 11-2 campaign, which included a Peach Bowl victory, but Tucker was also named the Big Ten's Coach of the Year. Not to mention Kenneth Walker took home the Walter Camp hardware. Michigan State was so impressed by Tucker's success that it awarded him with a 10-year, $95 million contract extension.
6. P.J. Fleck, Minnesota: He won 30 games in four seasons at Western Michigan, including a MAC Title in 2016. Fleck's success followed him to Minneapolis. The 41-year old has stockpiled a 35-23 record over the last five seasons with the Golden Gophers, including a 22-22 mark against Big Ten opponents. Fleck has also won all three of his bowl games with Minnesota. His 2019 squad posted 11 victories, which were the most in the program since 1904. Not to menton Minnesota finished 10th in the final AP Poll that year. Fleck has won seven of his last nine games overall, and his team has established a ton of momentum approaching the fall. The Illinois native has the right pieces in place to make some noise in 2022. Stud rusher Mohamed Ibrahim returns, plus veteran gunslinger Tanner Morgan and a loaded defense.
5. James Franklin, Penn State: The Pennsylvania native's coaching experience dates back to 1995. During that span Franklin has spent time in the NFL, and four of the Power Five conferences. He accomplished the unthinkable and won 24 games in three seasons at Vanderbilt, including his last two bowls. Franklin took over a Penn State program decimated by NCAA sanctions and led it to a Big Ten Title in his third season. The 50-year old has posted a 67-34 record with the Nittany Lions, including a 43-28 mark against Big Ten opponents. Penn State is down with Franklin for the long haul, and signed him to a new 10-year contract last December, that's worth a guaranteed $70 million. Despite Franklin's 8-10 record over his last 18 conference games, Penn State fans are expecting better results in 2022.
4. Kirk Ferentz, Iowa: He gained notoriety through the years as the king of doing more with less. Ferentz is the longest-tenured coach in the FBS, who sits atop Iowa's list in all-time wins. He's the only coach in the league with 100-plus Big Ten victories. The 66-year old been patrolling the sidelines at Kinnick since 1999, and has a record of 178-109 with the Hawkeyes. What he has accomplished over the past seven seasons with Iowa has raised eyebrows. Ferentz has gone 63-25 during that span, and led Iowa to two Big Ten Championship Game appearances and a Rose Bowl berth. Ferentz is also 42-21 against Big Ten opponents since 2015, including a undefeated mark against rivals Iowa State, Minnesota and Nebraska. Not to mention Iowa has had at least one player selected in the NFL Draft every year of his tenure.
3. Paul Chryst, Wisconsin: The former Badger quarterback has been one of the most consistent and successful coaches in the Big Ten. Chryst won 19 games in three seasons at Pittsburgh before he returned to his alma mater in 2015. The 56-year old has gone 65-23 at Wisconsin, including a 44-19 mark against Big Ten opponents. Chryst has owned the West, and is a jaw-dropping, 32-8 against divisional foes. The Badgers clinched three berths into the Big Ten Championship Game, and had a Rose Bowl appearance under his watch. Not to mention Chryst has won six out of his seven bowl games with Wisconsin. Over the past seven years Wisconsin has had 26 players selected in the NFL Draft. Having veteran quarterback Graham Mertz and a tenacious defense, should equip the Badgers for a serious run in 2022.
2. Jim Harbaugh, Michigan: The 58-year old is the only coach in the league that has won a Big Ten Title and coached in a Super Bowl. Harbaugh won 29 games in four seasons at Stanford. The Ohio native has stockpiled 61 victories in seven seasons with his alma mater. Harbaugh's 43-17 record against Big Ten opponents is flat-out, astonishing. Not to mention Harbaugh silenced all of his critics after he finally beat Ohio State, led Michigan to a Big Title, and the program's first-ever berth in the Playoffs. Harbaugh was named the AP Coach of the Year for his heroics. He's annually one of the league's best recruiters, and molds his players into All-Big Ten performers. After Michigan's success in 2021, the anticipation is high for the upcoming season. The reigning Big Ten champs will have a bullseye on their chests.
1. Ryan Day, Ohio State: The New Hampshire native led the Buckeyes to three victories as their Interim coach during Urban Meyer's suspension. Day is the league's best recruiter and a quarterback guru. He also coached three Heisman Trophy finalists. Day has gone 31-4 as Ohio State's head coach, and registered a jaw-dropping, 25-1 record against Big Ten opponents. Under Day's watch the Buckeyes have won two Big Ten Titles, a Rose Bowl, clinched two Playoff berths and played for all of the marbles in 2020. A plethora of weapons on both sides of the ball returns to a squad that won 11 games last season. The 43-year old has signal-caller C.J. Stroud, rusher TreVeyon Henderson and wideout Jaxon Smith-Njigba in his arsenal, who are arguably the best players at their positions. So 2022 could potentially be Day's best season yet.