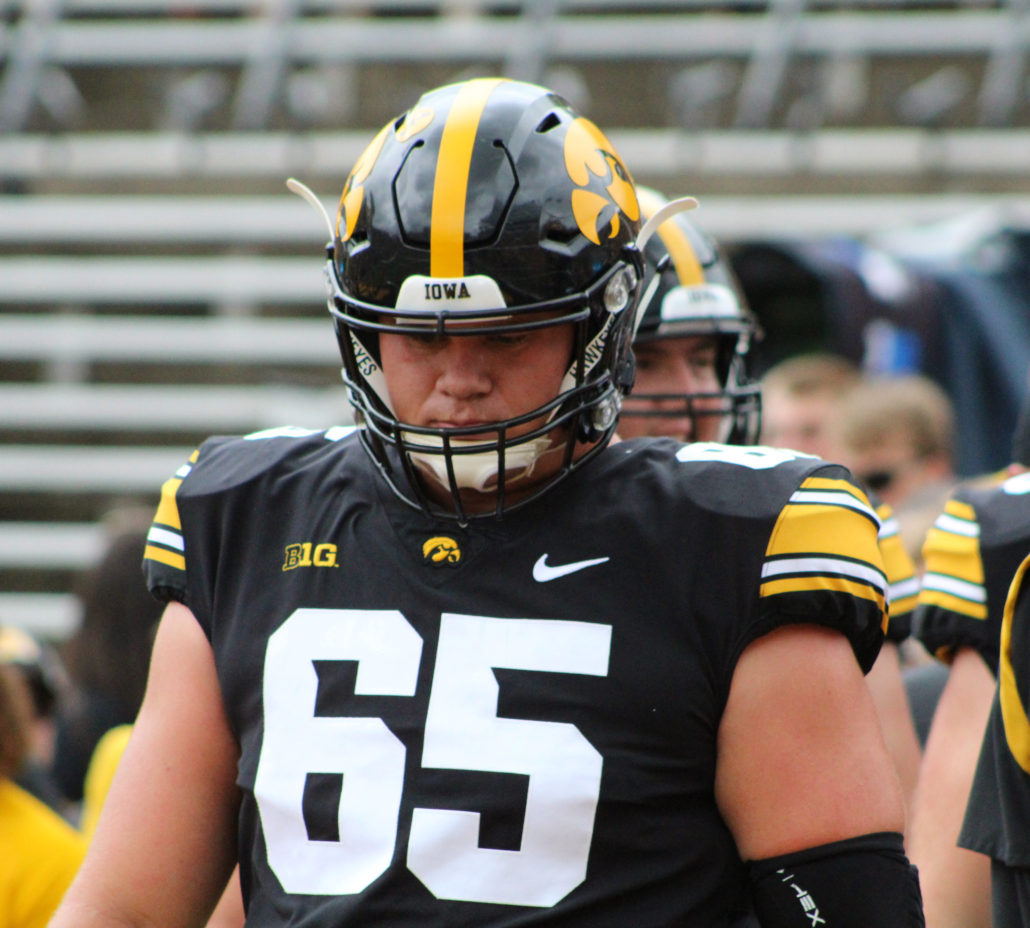 IOWA CITY, Ia. — With the NFL Draft days away, Kirk Ferentz is keeping the fingers crossed for his former Hawkeyes.
One player in particular is All-American center Tyler Linderbaum. After all, he's projected by several Draft analysts to be picked in the bottom half of the first round. Linderbaum could potentially join Tristan Wirfs as Iowa's second offensive lineman drafted in the first round over the last three years.
Kirk Ferentz believes that's a reflection on his blue collar program. Which shouldn't come as a surprise, considering his players are always smart, disciplined and physically fit for the next level. Linderbaum is a flat-out bull, and a natural at anchoring the big boys up front. He could've entered the Draft last year.
Not only was Linderbaum named the Big Ten's Offensive Lineman of the Year in 2021, but he also took home the Rimington Trophy as the nation's best center. The 22-year old has plenty of accolades behind his name and a remarkable collegiate career.
Linderbaum also brings a lot of leadership and experience to the table. Ferentz is somewhat surprised he hasn't received more phone calls regarding his former offensive lineman as the Draft approaches. He's doesn't feel that it's anything negative because Linderbaum's film speaks for itself.
Not to mention 31 NFL teams scouted Iowa's pro day a month ago. Several former Hawkeyes performed, including running back Tyler Goodson and defensive back Dane Belton, but Linderbaum was the headliner.
There's no denying Linderbaum is a versatile athlete, plus he's a converted defensive tackle. However, Ferentz revealed that some teams were skeptical about his measurements.
"I guess his arms weren't quite as long as somebody wants," Ferentz said. "I'd rather have a guy that has his arms half an inch short that can actually block guys trying to block them."
The Iowa native stands six-foot-two, weighs 296 pounds and has 10-inch hands. His arm length is 31.25 inches, which is on the shorter side for NFL offensive linemen. Still, Ferentz assures what Linderbaum lacks in size, he makes up for with physicality on the gridiron. Ferentz knows the former three-star prospect is a student of the game, who's always striving to get better and that's what the NFL admires.
"The one nice thing, any coach appreciates, is just knowing what you're going to get, really knowing," he said. "I think that's the best thing I can say about Tyler, whatever they think they're getting, that's what they're getting, probably plus some."
Linderbaum is flexible enough in the hips, with great lower body strength, solid hand placement and has a non-stop motor. Those are all qualities Ferentz believes will take Linderbaum far at the next level. The big fella knows how to set the tone up front and at the point of attack, plus Linderbaum's teammates feed off of his energy.
"He'll be a guy in my mind that's going to play the next 10, 12 years, play really well," the 66-year old coach said. "Be a great guy on the team, in the locker room, all those things that are really invaluable."
So wherever Linderbaum lands, Ferentz knows that team will be inheriting an individual that can change the flow of the locker room and start by the first game. This time of year always brings excitement to Ferentz, and he's confident Linderbaum is going to make Hawkeye Nation proud later this week.