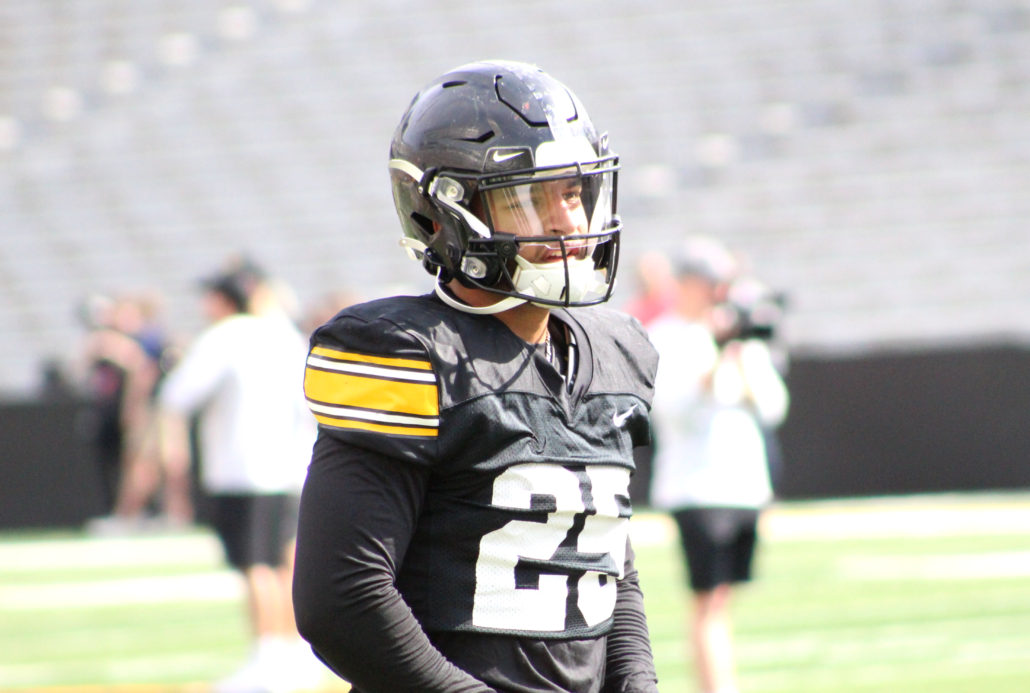 IOWA CITY, Ia. — Iowa's leading returning rusher capped off a strong spring Saturday morning, and left a lasting impression on his head coach.
With two-time, All-Big Ten running back Tyler Goodson off to the NFL, the Hawkeyes have been in search of a replacement for the 1,000-yard rusher. Sophomore Gavin Williams caught Kirk Ferentz' full attention over the teams' 15 practices.
From blocking, to catching passes out of the backfield, Ferentz believes Williams has what it takes. Molding the Des Moines native into an every down back is the easy part. However, the challenge for Iowa's offense will be opening up holes for Williams to run through.
It's mind-boggling that the Hawkeyes finished 102nd in the FBS in rushing yards per game last season. That was with Goodson in the backfield and All-American center Tyler Linderbaum leading the way. Still, Ferentz believes Williams is very capable of carrying the load.
After all, the former three-star prospect was the Hawkeyes' second-leading rusher in 2021. Not to mention Williams rushed for 265 of his 305 yards over Iowa's final six games.
"I'll cherry pick a guy like Galvin Williams, who has only been our lead back one game now in his career," Ferentz said. "He carries himself like he's an older guy, like a senior almost."
College football's longest-tenured coach has seen his fair share of talented backs through the years. And Ferentz  feels Williams has the vision, durability and ball security to make it through the Big Ten gauntlet. His six-foot, 211-pound frame suits him well for the physicality of the league. Williams can be a bruising north and south runner at times too.
Still, the trait that has separated Williams from the rest of Iowa's rushers is his personality. Ferentz loves how he's an alpha male in the running back room, and the fact that his positive energy rubs off on his teammates.
"There's something about him, a maturity about him and a focus," he said. "He's really respected by everybody, so I think we got a good mix that way."
A ton of responsibility comes with the territory of being the Hawkeyes' No. 1 rusher though. Leshon Williams, Max White, Deavin Hilson and Zach Brand are the other running backs on Iowa's roster competing for snaps. Ferentz is trying to establish a rotation, but that doesn't mean the Hawkeyes will have a running back by committee approach. Having a solid No. 1 rusher will go a long way over the next eight months, especially with Iowa's tough schedule.
Which is why Ferentz feels nothing is set in stone yet. Although Williams generated 56 yards on the ground apiece against Illinois and Michigan, plus a season-high of 98 against Kentucky, he still has yet to score his first touchdown. So there's no denying that Williams' mind is set on finding the endzone in 2022.
Regardless, he put together a promising spring. And that has encouraged the 66-year old coach to believe Williams will have a vital impact on the offense. Now it's all about Ferentz and his staff putting the right pieces around him so the Hawkeyes can take a big step forward with running the ball this fall.
"We're hardly there yet, but at least that's a big part of the next couple months here is continuing to build on that, develop those stronger personalities as we go along."