Penn State's pass catchers leaning on Sean Clifford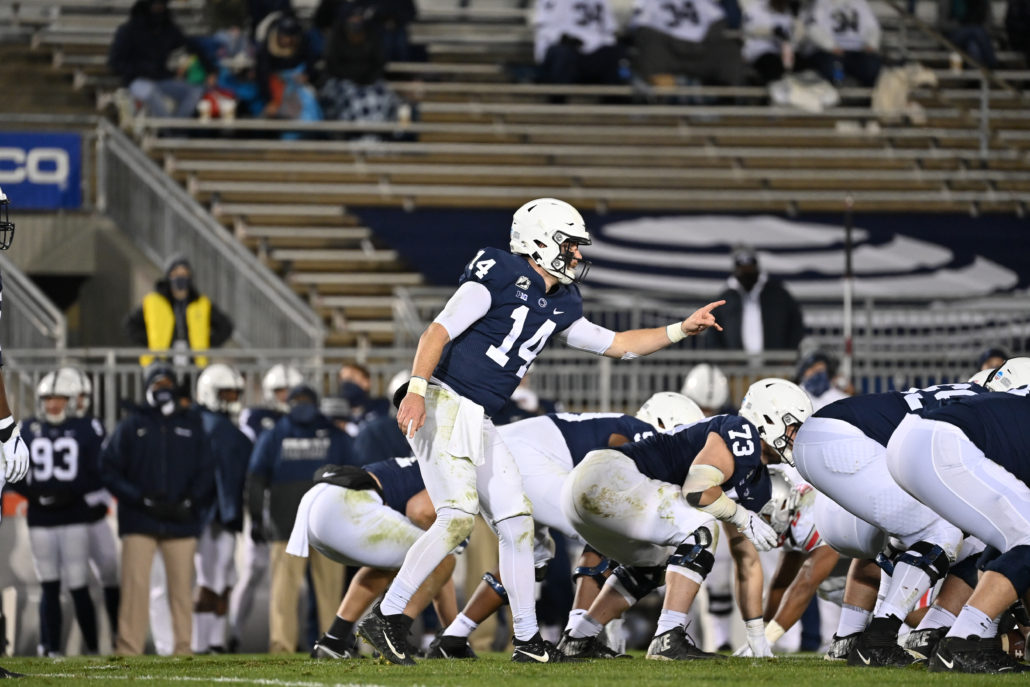 UNIVERSITY PARK, Pa. — The quarterback is approaching his fourth season leading the Nittany Lions' offense, and raising eyebrows this spring.
Sean Clifford finished fourth in the Big Ten in passing yards and fifth in touchdown tosses last season. However, his go-to receiver Jahan Dotson entered the NFL Draft, and left a huge void for the remaining pass catchers to fill. Sophomore wide receiver KeAndre Lambert-Smith and junior tight end Brenton Strange have been up to the challenge throughout spring ball.
The two are coming off solid campaigns in 2021. Not to mention they were both reliable targets, who combined for 54 receptions, 746 receiving yards and six touchdown catches. They've been building more chemistry with Clifford and the rest of the signal-callers over the past two weeks.
Stability among the Nittany Lions' coaching staff hasn't been consistent lately, and effected the players' overall performance. Still, with Offensive Coordinator Mike Yurcich in his second year calling the plays, it gives the players plenty of reasons to be optimistic about the fall.
Lambert-Smith and Strange have witnessed Clifford's growth in Yurcich's scheme. Clifford's positive energy has also rubbed off on the rest of their teammates.
"I think Cliff does a great job being a leader," Strange said. "If I see something, in a play, or the defense is running  a coverage a certain type of way and I know I'm going to be open at that point, I'm going to tell the quarterback this is what happened."
Strange tied for third on the team in touchdown receptions last season, and has scored six times in his career. The six-foot-three, 248-pounder provides a huge safety net for Clifford in the clutch. He strongly believes Penn State has the best group of tight ends in the conference this year.
In Strange's eyes, the offense is a lot further ahead than where the unit was around this time last spring. The West Virginia native would like his production to increase, but understands the responsibility of playing the position. Regardless, the tight end group wants to keep the momentum going. Not only do they give Clifford options in Penn State's aerial attack, but they also provide run support.
"I think the tight end is a very selfless position," he said. "We're asked to do a lot in this offense, so I think everyone is happy as long as we're winning and we're happy to do our part that they ask us to do."
The wide receivers are in a similar situation and have elevated their game too. Parker Washington is the Nittany Lions' leading returning wideout, and he's poised to be Clifford's No. 1 target. That doesn't mean Clifford won't be able to spread the wealth, so Lambert-Smith is expecting his role to increase.
The former four-star prospect caught a touchdown against Villanova, Illinois and Arkansas last season.  Lambert-Smith has hauled in 49 balls over the past two years, but he's just cracking the surface. The Virginia native is excited about the rhythm he's building with Clifford, and is expecting the two to have big campaigns in 2022.
"He (Clifford) has always been a leader from day one since I got here, but I definitely seen the leadership increase more and more each year," Lambert-Smith said. "It just had a bigger impact on the team each year that I've been here."
Penn State's offense finished fourth in the league in passing yards per game. With a productive spring, Nittany Lion fans are hoping those numbers increase once the season starts. In the meantime, Strange and Lambert-Smith will continue to work hard in practice to help Clifford and the rest of the quarterbacks master their craft leading up to the Blue and White Game on April 23.