Russ Yeast elated about playing an SEC juggernaut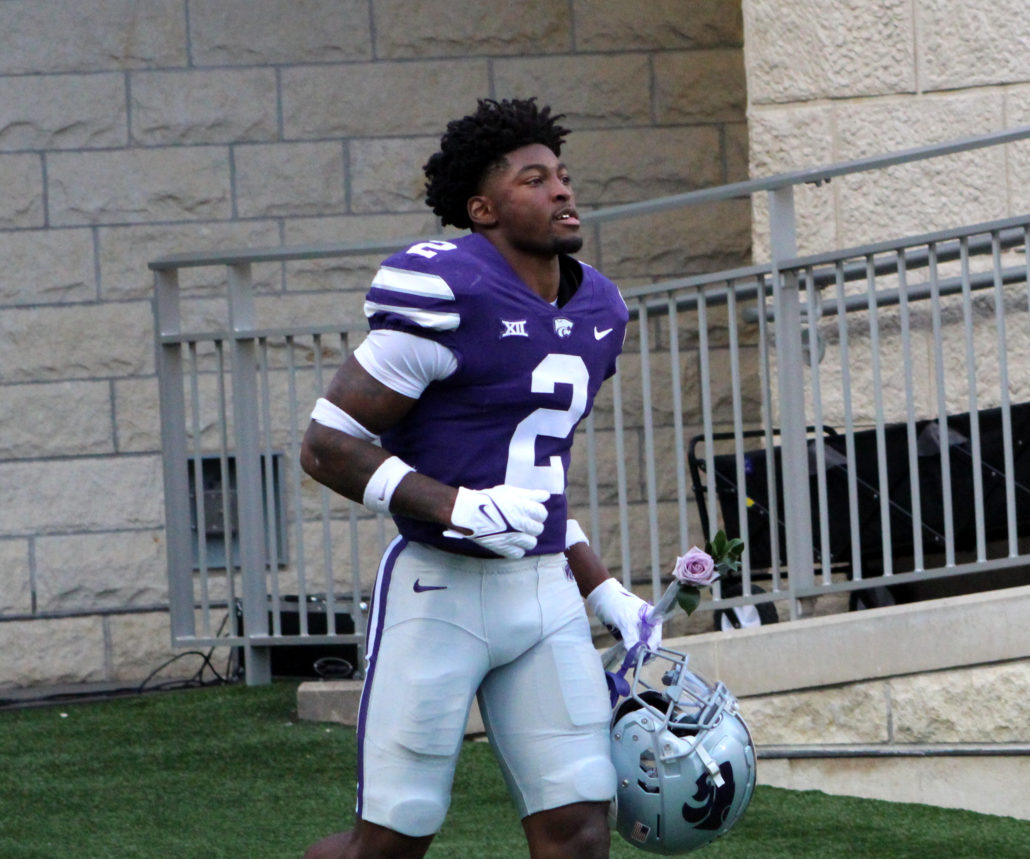 MANHATTAN, Kan. — LSU is two years removed from winning the 2019 National Title, but the program is in transition approaching the Texas Bowl.
Despite the fact that the Bayou Bengals have an interim coach, plus a slim roster for the January clash, the Wildcats refuse to take them lightly. Kansas State's All-Big 12 defensive back Russ Yeast is one of those individuals, and he's making sure all of his teammates have that same mindset for the bowl game.
After all, Yeast has a ton of postseason experience, including two bowl games during his time at Louisville. Yeast is no stranger to squaring off against teams from the almighty SEC either. He has played against the likes of Alabama, Mississippi State and Kentucky throughout his Cardinal career. Which is why Yeast is thrilled about Kansas State's matchup against LSU.
"LSU is a storied program and it's a program that I grew up watching," Yeast said. "So, it'd be really fun to get a chance to go out there and play against them."
However, the Wildcats will be facing a lot of uncertainty against the Bayou Bengals for many reasons. First off, LSU (6-6) parted ways with Ed Orgeron and hired Brian Kelly from Notre Dame earlier this month. The Bayou Bengals' starting quarterback Max Johnson transferred to Texas A&M less than a week ago. Not to mention three LSU wideouts have entered the portal and Wide Receiver Coach Mickey Joseph was hired by Nebraska.
With LSU's offense having all of those question marks, Kansas State's defense is expecting the unexpected. Yeast will be relying on his experience against SEC teams and film study to help him saddle up.
"It does make it kind of difficult when you're not really sure which players you're going to play against, but you can just prepare for everybody and just kind of look at what they did throughout the course of the season and try to be ready for everything," he said.
The former four-star prospect is the son of a head coach, so he understands how to adjust on the fly. Yeast is riding a big wave of momentum after making an immediate impact in the Wildcats' secondary this season. The 5-foot-10, 195-pounder has stockpiled 44 tackles and broke up 10 passes in 2021. Yeast proved he's a ballhawk and is second in the Big 12 with three interceptions.
He understands that his experience, production and leadership will be vital against the speed of LSU at the skill positions. Kansas State (7-5) has lost two-straight games and Yeast wants to get that bad taste out of his mouth. So he plans on closing out his collegiate career on a high note.
The Wildcats' entire team, from the players to the coaching staff, want to a statement against the SEC. And Yeast doesn't want to disappoint.
"I think that's a big, big deal," the senior said. "Nobody really thought about opting out or anything like that because we want to go out there and have another chance to play the game that we love."
The fact that neither team was bowl eligible last year, should add more intensity to this game. The Wildcats have an opportunity to win eight games for the second time in the last three years. The Bayou Bengals can secure a winning season with a victory. So there's no denying the stakes are high for both teams, and Yeast is all dialed in for January 4.