Matt Campbell lands best recruiting class of tenure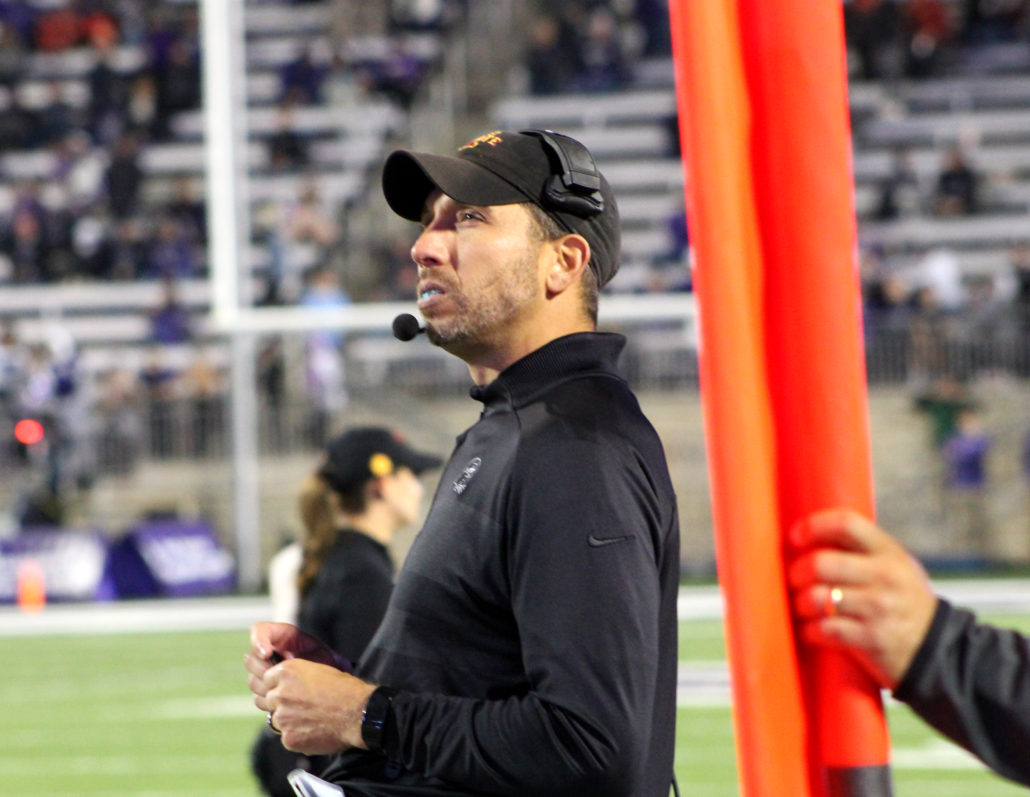 He just secured Iowa State's fifth-straight winning season, and signed arguably the best recruiting class in program history.
Matt Campbell continues to build an amazing legacy with the Cyclones. In this day and age he lured a star-studded regime to Ames, which means prospects from across the country have witnessed Iowa State's success over the years, and want to be part of the movement.
Campbell's name continues to come up in coaching carousels, and a plethora of star Cyclones will be off to the NFL after this season. However, the 42-year old has remained loyal to Iowa State and it's paying dividends for all parties involved.
Iowa State's 2022 class ranks 23rd nationally and fourth in the Big 12 by major recruiting publication Rivals. These 21 players are by far Campbell's best on paper. His predecessors Dan McCartney, Gene Chizik and Paul Rhoads never recruited this caliber of talent for the Cyclones. Campbell's staff did an amazing job by landing four-star prospect Rocco Becht out of Florida, who's the only quarterback in this year's class.
The Cyclones signed a pair of four-star defensive tackles in Hunter Deyo and Domonique Orange. Deyo is a Council Bluffs native and was plucked out of Iowa State's backyard. It was a major accomplishment keeping Deyo at bay though, considering Iowa and Kansas State showed extreme interest. Orange was a great catch after taking his official visit two weeks ago. He was also recruited by Georgia, Arkansas and Florida State, so it's a statement that he signed with Iowa State. Having those two mammouths along the interior, means the Cyclones will stay strong in the trenches.
Campbell didn't forget about the skill positions either. He went down to the speed state and signed four star wide receiver Gregory Gaines III out of Tampa Bay. Gaines has great size at six-foot-two and can add some bulk to his 180-pound frame. The wideout was on a couple of SEC school's radar.
Not to mention this class contains 14 three-star prospects, and Campbell's staff has a knack for developing players and turning them into All-Big 12 performers. From a national point of view Campbell continues to be successful because he keeps his staff and players intact.
Coordinators Tom Manning and Jon Heacock are going to be head coaches some day, but in the meantime they're both loyal to the Cyclones. All-American defensive end Will McDonald passed up on the NFL to return to Iowa State for another season. That's also a statement, and proves the coaching staff and players love being together.
So it's a no-brainer that the 21 players Campbell just signed wants to be part of that success. Campbell has another opportunity to show why he passed up on the Detroit Lions and $8 million last year to return to Iowa State, and that's by beating Clemson in the Cheez It Bowl.
A victory over a powerhouse program like the Tigers, will show why Campbell believed this year's team was special, despite their 7-5 record. Future recruits will also be paying attention. Campbell can seize the opportunity. And it would put Iowa State on the map even more in recruiting. Regardless, this year's class proves Campbell is down with Iowa State for the long haul.