Mike Gundy approaching biggest game of career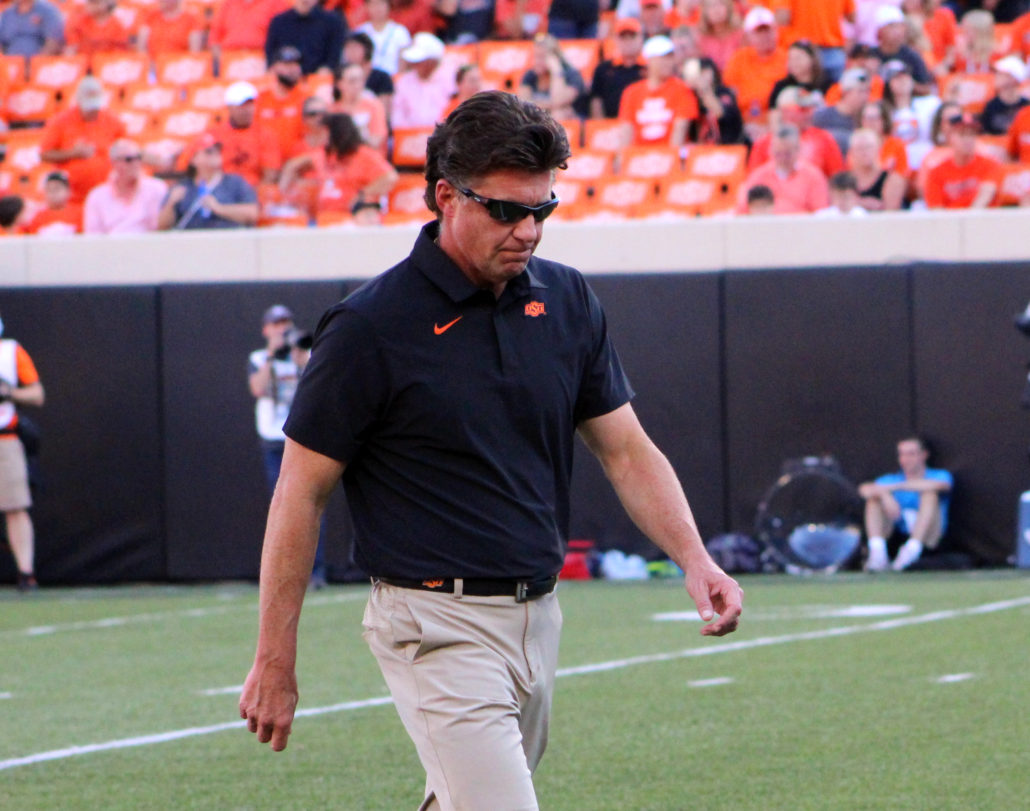 The Big 12's longest-tenured coach is in a position to take Oklahoma State to postseason glory.
The Pokes are the No. 5 team in the country approaching championship week, and potentially one win away from crashing the College Football Playoff. After snapping a six-game losing streak to Oklahoma, Mike Gundy is finally starting to get the recognition he deserves.
The 54-year old has patrolled Oklahoma State's sideline since 2005, and remained loyal to his alma mater through all of the success. Now Oklahoma State (11-1) has a rematch with Baylor for all of the Big 12 marbles. Although defeating a team twice in the same season can be challenging, Gundy is still 2-0 head-to-head against Dave Aranda.
The Pokes are playing with extreme confidence after defeating their rival, and have won five-straight games. Gundy wants to carry that wave of momentum to Arlington Saturday. Oklahoma State's 2011 team was filled with more veterans, but this year's version of the Cowboys is loaded with young talent, to go along with a stifling defense.
Quarterback Spencer Sanders has made others around him better. He's not afraid of being behind center in the clutch either. Several times this fall the junior signal-caller has put the Pokes on his back and carried them to the finish line. Senior running back Jaylen Warren has 1,134 yards on the ground this season, which is third in the Big 12 and 23rd in the FBS.
The Pokes have five players on offense with two or more touchdown catches. That shows Sanders have options and he knows how to spread the ball around. Opposing defenses can't just concentrate on one pass catcher. Not to mention Oklahoma State's offense is very balanced.
However, the Pokes' defense is the biggest reason why they're in a position to win a Big 12 Title. The unit leads the conference in rushing, passing, scoring and total defense. It's no mystery defense wins championships, and Gundy has arguably the best group of his 17-year tenure.
If Georgia beats Alabama, and Cincinnati beats Houston, Oklahoma State will likely land that No. 4 spot over Notre Dame, regardless of what happens in the Big Ten Championship. The fact that the Pokes are playing an extra game against a top-10 foe, and the Playoff Committee admires conference champions, gives them the edge over the Fighting Irish, but overall brands may play a vital part in the final decision.
Everything appears to be coming full circle for Gundy and his journey to be in this position has been all about dedication, loyalty and perseverance. There's been big-time programs that requested Gundy's services. Regardless, he has always passed up on those offers and remained with Oklahoma State.
The feeling is mutual with the fans and Gundy is never lacking in the support department. Oklahoma State controls its' own destiny, with a clear-cut path to the Playoffs. Baylor (10-2) has won six of its' last seven games since losing to Oklahoma State in early October, and will be looking for revenge.
So it's up to Gundy and the leaders on his squad to keep the players hungry and focused. Anything in order not to let this opportunity of a lifetime slip through their fingers.