Felix Anudike-Uzomah closing in on school record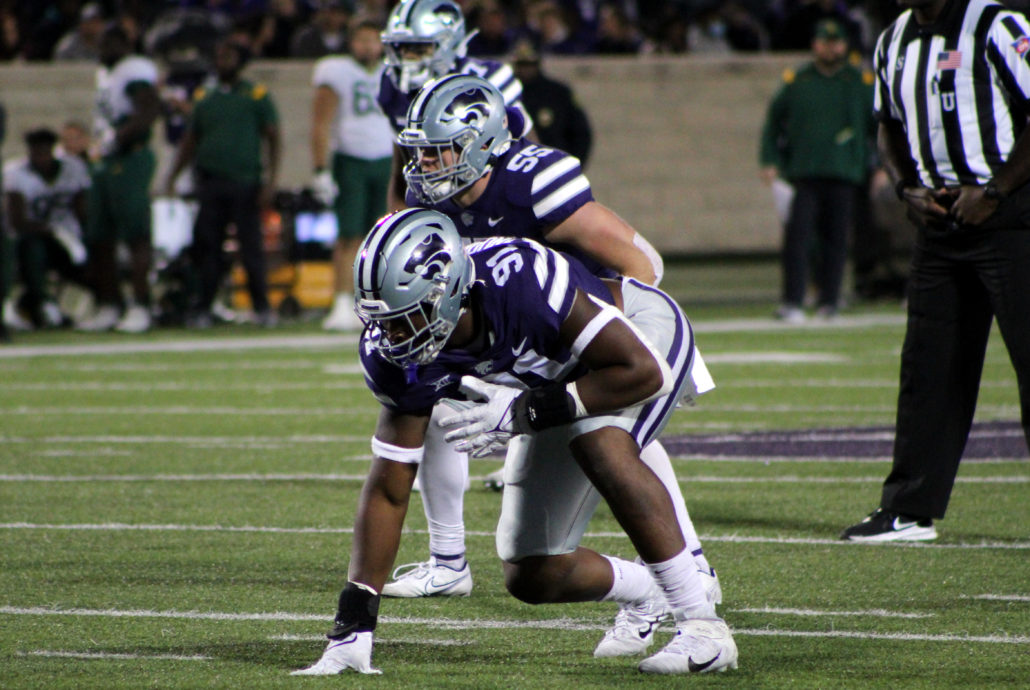 MANHATTAN, Kan. — Kansas State's star edge rusher is one sack away from becoming the program's single-season leader, and he's ready to accomplish that feat against Texas Friday afternoon.
Felix Anudike-Uzomah only generated three tackles and a sack in 2020, but this fall he has emerged from the shadows and been wreaking havoc on opposing quarterbacks. Defensive Coordinator Joe Klanderman was looking for a pass rushing terror to replace Wyatt Hubert over the summer, and Anudike-Uzomah proved he had all the tools and then some.
With the way he makes ball carriers eat grass, the true sophomore has quickly established himself as one of the most feared defenders in the Big 12. Not to mention Anudike-Uzomah caught the rest of the league's attention when he stockpiled four sacks in the win over TCU. Now the Kansas City native has 11 on the year, to go along with 46 stops, including 14.5 tackles for loss.
The six-foot-three, 255-pounder is flexible in the hips, with a non-stop motor and a relentless pursuit, making him a signal-caller's nightmare. He has come a long way in such a short period of time. The former three-star prospect leads the conference in sacks. However, he's just cracking the surface on his potential.
There's no denying Anudike-Uzomah has been performing at an All-Big 12 caliber level throughout the season, and he credits all of his success to his work ethic.
"Basically everything that I learned in fall camp, I just use it day by day every time I play and my technique wise," Anudike-Uzomah said. "That is what I harp on most every time."
Now he's going up against a Longhorn offense that's been struggling in pass protection. Texas (4-7) has allowed 25 sacks in 2021, which is the worst in the conference. Despite not generating a sack over Kansas State's past two games, Anudike-Uzomah plans on making his presence felt in Texas' backfield.
That's why he's been putting himself through an intense week of practice leading up to the matchup. Leaving a lasting impression on the conference is his No. 1 goal. After all, he feels like he still has a lot to prove.
"I haven't met my expectations yet," the defensive end said. "There's still a lot of stuff I wish I could have done better."
The Wildcats are third in the Big 12 in scoring and total defense and he's the enforcer up front. He's a natural at setting the tone and the rest of the defenders feed off his energy.
Although Baylor spoiled Kansas State's Senior Day last week, everyone is prepared to wipe the taste of defeat from their mouths. There's more work to be done and the Wildcats plan on finishing the regular season with eight wins for the second time in three years.
"We had a couple good wins like Texas Tech and a couple other ones that just made our team better," he said. "But, overall, the season has been alright."
If he breaks the Wildcats' single-season sack record and they get the victory, it will be more than just alright.