Brock Purdy approaching curtain call at Jack Trice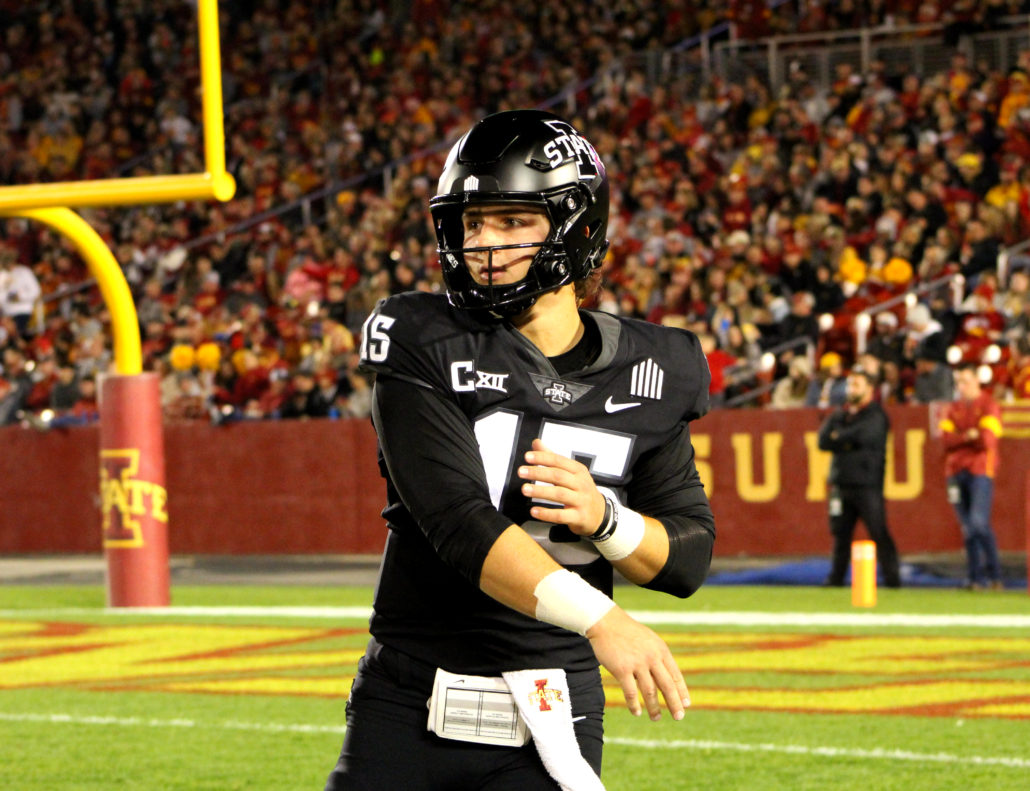 From the moment he replaced Zeb Noland, threw for four touchdowns and led Iowa State to a win over Oklahoma State, he's been the face of the program.
That was back in 2018, and since then Brock Purdy has broken nearly all of the Cyclones' passing records. He has also guided Iowa State to heights College football fans would've never thought was possible in the original Big 12.
This Friday will be Purdy's final game at Jack Trice Stadium and sure to be an emotional one. After all, he's a jaw-dropping, 19-4 as Iowa State's starting quarterback inside the venue. So Cyclone fans will be in full force to give the senior signal-caller the proper farewell he deserves.
Purdy has crafted an incredible legacy up to this point. Behind his success, there's been a smart coach in Matt Campbell, who provided Purdy with an elite supporting cast, and great quarterbacks make others around them better. Passion, determination and a whole lot of guts pretty much describes Purdy's play on the field.
The former three-star prospect has always played with that never say die mentality. Several times throughout his career,  Purdy has put the Cyclones on his back and carried them to the finish line. The six-foot-one, 220-pounder gained notoriety over the past four seasons for the way he elevated his game in the month of October. So much so, that he's dubbed 'Brocktober' by Iowa State fans.
Purdy always handles himself with class on and off the field. So it's no surprise why he's highly respected by his teammates and coaching staff. Most importantly, he understands the responsibility that comes with the territory of being a Power Five quarterback. There's a thin line between being the hero when the team wins, and taking the shoulder of the blame during the losses.
The 21-year old has been on both sides and learned from each ordeal. Through it all he has remained a stand up student-athlete, which shows the caliber of his character. Last week Purdy was sacked seven times in the loss to Oklahoma. He'll definitely be looking to redeem himself when Iowa State (6-5) hosts TCU.
Purdy is currently tied for first in the Big 12 in touchdown passes this fall and he has a chance to finish the regular season as numero uno in passing yards. Cyclone fans are anticipating Purdy will leave a lasting impression on the home crowd that they can be proud of. Even if it takes some late game heroics.
Senior Day will also be a final farewell for All-Big 12 performers like, Chase Allen and Greg Eisworth, who've helped build Iowa State into the respectable program it is today.
Some may criticize Purdy and the rest of the seniors for never beating rival Iowa or winning a Big 12 Title. However, they're still Fiesta Bowl Champs and been part of the best four-year run in school history. That's why Friday's matchup should be a celebration in the eyes of Iowa State fans.
Campbell is putting his players through an intense week of practice after losing three of their last four games. With a victory against the Horned Frogs, Purdy would secure four-straight winning seasons with the Cyclones. Not to mention it would be his 20th victory inside Jack Trice.
From being a wide-eyed true freshman, to a two-time, All-Big 12 performer, Purdy has cemented his name in Cyclone lore.