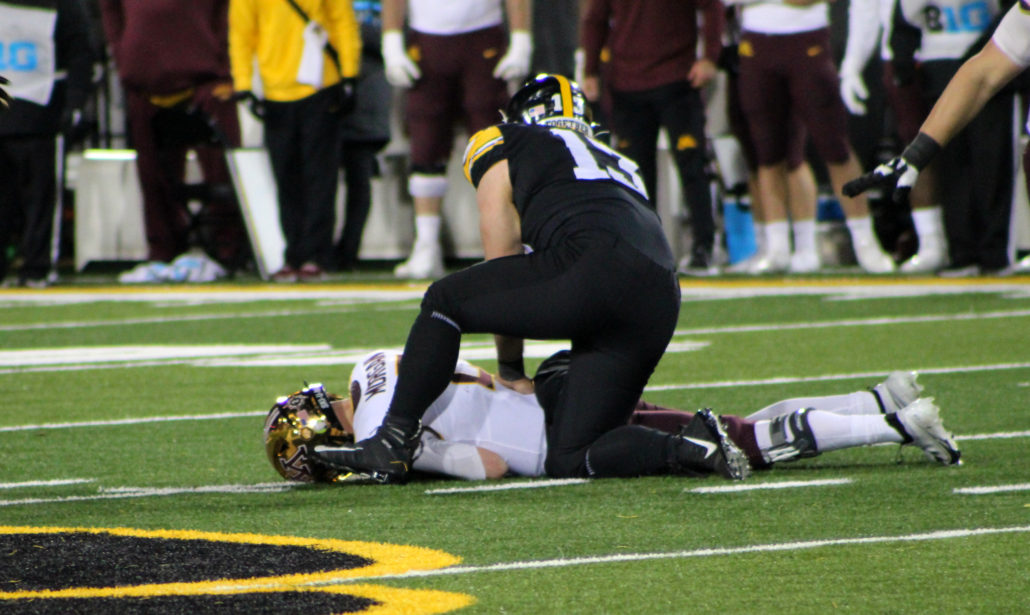 IOWA CITY, Ia. — The Golden Gophers' veteran quarterback had to take that walk of shame with his teammates back to the locker room last Saturday.
After all, Minnesota lost its' seventh-straight to rival Iowa and hasn't won at Kinnick Stadium since 1999. Most importantly, Tanner Morgan will finish his collegiate career without ever beating Iowa. It's a humbling experience that the Kentucky native is trying to put in the rearview mirror.
Morgan doesn't want to hang his head over spilled milk, and he knows he gave it his all in losing fashion. Despite coming up short, Morgan admired how his teammates never gave up and kept fighting to the end.
"I'm proud of how our guys played, I just go to be better and give our guys more opportunities to make plays," Morgan said. "Obviously we do not like the result, but we'll be able to respond and find a way to make it happen next week when we evaluate this film and evaluate what we can get better at."
The players won't have to look far, considering there were several bright spots from the offense. The Golden Gophers outgained the Hawkeyes in total yardage, generated 11 more first downs and nearly doubled their rival in the number of plays ran. Not to mention Morgan was able to throw his first touchdown pass since the win over Nebraska.
Regardless, Minnesota's offense left some plays out on the field, including having to settle for field goals on three separate occasions in the redzone. Morgan takes responsibility for missing some open receivers, plus a failed two-point conversion that would've tied the game late in the fourth quarter. The former three-star prospect understands the unit could've executed better.
However, he's focused on ironing out the wrinkles and doing whatever it takes to snap his team's two-game conference losing streak.The Golden Gophers no longer control their own destiny, but Morgan refuses to give up on their season.
There's still a lot for P.J. Fleck's team can accomplish over their last two games of the regular season. Morgan wants Minnesota fans to be proud of his legacy. Which is why he's planning on changing the narrative of Minnesota's roller coaster campaign the rest of the way.
"It's not a good feeling, we can't change it now, we have to be able to learn from it and respond by giving ourselves the best chance to be successful next week," he said. "That's all we can do, got to learn, got to respond, go to go forward."
Minnesota (6-4) will have to do a better job of protecting Morgan. The big boys up front allowed two clutch sacks, including one that came inside the Golden Gophers' own one-yard line. The group should be able to get back on track against a Indiana team that's next on the slate and winless in Big Ten play this fall.
Fleck has a veteran team, but injuries have somewhat kept them from maintaining any consistency. Morgan just wants the leaders to emerge and for his team to rise up in the face of adversity. It's still any given autumn Saturday and a lot of football left to be played, so nothing is set in stone for the Golden Gophers.