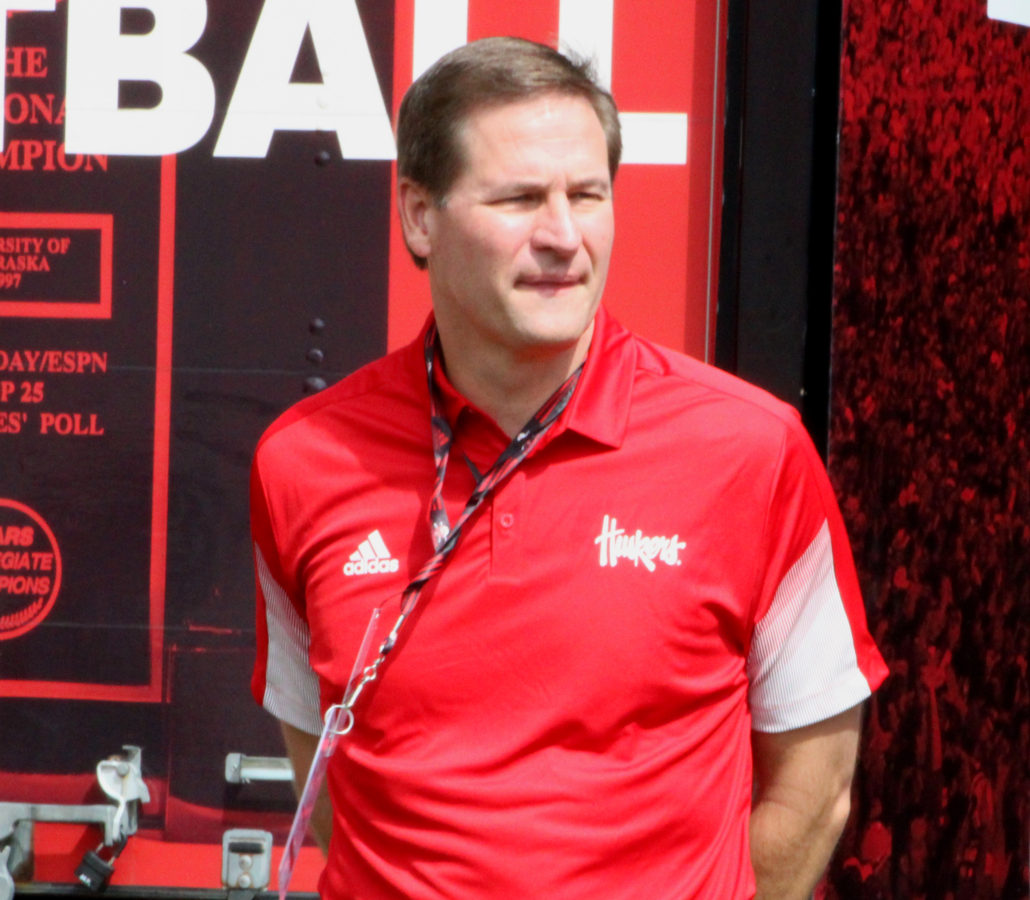 Nebraska's Athletic Director has only been on the job a little over three months and now he's facing the inevitable.
After the Huskers' sixth loss of the season, Scott Frost's seat is arguably the hottest in the country. And Trev Alberts holds all of the cards. Frost's tenure with his alma mater has been a complete nightmare up to this point, with a 15-26 overall record, including 10-22 in Big Ten play.
The road doesn't get any easier for Frost either. Nebraska closes out his fourth year with Ohio State, Wisconsin and Iowa. That pretty much guarantees a fourth-straight losing campaign for Frost. From the outside looking in, it seems like the writing is on the wall for the 46-year old.
However, it's no mystery that Frost's buyout will cost the program $20 million. It remains to be seen if Nebraska still has deep enough pockets to fire an individual with that steep of a price tag. The sellout streak continues and paying canned coaches is nothing new to the Huskers. Bo Pelini and Mike Riley left Lincoln with what Big Red Nation would consider severance packages.
The state of the program has been fractured for quite some time and the best fans in the country deserve better. Alberts should understand that more than anyone, considering he's a Blackshirt Hall of Famer. Now Alberts has to kill three birds with one stone. Coming up with the buyout money is numero uno. Having Frost resign is step two. Not to mention luring in a quality replacement will complete the trifecta.
Nebraska is all about respect and integrity though, so no major decisions will be made while the season is in progress. Regardless, Alberts needs to be proactively pursuing candidates and willing to pay that individual at least what Frost currently makes. Deciding to keep Frost could potentially put the program in an even deeper hole. Fans are jumping off the ship and recruiting has suffered majorly. The program has no momentum, so the Huskers need a homerun hire and Alberts' short list should look something like this.
Deion Sanders, HC, Jackson State: Talk about an individual who can change a culture immediately. Although Sanders has no Power Five experience as a head coach, he'd bring rockstar status to the program. Nebraska would instantly become a recruiting hotbed because Sanders' name ring bells and prospects from all across the country would want to come play for the Hall of Famer. He currently has Jackson State undefeated in conference play and in first place in the SWAC East. Just imagine the media circus and all of the hype upon his arrival in Lincoln. Sanders has the exact opposite personality of Frost. It definitely could work, but Husker fans would need to sit back and let the man do his job.
Joe Brady, OC, Carolina Panthers: Penn State is his alma mater, so he has a Big Ten background. Despite Brady currently calling plays for the Panthers, job openings at LSU and USC probably caught his attention. So Alberts would have to match what those programs are offering. Brady's arsenal attack with Joe Burrow broke records for the Bayou Bengals. He's only 32 years old, but his age shouldn't concern Alberts, especially with successful young coaches around the Power Five like Oklahoma's Lincoln Riley. The Miami native would be a homerun hire if he lands anywhere in College ball. Brady could change the Huskers overnight and the transfer portal would give him numerous options.
Mark Stoops, HC, Kentucky: His family comes from Hayden Fry's legendary coaching tree, which is synonymous with the Big Ten. Stoops has been successful at a basketball school and he's in the almighty SEC, which is very impressive. Where the Wildcats are at now and where the Huskers have fallen to, people consider the two jobs equal. Stoops already makes over $5 million a year, so Alberts would likely have to offer a bigger number for him to consider. He's 55-52 at Kentucky up to this point and people wonder how much further can he take the program. Stoops would be a great fit in Lincoln, plus his style with running the football and hard-nosed defense is what won Nebraska five Nattys.
Jim Leonhard, DC, Wisconsin: The 39-year old knows the Big Ten like the back of his hand. Leonhard played and coached in the league, so he understands the style of football that's required to be successful in the conference. He has spearheaded the Badgers' defense since Dave Aranda took the same position with LSU. Wisconsin currently ranks first in the FBS in total defense. Leonhard would do wonders with the Blackshirts and have them playing like one of the best units in the country. Staying in the Big Ten West means there would be a smooth transition for Leonhard if he came to Nebraska. It's a no-brainer when considering Leonhard's bond with his players, plus he's a great game day motivator.
Luke Fickell, HC, Cincinnati: He got his feet wet in the Big Ten as Ohio State's interim in 2011. Now Fickell is having so much success with the Bearcats that they're the No. 2 team in the nation and knocking on the door of the Playoffs. Cincinnati seems like a stepping stone job, but Fickell has remained loyal. It still doesn't matter in the state of Ohio, because it's all about the Buckeyes. Nebraska would be a move up in brand and competition. However, Cincinnati will be moving to the Big 12 soon and that might play a role in Fickell's decision to leave for the Big Ten or stay in the AAC. The last time Nebraska hired a coach with an unblemished record from the AAC it turned out horrible, so this one will be iffy.
Jay Norvell, Nevada, HC: He was Nebraska's Offensive Coordinator under Bill Callahan, so he has more ties to the program than anyone else on this list. Norvell understands the program's culture and Husker fans' expectations. The guy is a class act and always handled himself well with the local media during his time in Lincoln. Not to mention Nebraska's offense was really good under his leadership. Now Norvell is having a lot of success with Nevada this season. He has compiled a record of 31-24 with the program. Norvell would be a solid hire and he's a quarterback whisperer. The Wolf Pack's signal-caller Carson Strong is putting up video game numbers this fall, solidifying that.
Lane Kiffin, Ole Miss, HC: He's a Lincoln native and knows all about the Big Red. Kiffin grew up and watched the program win three National Championships in its' heyday. The 46-year old happens to be the same age as Frost. Kiffin made it publically known that he frowned upon Nebraska hiring Frost four years ago. The problem is he has never been at one place for an extended period of time, so people are always questioning his loyalty. Still, Kiffin has had some success in the SEC in a short span. If he can hold his own in a division with Nick Saban and Jimbo Fisher, of course Kiffin can handle the pressure at Nebraska. Kiffin can recruit with the best of them and he's a quarterback guru.
Dave Aranda, Baylor HC: He orchestrated Wisconsin's defense under Gary Andersen, so the Big Ten familiarity is there. Aranda has one of the best defensive minds in the country and will turn the Blackshirts into world beaters. His track record is very impressive, considering Aranda has had success as a Defensive Coordinator in the Big Ten and SEC. Now Aranda has Baylor ranked 14th in the nation in his second year with the program, which is an amazing turnaround from 2020. The 45-year old has impressed everywhere he's been and his name has become one of the hottest commodities in the recent job openings. Alberts is a former linebacker and would enjoy the defenses Aranda fields.
Jamey Chadwell, Coastal Carolina, HC: This guy has been the hottest coach out the Group of Five for the past two seasons. Chadwell has the accolades behind his name,  and earned National Coach of the Year honors in 2020. He's the reason why the Chanticleers are the No. 21 team in the country. Chadwell is a natural at finding diamonds in the rough and molding them into All-Americans. Coastal Carolina has studs on both sides of the ball because of his strength and conditioning. Most importantly, Chadwell is a winner and Nebraska desperately needs someone who's been a part of a winning culture. Alberts should be able to offer Chadwell triple of what he's currently making with the Chanticleers.
Eric Bieniemy, OC, Kansas City Chiefs: Although he's a staple in the pros, he has ties to the Nebraska-Colorado rivalry. Bieniemy was the Buffaloes' Running Back Coach when they stampeded on Eric Crouch's Huskers and ended their perfect season in 2001. He's all about toughness and physicality, which is what's required to be successful in the Big Ten. The guy has a Super Bowl ring and the job he's done making Patrick Mahomes one of the NFL's best quarterbacks, hasn't gone unnoticed. The Huskers haven't had an elite rusher in the backfield since Ameer Abdullah. With Bieniemy on the sidelines in Lincoln, Nebraska would have at least two every year. Bieniemy will likely be very pricey for Alberts.