Ryan Day loading Buckeyes up for Big Ten gauntlet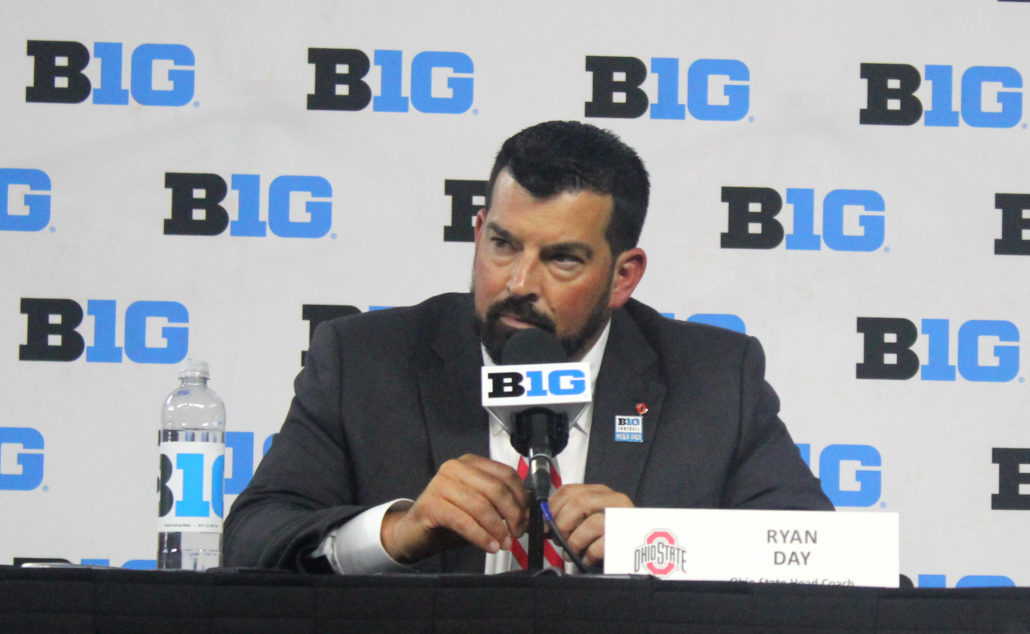 COLUMBUS, Ohio — The second half of the College Football season is here, which means the stakes are higher.
With the release of the first Playoff rankings looming next week, several one-loss teams will be put under the microscope. The pressure that comes with the territory of passing the eye test and delivering style points is inevitable.
It's nothing new to Ohio State because Coach Ryan Day keeps his players dialed in on the task at hand. Although the fifth-ranked Buckeyes are currently on the outside looking in of the Playoff picture, they're still in a position to make a tremendous run.
After all, Day's team is approaching the meat grinder of their conference schedule. The five remaining games on Ohio State's slate presents a different challenge each week. That's why Day is ready to put the pedal to the metal from the start. And if that doesn't work, he's prepared to make swift adjustments.
"We talk about starting fast all of the time, I think it's important to set the tone for the game," Day said. "We have a plan in place for when that doesn't happen."
Ohio State is a National Title or bust type of program, so everyone involved with the scarlet and grey understands the expectations, especially Day. He's well aware that his Buckeyes have no margin for error as they navigate through their remaining five contests.
The players have to understand that they are their opponent's Super Bowl matchup. And rightfully so. Every Big Ten fan has Ohio State's clash with Penn State marked down on the calendar. Nebraska is still looking for its' signature win under Scott Frost and Ohio State (6-1) has to invade the Sea of Red. Purdue beat Ohio State by four touchdowns the last times the two teams played.
Not to mention Michigan and Michigan State could possibly be in the to-five when it's time to play Ohio State. It's all a constant reminder why Day keeps his players focused. He doesn't let them feed into the outside noise when it's more fish to fry on the menu.
Now the Buckeyes are starting to hit their stride and been playing like a top-three team. Freshman quarterback C.J. Stroud is growing before everyone's eyes and performing like a seasoned veteran.
Stroud has arguably the nation's best group of pass catchers and they've been shredding opposing secondaries to pieces. Stroud's success comes as no surprise to Day, considering he's been a fan of the signal-caller's hard work and dedication.
"I see him (Stroud) staying after with the receivers, working on specific routes that are specific to that week's gameplan," he said. "I think overall he's done a good job with all of the receivers in that area."
Regardless, Stroud is still learning on the job, and defenses are going to show him looks he's never seen. That's a reason why Day doesn't put all of his eggs in one basket when it comes to scouting and practicing for an opponent approaching gameday.
"When It comes to preparing for a game, we have opening thoughts that we like," the 42-year old said. "We don't get nailed down with a script of these exact plays because they change quickly."
In Day's eyes it's all about expecting the unexpected, and adjusting is what keeps the Buckeyes on their toes. The bigger the giant the harder the fall. The Buckeyes have two remaining games in hostile environments and those opposing fans would love to storm the field after defeating them.
Day's players and staff understands they're going to get every opponent's best. So they have to bring their best every Saturday. He knows his Buckeyes' new journey starts tomorrow under the lights at the Horseshoe, and everyone's loaded for bear.
"Having the discipline to stay locked in, to maintain our confidence, but be disciplined enough, humble enough to understand that all it takes is one Saturday, and your season can be ruined."