Skylar Thompson hoping team ends Big 12 drought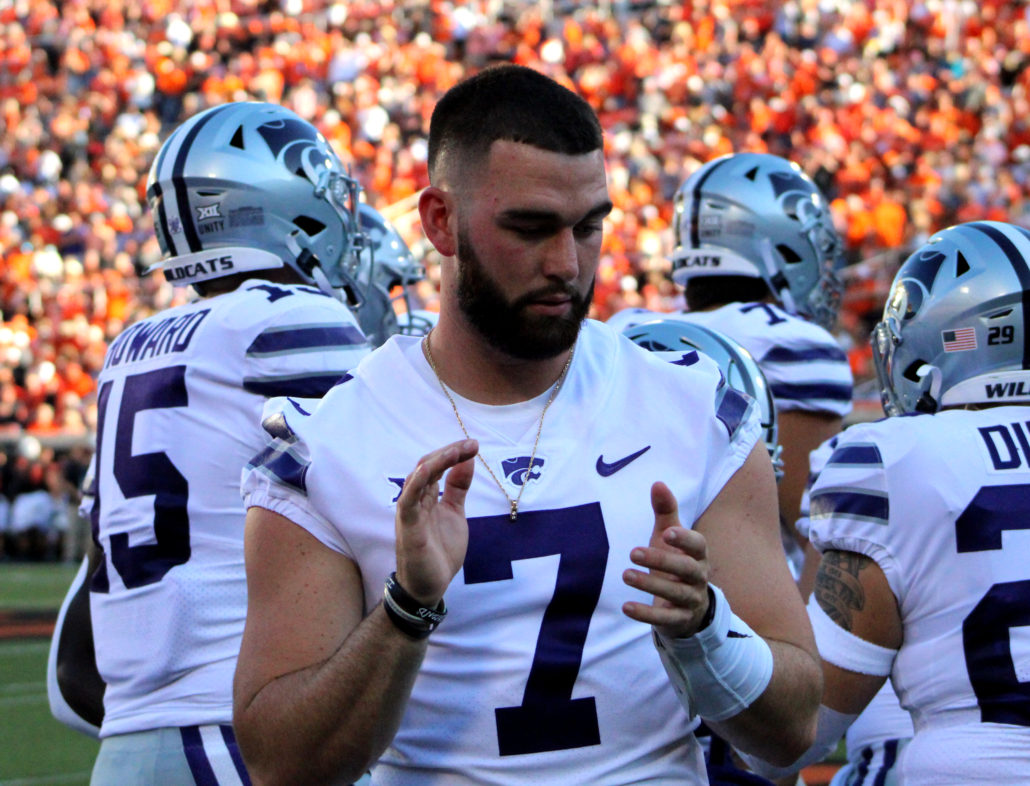 MANHATTAN, Kan. — Kansas State has lost seven-straight conference games dating back to last season and that's something that has to change.
Although the Wildcats didn't play last Saturday, they've put the pedal to the metal in practice this week, especially quarterback Skylar Thompson. The right knee injury that held him out against Nevada and Southern Illinois is slowly getting back to normal.
It definitely didn't hold the signal-caller back in Kansas State's last game against Oklahoma. Thompson put together a gutsy performance, completing 29 of his 41 passes for  320 yards and three touchdowns. Coach Chris Klieman is being extra cautious with Thompson's knee when it comes to running the ball.
Klieman understands Thompson is a competitor, but he doesn't want to put too much pressure on his quarterback.
"He's going have the brace on," Klieman said. "I don't know how long, but I know it's going to stay on, but he felt a ton better yesterday."
Having the week off was a blessing in disguise for the offense and gave the unit time to gel. The entire team is focused on getting back in the win column and have rallied behind Thompson. After all, everyone knows when he's behind center, Kansas State has a chance to win every game.
Klieman emphasized in his press conference Tuesday that he will run Thompson against Iowa State (3-2) this Saturday. It's a pivotal conference matchup, and a win will keep Kansas State (3-2) alive for a berth in the Big 12 Championship Game. The league is full of parity and still wide open.
Klieman knows Thompson can lead the team to the finish line, just as long as he stays healthy, and that's his staff's No. 1 priority.
"I asked him (Thompson) when we had our meeting yesterday, and just the weekend off and him continuing to do rehabilitation," he said. "He's got to always continue to take care of his body, and he said he felt pretty fresh yesterday."
There's weapons in Thompson's arsenal that Klieman wants him to use, so he doesn't have to put so much responsibility on his shoulders. Deuce Vaughn is a threat running the ball and catching it out of the backfield. He hauled in 10 of Thompson's passes for 104 yards and a score against the Sooners.
Wideouts Malik Knowles and Phillip Brooks know they have to step their game up to keep the pressure off of Thompson. The Cyclones have one of the best defenses in the country and they're just as hungry as the Wildcats. Thompson doesn't want to be viewed as a liability and thought his performance against the Sooners was promising.
"I thought I did a really good job of maneuvering in the pocket and understanding where my outlet throws were," Thompson said. "If I were to get pressure, or things were to break down, just be able to get the ball in my guy's hands and allow them to get some yards."
The Wildcats will be looking for some much needed payback after getting shutout in Ames last season. It left a bad taste in everyone's mouth, from the players, to the staff and the fans. Thompson refuses to let that happen in front of the Kansas State fans this time around.
Which is why he's making sure his teammates are on the same page in practice. Leaders have emerged through adversity and every player is holding himself accountable. Bill Snyder Family Stadium will be rocking under the lights Saturday and Thompson doesn't want to disappoint.
"Iowa State is a really good football team, and every week we're going to have to bring it and play very good football in order to win," the 24-year old said. "We understand that this is just another test that's going to be very challenging for us."
The Cyclones usually play their best ball in the month of October under Matt Campbell. It remains to be seen if the Wildcats are catching their conference foe at the wrong time, or if they're ready to make a statement to the rest of the league.