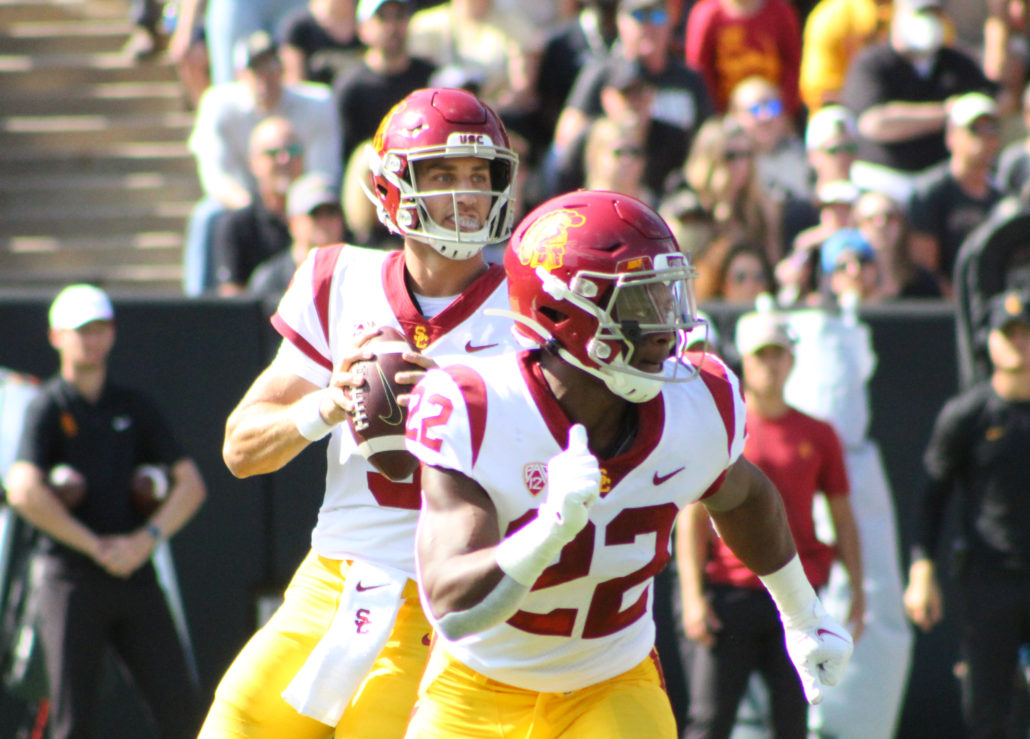 BOULDER, Co. — USC's junior quarterback put together another dominant performance at Folsom Field, and now he has his moxy back.
Kedon Slovis' back was against the wall after he threw three interceptions in the loss to Oregon State in game four. Which is why it was no surprise he came out with all guns blazing against Colorado and made a statement. Slovis picked apart the Buffaloes' secondary with ease and played pitch and catch with his wide receivers.
The Arizona native had three touchdown passes, no interceptions and USC's offense racked up a season-high, 494 total yards. Everyone executed and USC was never threatened throughout the contest. Not to mention the Trojans led by as many as 23 points midway through the third quarter.
"We operated really well within our game plan once we kind of figured out what kind of looks we were getting," Slovis said.
The Buffaloes' defense played in man coverage. In Slovis' eyes, that put the Trojans' offense at the advantage, because they have more talented athletes. Slovis was able to sit back in the pocket and lick his chops. The former three-star prospect  connected with seven different players, including Drake London, who finished with a game-high, nine catches for 130 yards and a touchdown.
The All-Pac-12 quarterback made other players around him better, including USC's offensive line. The big boys up front provided a brick wall for Slovis to operate behind and he never got sacked.
The 37-14 victory was the second-largest win margin for USC (3-2) this fall. Although the victory brought new life back into the Trojans, Slovis feels there's still a lot of room for improvement.
"I think we left a lot of points out there still, but it feels a lot better coming off a win and putting up almost 40 points, knowing that there's more out there," he said.
That's saying a lot from the signal-caller, considering the Trojans outgained the Buffaloes in yardage, generated more first downs and led in time of possession. However, the offense fumbled the ball twice and USC committed a jaw-dropping, 12 penalties for 125 yards.
The Trojans' offense took what the Buffaloes' defense gave them, but Slovis knows that's not going to happen every game down the road. Still, the players have a lot to be proud about and are riding a wave of momentum back to the Coliseum for a clash with Utah (2-2).
Quarterback Jaxson Dart returned to practice Tuesday, after having knee surgery two weeks ago. His presence on the gridiron should be enough to push Slovis to his maximum potential. Regardless, USC's offense is showing balance and and an identity after winning on the road. That's why Slovis is staying humble and motivated for the rest of the the Trojans' schedule.
"I think it's a great thing to build on, we left a lot of points on the board, still a lot of mistakes and a lot of stuff to clean up," the 20-year old said. "Again, when you have an offensive performance, 200 yards on the ground, 500 total, you didn't play your best game and you still can improve some small things, that's a great feeling."
The Utes are coming off a bye-week and likely watched the Trojans last game, so Interim Coach Donte Williams will need to have his squad ready.