Mike Gundy making noise with a roster full of youth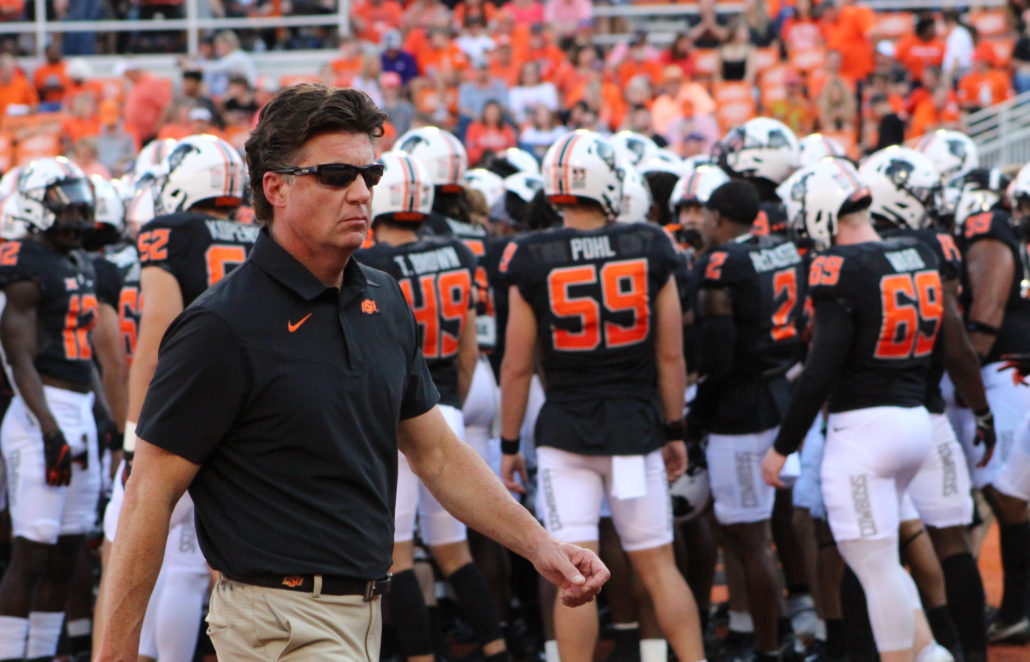 STILLWATER, Okla. — For a second-straight year Oklahoma State is off to a 4-0 start, but this time around Mike Gundy is getting it done with youth across the board.
Leadership, experience and production is hard to replace in the Power Five. However, Gundy and his staff been doing a great job of patching up holes and putting players in the right place to be successful. It's basically the next man up mentality on offense, especially at wide receiver.
With no Tylan Wallace around this season, fans thought the Cowboys would take a step back in their passing game. It has been the exact opposite, with a plethora of young receivers, who have emerged from the shadows to make a name for themselves.
"It's extremely difficult to scheme offensively when you have youth and limited weapons at certain spots," Gundy said. "It's like your hands are tied."
Gundy has been impressed with how quick they've grasped the offense. Everyone is involved and learning something new everyday. In Gundy's eyes that's promising, considering some of them were catching passes in high school last year.
Regardless of the matter, a lot of younger players are getting valuable reps. And that will benefit the Cowboys down the stretch when it comes to depth. Young wideouts Brennan Presley, Rashod Owens, Blaine Green, Bryson Greene and Jayden Bray have all contributed on the gridiron this fall.
Pressley, who's the true sophomore out of the bunch, has caught 11 balls through four games, including a touchdown last Saturday against Kansas State. Owens, who's a redshirt freshman, has caught five passes for 83 yards over the past two games. True freshmen Green, Greene and Bray have combined for 13 receptions, 240 receiving yards and two touchdown catches this season.
That's a testament to the developmental prowess of Gundy and his staff. Which is why he was impressed with the unit's performance in the victory over the Wildcats.
"I was proud of our team, guys are coming along, getting better in certain areas and continuing to work hard," he said. "It helped to have a couple guys back out there giving us a threat at the wideout spots, obviously we're so young out there, like we have been the last few weeks."
A lot of people view youth as a liability, but Oklahoma State is proving it can be a team strength also. With another undefeated team invading Boone Pickens Stadium for a second-straight Saturday, the Cowboys will have an opportunity to prove last week's success was no fluke.
Baylor (4-0) already has two wins over Big 12 foes and will try to make it three in order to crash the AP top-25 Sunday. Gundy knows Dave Aranda and his players have studied film on the Cowboys. After all, Aranda is a defensive-minded coach and he'll be looking for ways to exploit the Cowboys' weaknesses.
"When you have young players out there, and the other team knows you have young players, they'll go challenge them," the 54-year old coach said. "Not that they're not talented, but they're not catalyst, they haven't been through it, they haven't been beat up, they haven't been hit."
Saturday's matchup will provide plenty of that and then some. So the Cowboys have to remain focused and will need their youngsters to deliver again.