Deuce Vaughn glad to be back home in front of fans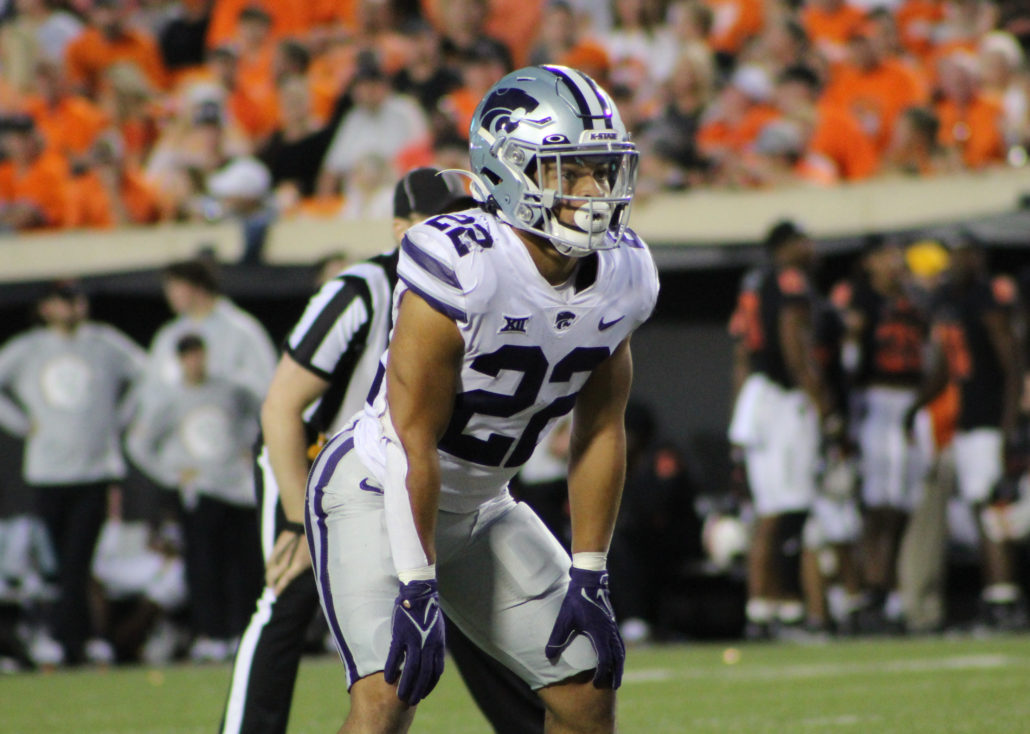 MANHATTAN, Kan. — Although the Wildcats lost their fourth consecutive road trip last Saturday, they refuse to hang their heads.
That's because Kansas State will be back at home this weekend, where the players feel comfortable and the fans have their backs. The last time the Wildcats hosted a top-10 team was 368 days ago. It just so happens Oklahoma was the visitors.
Now the sixth-ranked Sooners will be invading Bill Snyder Family Stadium again this weekend. Oklahoma should be expecting an electric atmosphere in purple city.
Lincoln Riley's boys haven't fared well against Chris Klieman's squad. As a matter of fact the Wildcats are the only Big 12 team to beat the Sooners for the past two seasons. Despite falling out of the AP top-25 after the loss to Oklahoma State, the players are looking to redeem themselves against the reigning Big 12 Champs.
All-Big 12 running back Deuce Vaughn had three-straight 100-yard performances to open the season. That was until he was held to 22 yards on the ground by the Cowboys' defense. It tied the lowest rushing total of his career. Now Vaughn is trying to rebound in a big way in front of 50,000-plus fans.
"I think there will be a big-time atmosphere here just because we're right here in Manhattan," Vaughn said. "Every time I've played here, even when it was the COVID year, the atmosphere was here."
Fans are disappointed that Saturday's clash won't be a matchup of undefeated teams for a second-straight week. However, this time around the game will be televised nationally for the rest of the College football world to see.
Vaughn plans on giving his all for the people wearing purple. He knows the fans are giving their all in return. They cheer and support the team and make everyone feel welcome through adversity.
"People love Kansas State football, and I don't think it's going to change this week," he said. "No matter who we're playing, they're always going to show up and be who they are."
Vaughn has went over the century mark in rushing in five of the Wildcats' past six games. Now he's trying to get his mojo back. The problem is Vaughn needs other offensive players to contribute, in order to keep opposing defenses honest. That means the quarterbacks have to make accurate throws, the receivers need to catch the balls and the offensive line must block efficiently on a consistent basis.
That's easier said than done in Klieman's eyes. With Skylar Thompson expected to be sidelined against Oklahoma (4-0), a lot of pressure will be on quarterbacks Will Howard and Jaren Lewis to carry the team to the finish line. Klieman will likely play both signal-callers again, with hopes that they can spread the ball around to prevent the Sooners defense from keying in on their best offensive weapon.
"He's one of the best running backs in the country," Klieman said. "So, other people have to step up."
The Sooners been winning ugly all season. Riley's team look vulnerable and quarterback Spencer Rattler even got booed by his own fans last week when they were chanting for true freshman Caleb Williams to replace him. The Wildcats' offense can't be shooting themselves in the foot with penalties and turning the ball over, if they have any hopes of pulling off the upset for a third-straight season.
Vaughn understands practice is going to be intense throughout the week. The Texas native is hoping all of the Wildcats' hard work will pay off in a convincing way. After all, spotlight Big 12 games are reasons why recruits come to the program. And Kansas State (3-1) plans on taking full advantage of this opportunity.
"I think every week, we go out and prepare to play our best football game every Saturday," the true sophomore said. "Things kind of get clicking at some point, but when we're all together as a unit, we're a really, really good football team."