Sean Clifford finally playing at the top of his game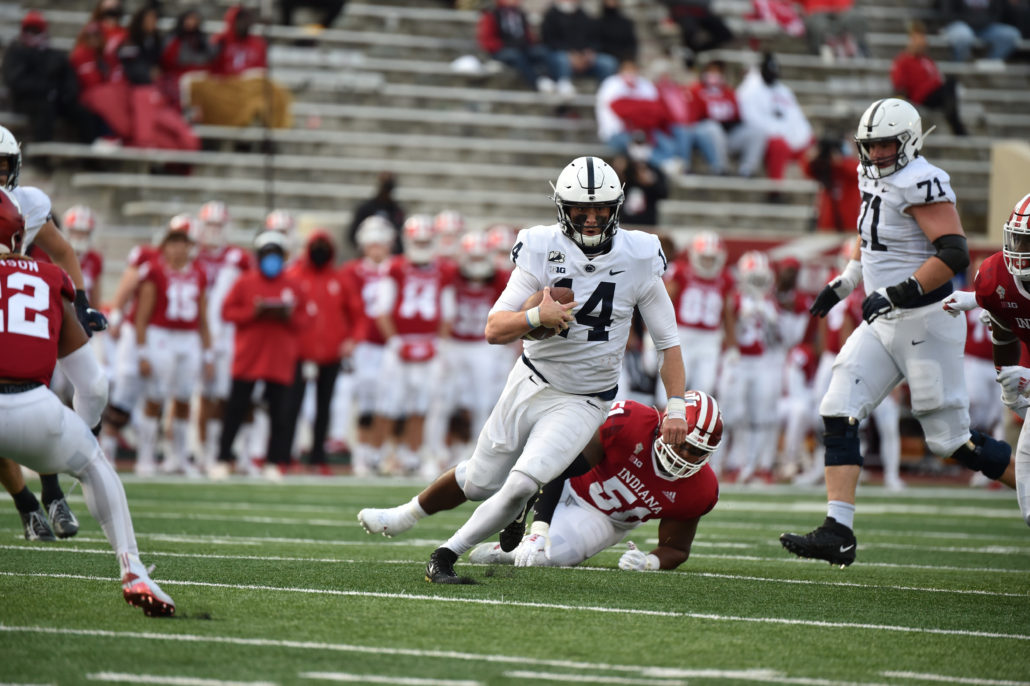 UNIVERSITY PARK, Pa. — He's one of the most experienced quarterbacks in the Big Ten, who has been with Penn State since 2017.
Sean Clifford's career has been all about perseverance and fighting through adversity. After all, the redshirt senior has witnessed a revolving door of Offensive Coordinators during his time in Happy Valley. Not to mention Clifford took the shoulder of the blame for the Nittany Lions' shortcomings in 2020.
However, all of the ups and downs have molded the Cincinnati native into one of the best signal-callers in the country and he's playing at a very high level this fall. There's been a glaring difference in Clifford's play from last year's campaign up to this point.
He has great pocket awareness, leadership and most importantly Clifford is making other players around him better. That's a great sign of his maturation process. The former four-star prospect is executing drives consistently, which is something he struggled with last year.
Offensive Coordinator Mike Yurcich has took Clifford's game to another level. Clifford never took flight under Kirk Ciarrocca. There's no debating that, considering he threw six interceptions through the first four games last season. All of those were all losses for the Nittany Lions. Clifford has yet to be picked off in 2021 and has eight touchdown passes approaching October.
Clifford's chemistry with Yurcich is benefiting the offense and the play-calling is effective.
"He (Yurcich) does a really good job relaying information quickly and effectively to me, especially when I need it," Clifford said. "He does a really good job of keeping me calm, but also firing me up when I need to, so he has a really good balance to him with that."
Penn State (4-0) is currently No. 4 in the AP Poll, its' highest ranking since October of 2017. Now the Nittany Lions are playing with extreme confidence, thanks to a grueling offseason, which Clifford thought the team desperately needed. Everyone is responsible, understands their role on the team and holds themselves accountable.
"I feel like our culture kind of slipped last year from a leadership perspective," he said. "The standards didn't change, but we kind of changed it a little bit, just because of COVID we made excuses for things, and that's not how we run our program."
Although Clifford is having success, Penn State's rushing attack has been somewhat pedestrian. In return that has put more pressure on Clifford's arm and the team's passing game. Still, he's looking pretty sharp behind center and has 1,158 yards through the air. The quarterback is also a semifinalist for the William V. Campbell Trophy. It's awarded to College Football's premiere-scholar athlete. And he's showing he's worthy of the hardware.
Clifford prides himself on correcting the mistakes and moving forward. He's also trying to instill that into the rest of his teammates on offense. Clifford believes if they continue to accomplish that on a daily basis, the Nittany Lions can truly be Playoff contenders.
"Striving for perfection is where you'll find excellence and that's what we got to do every single day," the 23-year old said. "Not being complacent, allowing the coaches to coach the way they need to, not being defensive and learning from each play."
Penn State is preparing for a Stripe Out at Beaver Stadium this Saturday against Indiana (2-2). Clifford and the rest of the Nittany Lions will be looking for some payback after the Hoosiers upset them in last season's opener. The matchup will also be under the lights. Clifford is expecting Indiana to attack on defense early on. Regardless, it won't be a surprise if the unit tries dictate the flow of the game.
Clifford is well aware of linebacker Micah McFadden, who's the heart and soul of Indiana's defense. That's why Clifford has prepared himself for a dogfight. He scored four touchdowns against the Hoosiers and rushed for 119 yards last year. Clifford understands he may have to put up similar numbers again.
"They're always going to be pretty aggressive, they're a fast and physical unit."