Pat Fitzgerald preparing team for a battle in Lincoln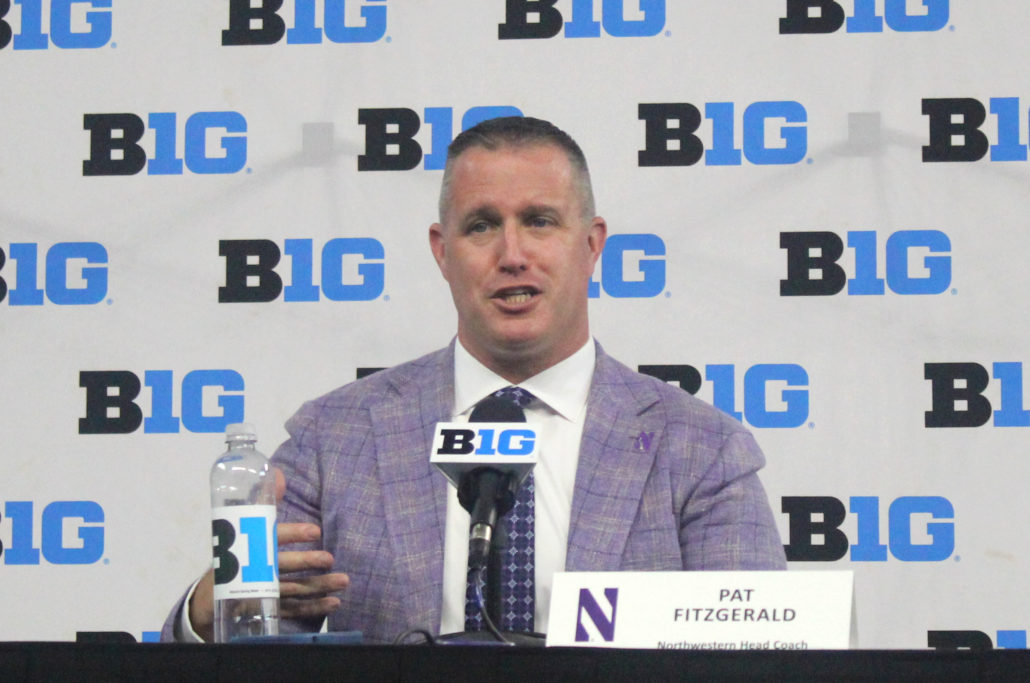 EVANSTON, Ill. — Northwestern will be squaring off with a familiar opponent on the road this Saturday, but more like a nemesis when it comes to the gridiron.
Nebraska has been a thorn in Pat Fitzgerald's side since it joined the Big Ten. He has experienced his fair share of heartbreaks inside the Sea of Red, including a Hail Mary pass that gave the Huskers a victory as time expired in 2013. Not to mention the road team has won the past three games in the series.
Fitzgerald had the opportunity to watch Nebraska's last game against Michigan State. The Huskers are vastly improved in his eyes and there was a glaring strength he noticed from Scott Frost's team.
"Defensively they're playing at an incredibly high level, and it's a lot of heartbeats operating as one," Fitzgerald said. "I know the pride they have in their Blackshirts and it's really impressive to watch."
Nebraska is only allowing 17.2 points per game, which ranks 26th nationally. Northwestern's bread and butter on offense is to pound the ball, and Evan Hall is coming off a 216-yard performance. However, the Huskers have only allowed three touchdowns on the ground this season.
Something has to give in the trenches. So Fitzgerald is preparing his squad for a scrappy game, especially since neither team has yet to win a conference clash.
On paper it seems like Nebraska has the advantage for this weekend's matchup, but Fitzgerald has been in this situation before. The Illinois native is gearing up his players in practice like never before, considering the loser of this game, will basically be in last place in the West.
The Spartans played the Huskers and Wildcats and won, so that has helped Fitzgerald break down how both teams fared. Northwestern lost to Michigan State by three scores at home. Meanwhile the Huskers held the Spartans to fewer points and lost by three in overtime on the road.
"We got to have our best week of prep, we got to go play in one of the cathedrals of College Football in Memorial Stadium," he said. "It's one of the best fan environments there is in the country, so we'll have to have a great week of prep and take it with us to Lincoln."
Northwestern's last trip to Nebraska (2-3) was a dagger that ended with a clutch interception by Lamar Jackson. Fitzgerald is expecting the Blackshirts to stack the box to stop the run and force his quarterback to beat them with his arm. The Wildcats are tied for 111th in the FBS in passing offense. Hunter Johnson, Ryan Hilinski and Andrew Marty have all took snaps in live-game action this season.
Whoever lines up behind center for Northwestern (2-2) will need to be ready. Over 90,000 fans under the lights will make life hard for Northwestern's offense in the huddle. Hand signal and no snap counts will be beneficial in such a intimidating environment.
Fitzgerald is expecting nothing less than another instant classic from the two teams. There's been a some blood, sweat and tears in the series, but both programs keep it classy and that's what Fitzgerald admires most about playing Nebraska.
"We got great respect for the Cornhuskers and I think it's a two-way street," the 46-year old coach said. "This game always seems like it's just down to the wire, we've had some great battles and I don't think this one will be any different."