Cowboys dismantle Wildcats to remain undefeated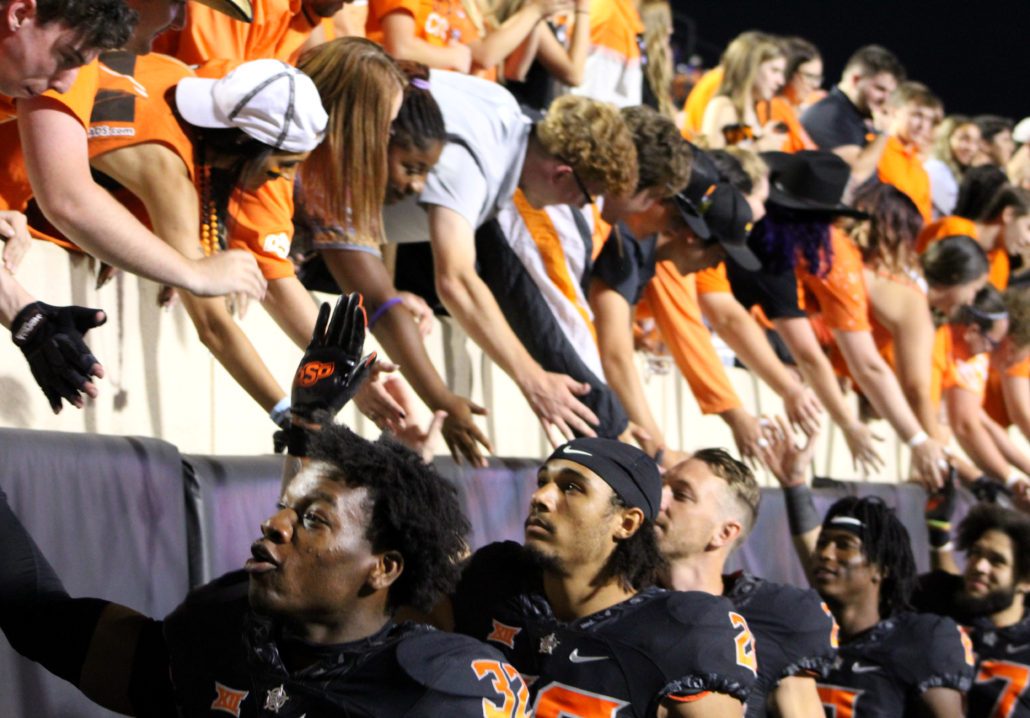 STILLWATER, Okla. — Big 12 play started out on a high note for Oklahoma State after it secured its' fourth-straight victory of the season, and extended the program's win streak to six games.
Coach Mike Gundy knew he would be fielding one of the youngest teams in the Big 12, but his players performed like seasoned veterans Saturday night, and put away Kansas State 31-20.
It was the Cowboys' first win of the season over a ranked team. Not to mention Gundy is 3-0 head-to-head against Chris Klieman and has also outscored him 76-52 during that span. Despite the Cowboys' youth, the 54-year old coach is glad where his squad stands four games into the season.
"This team plays together more than really any team that I can remember since I've been the head coach," Gundy said
That's saying a whole lot, considering Gundy has been patrolling the sidelines of his alma mater since 2005. The Cowboys ran 19 additional plays and generated 12 more first downs than the Wildcats, plus they dominated time of possession.
Oklahoma State scored 21 first quarter points for the first time since beating Miami in the Cheez-It Bowl last year. Gundy is proud that his players won a hard fought game. All of the narrow victories should have the Cowboys prepared and battle-tested when they navigate through the Big 12 meat grinder.
Most of all, Gundy enjoyed putting on a show in front of a crowd of 51,444 at Boone Pickens Stadium. However, as sweet as it was winning the conference opener, Gundy's biggest coaching challenge is getting his players motivated for game five against Baylor.
"Nobody cares about what you accomplished up to this point, they only care about your next game," he said. "So hopefully they'll continue to stay disciplined and focused, which is what we talk about all the time, when we come back to work tomorrow, we can get ready to play the next team."
The Bears are also undefeated, which should add more luster to the clash. Oklahoma State still has a lot to improve on, but there's plenty of positive takeaways from Saturday.
Quarterback Spencer Sanders finished with a game-high, 344 yards through the air and scored three total touchdowns. It was a big bounce back from his rough outing at Boise State last week. Now the signal-caller has momentum and plans on riding that wave into practice next week.
"It was fun, it was exciting, I was ready to get back out on the field," Sanders said. "It was like we were moving the ball, and we knew we were going to do it because we had so much confidence."
Running back Jaylen Warren displayed workhorse capabilities with 27 carries, and he followed up his 218-yard performance with 123 more on the ground against the Wildcats. Receiver Tay Martin finished with a game-high, nine receptions for 100 yards, including 49 after the catch, to go along with a receiving score.
On defense the Cowboys' front seven was stingy against the run and held All-Big 12 rusher Deuce Vaughn to under 100 rushing yards for the first time this season. Kansas State was also limited to 198 yards through the air.
Linebacker Malcolm Rodriguez and safety Kolby Harvell-Peel made a bunch of clutch plays and combined for 15 tackles, including two for loss, an interception and recovered a fumble in the endzone. The Cowboys' defenders always seemed to be in the right place, at the right time to make a play.
The chemistry and trust with the unit was evident on the field, which is why their success shouldn't come as a surprise.
"I think we're a close-knit group, a lot of guys that are playing have been here for quite a while with each other," Harvell-Peel said. "So it's a lot of fun, and when you're playing and having fun, it just makes everything easier."
The Cowboys are 4-0 for the second-straight season and will likely make their first appearance in AP top-25 when the poll is released Sunday afternoon.