Will Howard primed for second rodeo with Wildcats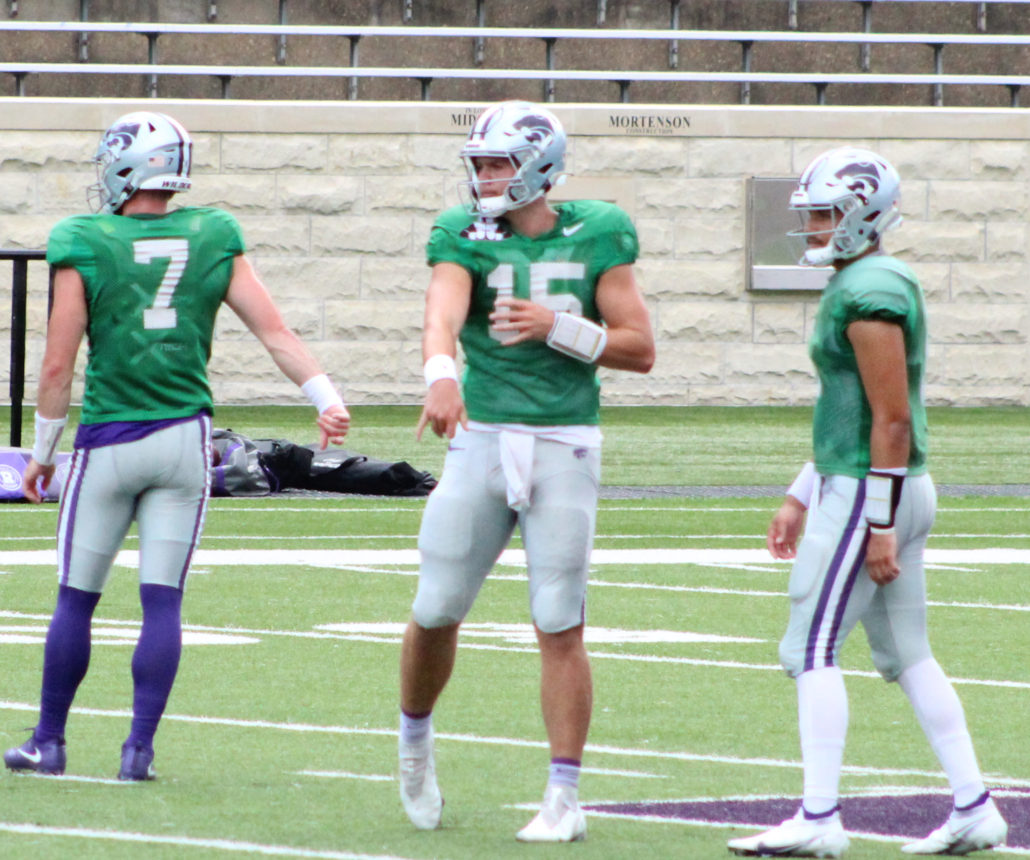 MANHATTAN, Kan. — It was like deja vu for the true sophomore in last week's win over Southern Illinois.
After Skylar Thompson got injured in the first half, Will Howard entered the contest and managed the game enough to carry Kansas State to the finish line. Unlike last year against Texas Tech when Howard was a wide-eyed true freshman, he felt different behind center against the Salukis.
In Howard's eyes he operated more like a seasoned veteran. However, he only completed on 8 of his 17 passes for 76 yards and an interception. There were errors made and some early season mistakes by the offense, but Howard was able to do enough to give himself confidence.
"It's always tough kind of getting thrown in there like that, but I feel like the pace of the game has slowed down a lot for me," he said. "I feel like, obviously last year, as tough as it was, it gave me a lot of experience and just reps that I didn't have before this."
Thompson's  leg injury will have him sidelined for a while, but he's expected to return at some point this fall. In the meantime it's going to be Howard's job to keep the wheels rolling on offense. The former three-star prospect is trying to do everything in his power to avoid the late season collapse of 2020. Coach Chris Klieman believes Howard has matured and worked on his craft throughout the offseason.
The 53-year old watched the true sophomore make some decent passes, but he also held his breath when Howard was reluctant to throw the ball.
"He's got to make some better decisions when he does have to hold on to it too long, but I look forward to seeing Will have a full week of practice and play the way that he knows he's capable of and we know he's capable of," Klieman said.
Having Deuce Vaughn in the backfield will make life easier for any signal-caller. The true sophomore has been the biggest spark on offense thus far, with back-to-back 100-yard performances in the Wildcats' two victories. Vaughn will have to do a better job with carrying the ball and Howard needs to build chemistry with him and the wide receivers this week in practice.
Preparation is vital if Howard plans on matching wits with Nevada's high-powered offense. The Wolf Pack already upset a Power Five team this season and they scored 49 points in their last game. Still, Howard and the Wildcats aren't backing down. The Pennsylvania native feels like his team is battle-tested enough for games like this and plans on showing out for the home crowd.
"I feel like we're confident as a team in our ability to score points, to produce on offense," he said. "We know that if we take care of the ball and we do the things that we've been preaching all offseason since January, it'll turn out good for us."
Kansas State (2-0) is one of five undefeated Big 12 teams entering week three and Klieman wants to keep his squad unblemished. Nevada (2-0) is one of the best Group of Five teams in the country looking to make another statement. Something has to give and Bill Snyder Family Stadium will be rocking Saturday afternoon for the outcome.