Ellis Brooks prepared to show out against the SEC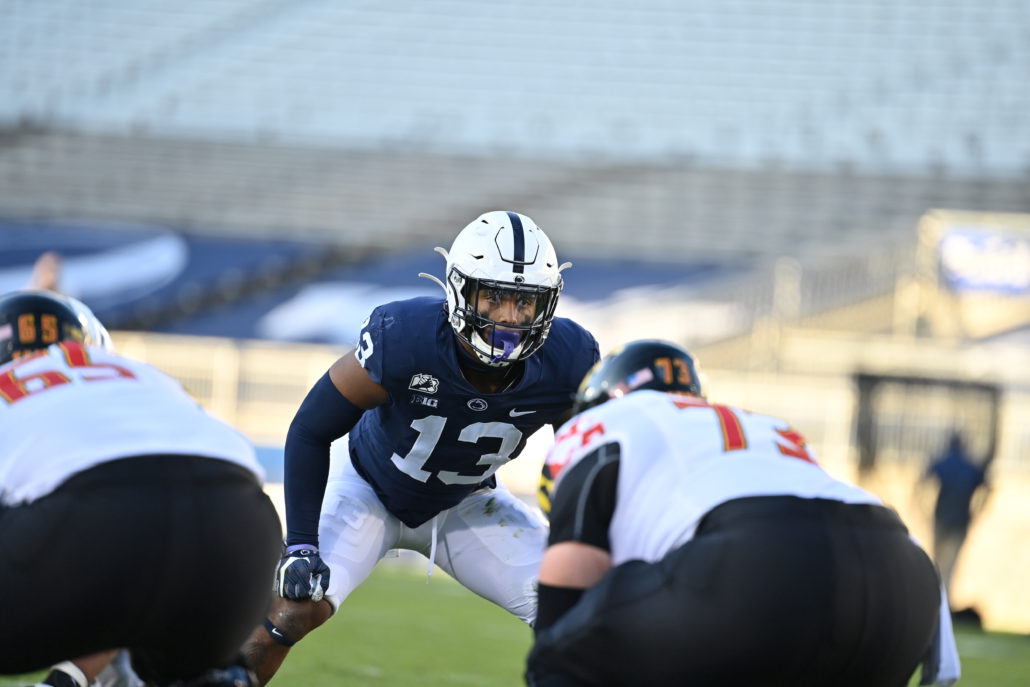 UNIVERSITY PARK, Pa. — He's one of the most physical defenders in Penn State's front seven, who plays with a mean streak.
Ellis Brooks led the Nittany Lions in tackles in 2020 and so far this season, he has picked up where he left off. The junior linebacker made a statement in the win at Wisconsin. He tallied 11 total stops, including eight solo, before he got ejected in the fourth quarter for targeting.
It was a frustrating ordeal for Brooks, considering he had to sit out the first half against Ball State. However, he's still adapting to the targeting rules and constantly trying to become a smarter tackler. The Nittany Lions have won their first two games, and they're undefeated in Big Ten play, which is the complete opposite of where the team was at this time last season.
Brooks is proud of his team's accomplishments, but knows there's still plenty of work to do.
"It started off the season right with a lot of excitement, but obviously we're trying to keep moving forward," Brooks said. "We go Auburn this week and rent is due every single day, so I just have to stay humble, keep on working and continue to help this team as much as I can."
The Tigers have looked like world beaters in their last two games against inferior opponents. Although Auburn has a new coach in Bryan Harsin, they're stacked with four and five-star talent. The Tigers will also be the second ranked opponent the Nittany Lions will face over their last three games.
ESPN's College Gameday will be in attendance and Beaver Stadium will be rocking with the infamous White Out. Brooks is pumped up as ever for the matchup and can't wait to take to Auburn on the gridiron.
"It's very exciting to play an SEC team, they're a great team, well coached and plays hard," he said. "I feel like it's a great opportunity to represent the Big Ten and how we play football here."
Penn State is currently on a six-game win streak and hasn't played an SEC team during the regular season since 2011. The Nittany Lions are back in the AP top-10 and want to show the rest of the country their ranking isn't a fluke. Brooks plans on making his presence felt all over the field Saturday evening.
Penn State's defense is going to try to establish the line of scrimmage and set the tone early against Auburn. The six-foot-one, 241-pound Brooks plans on delivering some bone-jarring hits and doesn't want to tone down his physicality for anyone. Auburn's running back Tank Bigsby has caught his attention on film and he's dialed in on stopping him at all cost.
One mistake Brooks doesn't want to make is being too careless with his tackling and catch another targeting call. Which is why he feels the rule should be tinkered, especially with the intent part.
"I saw something on Twitter about targeting one and targeting two, kind of how flagrants are in the NBA," the Virginia native said. "So maybe that could be established, but I'm not the President of the NCAA.
Practice will be intense for the 10th-ranked Nittany Lions throughout the week, and Brooks hopes it'll lead to success on the gridiron this weekend.