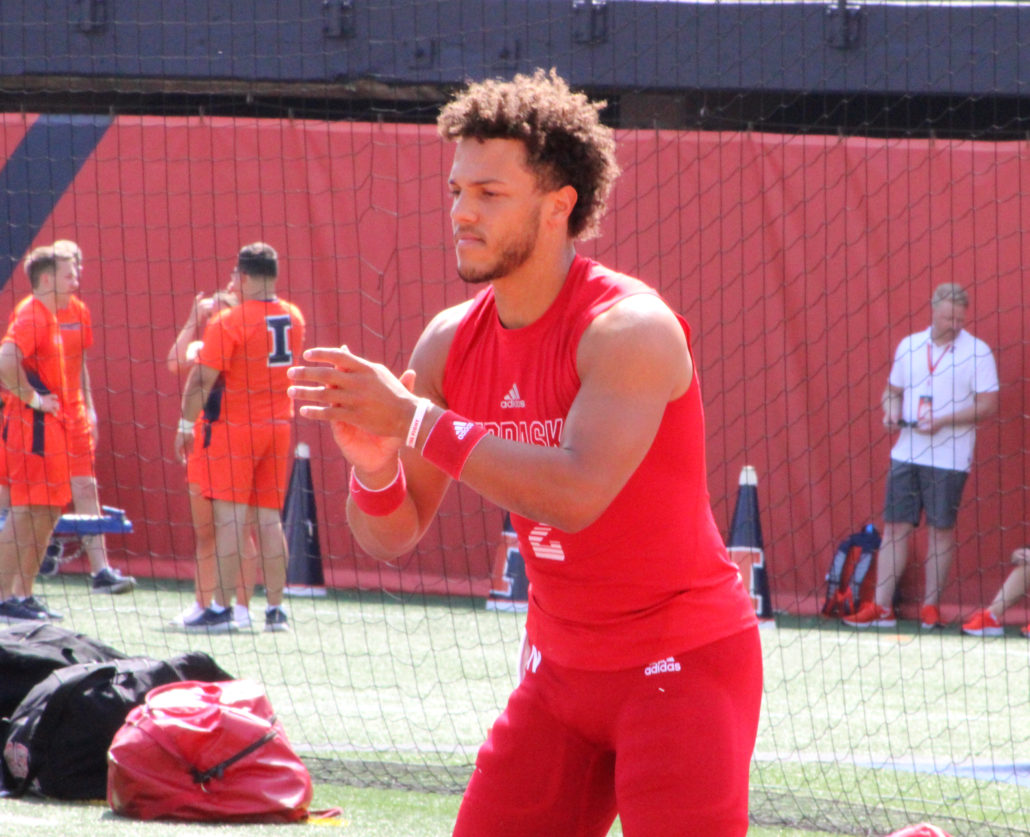 LINCOLN — The Nebraska quarterback learned a lot from the loss at Illinois and applied it all to his play over the last two games.
The results have been promising for Adrian Martinez, with blowout victories over Fordham and Buffalo. He's finally looking confident behind center. After all, Martinez has 496 yards through the air, 145 on the ground and five total touchdowns during that span. Most importantly, the six-foot-two, 212-pounder hasn't thrown any interceptions.
Husker fans are finding out what the offense is capable of when the unit doesn't have to play from behind. Now Martinez believes everything is trending up for him and his teammates.
"Getting the run game going is a key factor for our offense and deep shots were something we knew we needed to be better at, and having explosive plays on the offensive side of the ball," Martinez said.
Explosive plays will be vital when Nebraska (1-1) renews its' storied rivalry with Oklahoma this Saturday. The two blue blood programs haven't met on the gridiron since the 2010 Big 12 Championship Game. The Sooners are one of the top-scoring teams in the country, so the Huskers will need a fast start.
Martinez has prepared himself to answer the bell just in case the game turns into a shootout. Although Nebraska hasn't won in Norman since 1996, all of the upsets last Saturday proved no team is inferior. The California native must be careful not to take on too much and let the weapons around him make plays.
That's how an offense builds chemistry and the new arsenal of receivers are starting to gel for Martinez. Samori Toure has made his presence felt with 10 catches for 269 yards and two touchdowns in Nebraska's two victories.
"I have said this a lot but it's all about having trust and having faith in my training," he said. "Having trust in the guys around me and knowing that I will be able to walk that line the way I am supposed to."
The Blackshirts will come with the passion and intensity. Oklahoma (2-0) runs a ton of plays, so the Blackshirts will need to stay fresh for the fourth quarter. In order for that to happen, the Huskers' offense will need to lead in time of possession and keep the Sooners explosive bunch on the sidelines.
Big Red Nation is expecting the worst and hoping for the best. Martinez understands the magnitude of the series, and how both teams have impacted the sport throughout the years with countless memories. There's a reason both programs are part of the 900-win club.
Renewing the legendary rivalry on the 50th anniversary of the Game of the Century was a genius move by Tom Osborne. The iconic coach is expected to be in attendance as well as Barry Switzer. Martinez is just grateful to be in this position and plans on showing out for Husker Nation.
"I knew about the Cornhuskers and I knew about Oklahoma and I knew about the game," the 21-year old said. "Part of it I think is just how much I care about college football and how much I love football in general, but it's a well-known rivalry and again something I'm proud to be a part of."