James Franklin disgusted with targeting penalties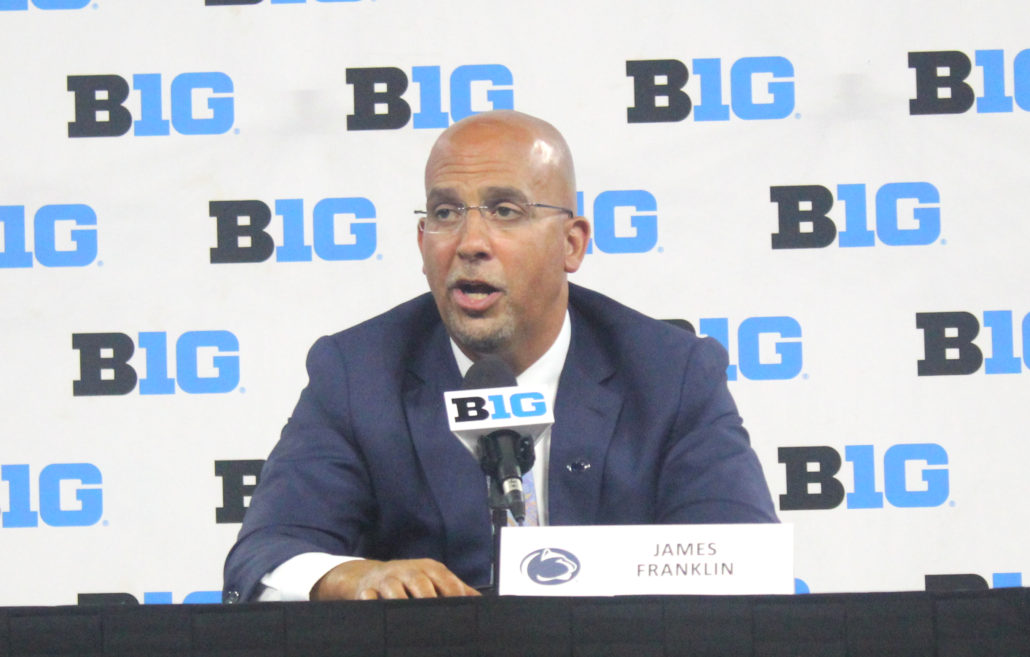 STATE COLLEGE — It's arguably the most controversial call in today's game.
Hard hitting and physicality comes with the territory of playing defense, but there's a thin line between keeping the players safe and taking luster away from the sport. Penn State found that out the hard way in last Saturday's win over Wisconsin.
Junior linebacker Ellis Brooks was playing out of his mind, with a game-high, 11 total tackles and a sack, before he became a victim of the penalty. During the fourth quarter Brooks made a tackle on Wisconsin's quarterback Graham Mertz, in what appeared to be a clutch third down stop. However, the play was reviewed, Brooks was found guilty of targeting and was ejected.
The fact that the Nittany Lions lost their star defender in a tight game, with a call that could've went either way, sickened Coach James Franklin. Not to mention by NCAA rules, Brooks will have to sit out the first half of Penn State's game against Ball State.
Adjusting to the rules have been a frustrating ordeal for the 49-year old coach, considering the Nittany Lions have already had to change their strategies on how they tackle in practice,
"I understand what we're trying to do and making sure we do everything we can to protect the student athletes, No. 1, and protect the sport, No. 2, as well," Franklin said. "I think there is just going to come a point where I don't know what you tell the defensive guys."
The speed of the game is extremely fast and defenders only have a split second to make a play. They can't hit anywhere above the shoulders when making a tackle or lead with the helmet while they're doing it. Often times the targeting rule is amplified when bringing down a quarterback.
When defenders have to think too much they play slower. After all, being a star defender takes good instincts and it's hard changing up what players have done since they were an adolescent in pop warner. Franklin thought Brooks made a great play, and scratching his head on how he could've tackled Mertz any cleaner.
"Specifically to Ellis', the thing we're going to do a better job of is making sure that our guys are wrapping up and looking the tackle in, because you can have contact with the face mask and maybe just the front of your helmet," he said. "But whenever you turn your head down and when you throw a shoulder, which is what he was doing in my opinion, when you do that, it's just natural for the head to turn."
There are plenty of targeting calls that get overturned after being reviewed. Still, it's somewhat unfair to defenders who believe what they're doing is legal. Too much emphasis ties into the impact and angle of the collision. There's really no way to determine intent. It becomes a guessing game if the naked eye is more vital on the field than an individual looking at the screen in the replay booth.
Regardless of the matter, the targeting rule has remained a nuisance across the landscape of the sport. Franklin wonders if it'll ever effect offensive players. At this point all the Nittany Lions can do is move forward. Franklin never wants to make excuses for his players and relieved Penn State (1-0) was able to pull out the road victory, but feels the rule needs adjustment.
"It's a challenging thing right now for our game and I think there is going to have to be continued discussions about it."