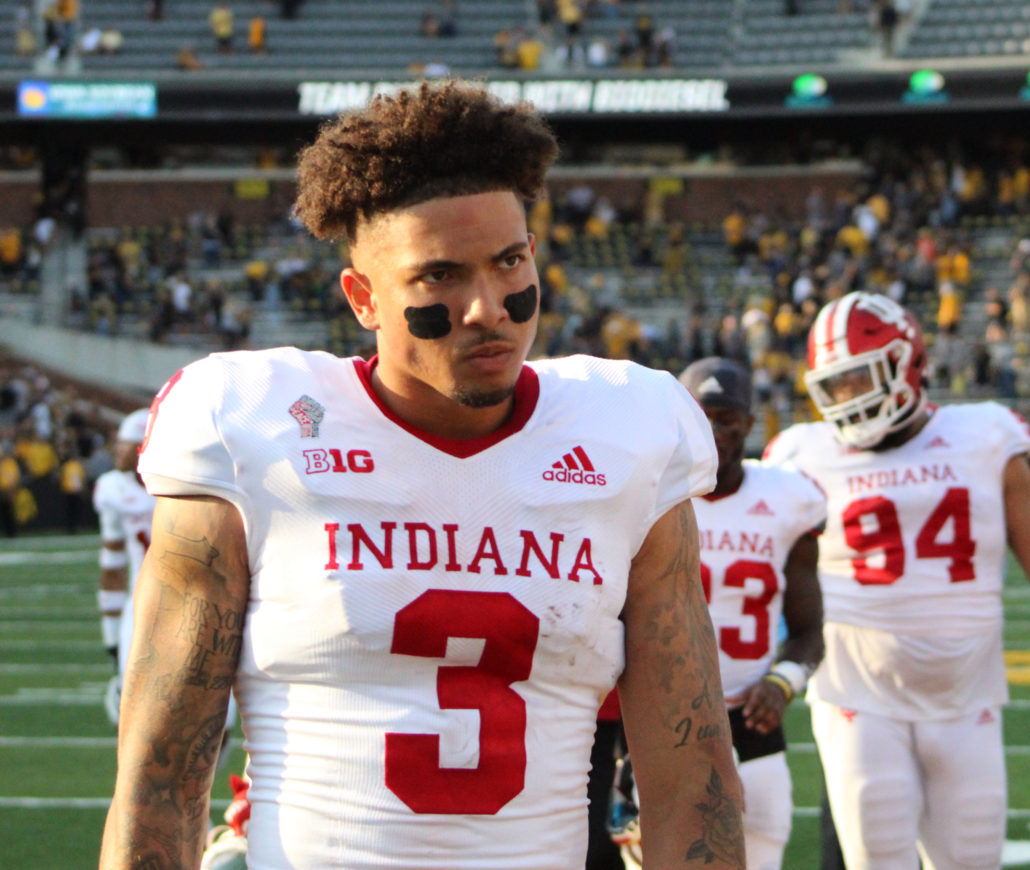 IOWA CITY, Ia. — The Hoosiers' passing attack didn't take full flight Saturday.
As a matter of fact Indiana's offense sputtered against Iowa and finished with 156 yards through the air. Quarterback Michael Penix Jr. struggled throughout the afternoon and completed only 14 of his 31 passes. He was also picked off three times, including two that were returned for touchdowns.
The entire outing was a humbling experience for senior wideout Ty Fryfogle and his teammates. After all, Indiana was considered one of the best teams in the Big Ten heading into the season. Penix and tight end Peyton Hendershot earned all-conference honors in 2020. Not to mention Fryfogle is the reigning Big Ten Receiver of the Year.
However, none of that mattered against Iowa's defense, which controlled the line of scrimmage and dictated the flow of the game. Despite finishing with a team-high, five catches for 84 yards, Fryfogle was disgusted with his performance. He never got into a rhythm with Penix and their chemistry looked sluggish.
"I feel like a lot of things went wrong today, it's a lot of things we got to clean up, you know, it's the first game," Fryfogle said. "I feel like as a receiving core we got to get better for Mike, get open and make the tough catches for him."
Indiana had a No. 17 AP ranking in the preseason because of the talent, production and experience on offense at the skill positions. Now the Hoosiers time in the polls will likely be short-lived because of the team's margin of defeat. Indiana's offense was held to its' lowest point total since 2013. Not to mention Tom Allen's team was kept out of the endzone for the first time since 2017.
Fryfogle believes the Hoosiers' shortcomings aren't a reflection on the team as overachievers. Instead it's going to make him and his teammates go back to the drawing board in search of answers. He's taking it upon himself to take charge of the wide receiver room.
"We started out sloppy, we didn't get open as receivers and had a bunch of penalties," he said. "Special teams, just all around, we could've played very much better."
He expects an intense week of practice and film study in order for the team to make improvements. It's no mystery after Saturday's performance the receivers need more consistency and better execution. Which is why Fryfogle is holding himself and his teammates accountable and wants everyone to be honest with each other about their mistakes.
Idaho will be a huge step down in competition from Iowa, but Saturday's road loss is a constant reminder to Fryfogle that the Hoosiers must always strive to be better. There's no room for complacency and last year's success is in the rearview mirror.
The Mississippi native refuses to let one game define Indiana's season, regardless of how embarrassing the loss was. Fryfogle is trying to take the good with the bad. Going up against one of the best secondaries in the league should have Indiana's offense battle-tested for the Big Ten meat grinder.
He has a lot of respect for Iowa's defensive backs, particularly corners Riley Moss and Matt Hankins. The way the Hawkeyes read the quarterback's eyes, played with physicality and attacked the ball in the air let Fryfogle know his best isn't good enough.
"They have a really good defense, they did a lot of things well, but we also didn't play at our best and we need to clean that up this week."