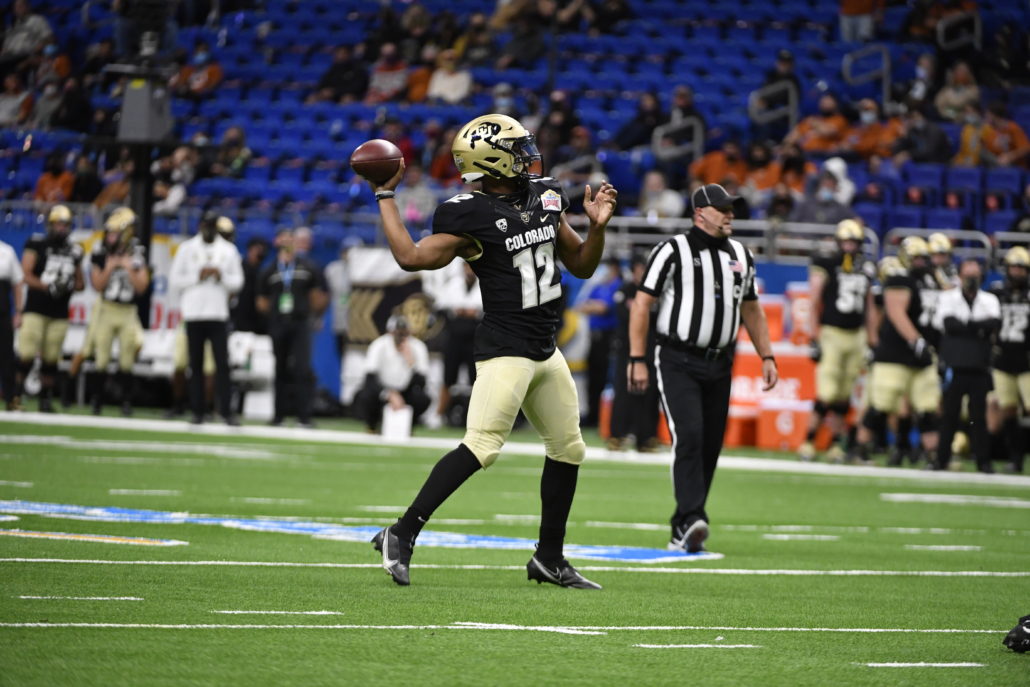 BOULDER, Co. — The Colorado quarterback got his first career start in the victory over Northern Colorado last week, and now he's feeling somewhat battle-tested.
Brendon Lewis had a solid debut, considering he threw for a touchdown, displayed dangerous mobility and didn't turn the ball over. Coach Karl Dorrell thought his signal-caller put together the performance he expected. After all, Lewis completed 10 of his 15 passes, averaged over five yards per carry and showed his grasp of the offense.
However, Lewis feels he left a lot of plays on the field by being conservative with the ball. That's because he wants a quicker release on his throws.
"I just got to get the ball out faster and that's what I've been working on this week," Lewis said. "Overall I think I did good with my legs and I made certain plays and threw a touchdown, so I feel like I'm going to get better and better each week as time goes on."
In Dorrell's eyes Lewis' delivery was promising. The fact the the Texas native took care of the ball, didn't throw any arrid passes and went through his progressions, impressed the 57-year old coach. Lewis didn't try to force anything and let his mobility take whatever the defense allowed. He was also a natural at commanding the huddle, like he been there before.
"That's what you have to do with a young quarterback and sometimes that's hard to train," Dorrell said. "He thinks he can make every play and from that standpoint he's showing a level of decision-making that was pretty good."
Lewis definitely wants to spread the wealth around and distribute the ball into the hands of the Buffaloes' playmakers. Montana Lemonious hauled in a 17-yard touchdown against the Bears. Receivers Dimitri Stanley, Brenden Rice and La'Vontae Shenault are all unique in their own way and can do damage to a secondary.
Offensive Coordinator Danny Langsdorf will have to open up the playbook this week in practice as a top-five team looms this Saturday. Lewis will need a more aggressive approach and not hold back when something opens up down field, because Colorado has the receivers to stretch it.
"I do try to limit turnovers because turnovers lose you games," he said. "So I don't like throwing interceptions, but I do need to take more chances and have more trust in my guys, because they're really good at what they do."
Texas A&M's defense held Kent State to 10 points, 110 yards through the air and picked off two passes last week. The six-foot-two, 215-pound Lewis will need to be ready for the spotlight. The Aggies know Lewis is young and inexperienced, plus they'll be watching his eyes.
Still, Lewis isn't backing down from the challenge and he's been preparing for the spotlight all of his life. Colorado hasn't beat a top-five team since 2007, so accomplishing that feat would be monumental for the program. Lewis is just glad he got the first game jitters out of the way. Regardless of the matter, the Aggies are going to tell the freshman a lot about himself, so it'll be a great measuring stick contest.
"Obviously they're a very good team, so playing them is going to boost my game, because they have a lot of NFL guys," the 19-year old said. "So I feel like playing them is going to help me a lot down the road playing other teams."